Colleges, institutes offering range of courses to meet growing demand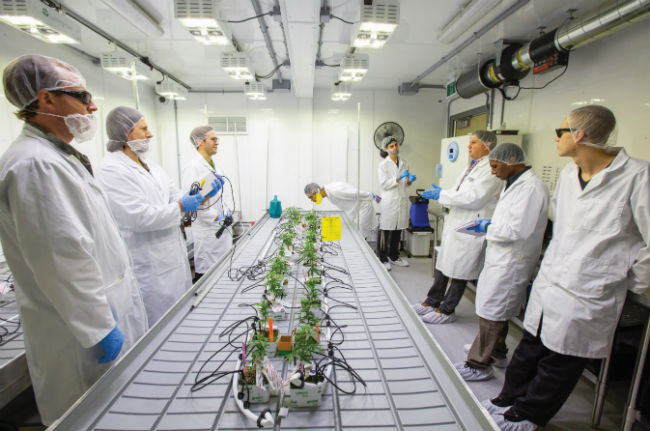 On Oct. 17, 2018, Canada embarked on a historic journey as it became the second country in the world to fully legalize the sale and consumption of cannabis. With this legalization, the government unleashed a new industry with ripple effects for almost all aspects of Canadian society.
In just a few months, an entirely new supply chain of producers and retailers had to be created to bring the legalized product to customers in a safe and tightly regulated market that is projected to add $8 billion to Canada's economy.
For the many businesses looking to get in on the action, one of the most significant challenges has been recruiting workers with the right skills to build this market from scratch, when recognized credentials for their qualifications are in short supply. Many employers turned to local colleges or institutes, which quickly mobilized resources to meet employer demand by developing new programs adapted to their needs.
The launch of a new industry was a historic moment for Canada. Canada's colleges and institutes have an important role to play, not just in supporting training for a well-functioning workforce, but also in ensuring the government's objectives are met and students are equipped for the new landscape — both professionally and socially.
Training across Canada
At Niagara College in Ontario, a new program in commercial cannabis production was launched to provide training in all aspects of cannabis production, including plant nutrition, environment and pest control, as well as cannabis facilities management, staffing and security.
This includes:
• complying with all regulatory and trade requirements for the safe and legal production and packaging of cannabis
• planning and overseeing the allocation of staffing and space to support the execution of production plans
• complying with and executing appropriate security protocols to ensure the safety and security of staff and crop.
Meanwhile, a Cannabis Industry Specialization Certificate at Durham College in Oshawa, Ont., created both in-class and interactive online training to prepare professionals with prior business experience in the fundamentals of the industry — including regulatory considerations, ethical issues and quality control. It includes the course "Medical cannabis fundamentals for business professionals."
Many others, including Collège Communautaire du Nouveau-Brunswick, Olds College in Alberta, Kwantlen Polytechnic in Surrey, B.C., and Loyalist College in Belleville, Ont., also launched similar programs just in time for the legalization deadline.
These post-secondary institutions all recognized there are many transferable skills involved in growing and distributing cannabis, from crop production to sales, but there are also many specificities to consider.
From regulation to marketing and quality control, there is enough novelty to represent a significant challenge for even the more experienced companies already involved in the medical cannabis business.
Working with colleges and institutes has proven an efficient way to build bridges.
Gaining credibility
There is also the matter of legitimacy and credibility as, for many Canadians, the cannabis industry still brings to mind dubious grow-ops and questionable characters. To dispel these connotations and gain the trust of the public, cannabis producers and retailers must be irreproachable in their professionalism. This extends to their workforce, which must be trained and qualified.
The legalization of cannabis also has numerous implications for other sectors that may not be immediately associated with the new industry.
Health-care and law enforcement professionals, for example, will need instruction relevant to the legislative changes as well as recognition of impairment.
This has been the focus of a partnership between Holland College and the Canadian Police Knowledge Network — both in Charlottetown — to create an online training portal on all aspects of legalization for law enforcement officers.
When edible cannabis products become legalized later in 2019, another new area of training will emerge, integrated into existing culinary courses and continuing education.
In addition to cooking with edibles, private citizens may be interested in growing their own cannabis plants at home but will need an expert to guide them through the initial stages.
As the industry continues to grow and change, colleges and institutes will need to be responsive to the demands of the industry and their local community to ensure training needs are met.
Exploring new research
The legalization of cannabis is expected to stimulate new research projects to better understand its effects, and see new consumer products developed. Since cannabis cultivation existed previously as an underground operation, anecdotal advice is available about growing conditions and the level of tetrahydrocannabinol (THC) in particular strains; however, none of the previous work is scientifically documented.
The legal industry can learn from existing greenhouse operators and academic horticulturalists about managing large-scale production while maintaining quality and growing product with consistent results.
Colleges and institutes have already started working with the industry as producers fine-tune the cultivation of cannabis and offer research to better understand necessary growing conditions.
Both Loyalist College's Applied Research Centre for Natural Products and Medical Cannabis in Belleville, Ont., and Biopterre, the College Centre for Technology Transfer (CCTT) in Quebec City, affiliated with Cégep de La Pocatière, have been among the first post-secondary institutions in Canada to receive licences from Health Canada to produce and cultivate cannabis for research purposes.
And who knows what will come next? Legalizing cannabis will have an impact across many more sectors than people may realize at first glance.
From entrepreneurship to culinary arts and drug detection, or mental health and addictions counselling, there are many disciplines that will be affected.
Education will need to be a part of the solution, and colleges and institutes will have a critical role to play in meeting those new challenges head on.
Denise Amyot is president and CEO of Colleges and Institutes Canada in Ottawa. For more information, visit www.collegeinstitutes.ca.