A collection of unusual and quirky stories from across Canada and the world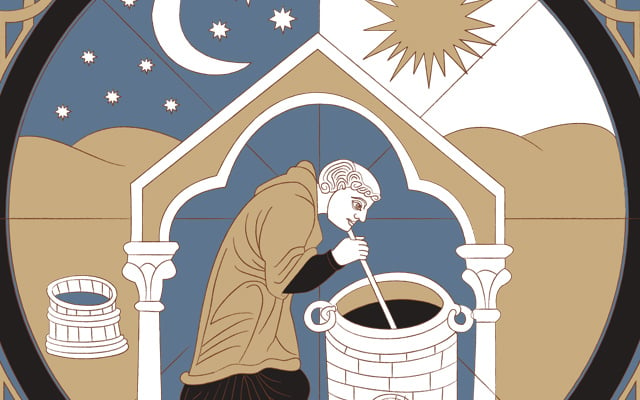 Beer break over
BRUSSELS — A group of Belgian monks will be soon getting back to doing what they are most famous for — brewing beer. The residents of the Grimbergen abbey, north of Brussels, will reopen beer-making operations after taking more than 200 years off. "Brewing and religious life always came together," said Father Karel Stautemas about the five to six new employees who will be brewing the suds, according to Reuters. The abbey had been making beer since the 13th century, but a sacking by French soldiers in 1795 derailed the business. The facility expects to produce 10,000 hectolitres per year of limited-edition brews. Grimbergen is already the moniker of a brand brewed by Heineken in Belgium, and Carlsberg in France.
Fashion faux pas
TOKYO — In Alberta, women recently won the right not to be forced to wear high heels in the workplace but in Japan, the opposite might be true. Takumi Nemoto, the country's labour minister, said it was "necessary and appropriate" for some employers to force women to wear heels at work, reported Agence France-Presse. Nemoto was responding to an 18,000-signature petition that called for a ban on the practice. Calling it "socially accepted," Nemoto rejected the #KuToo petition, which is a reference to the #MeToo campaign and the Japanese words "kutsu" and "kutsuu" which mean shoes and pain, respectively. It's been labelled a modern version of foot binding by those against the requirement for women to wear such shoes during the interview process.
Robot janitor gone wild
MARIETTA, GA. — A Walmart worker who fell asleep while riding on top of a robotic janitor — labelled "Freddy" by employees at a Georgia store — was just one of many hiccups brought by the self-propelled floor scrubber which recently went into operation. The machine should have come to a stop if anybody or anything interfered with it, according to Walmart management. But employees said the finicky machine would "swing toward groceries, just cleaning away" and "someone had to pull (the sleeping man) off," said store employee Evan Tanner, according to the Washington Post. Employees also reported that the robotic machine suffered multiple breakdowns and had to be retrained after taking the wrong turns on its cleaning routes.
Complete coincidence?
PHOENIX — After a penis-shaped cloud contrail was spotted in the air near Phoenix, Air Force officials quickly debunked the viral internet sensation. "There was no nefarious or inappropriate behaviour during the training flight," said Becky Heyse, 56th Fighter Wing spokesperson for the Arizona Republic. The pilots were on a training session simulating a typical dogfight, according to Heyse, and the depiction of male genitalia was completely accidental and not meant to be any kind of a joke. This isn't the first time such a sight was seen in the skies around an air base. A phallic sky drawing was reported above Germany last year, while another one was viewed above Washington state in 2017. In that case, the American navy disciplined two pilots for the naughty manoeuvre.
Bad acting
PORDENONE, ITALY — A sick note was not enough to save an Italian actress from possible jailtime after photographs surfaced showing she may have been stretching the truth. Ornella Muti was seen laughing it up at a table with Russian president Vladimir Putin even though she was scheduled to appear at a 2010 event in Pordenone, Italy, at the same time. She bowed out of the recital by claiming sickness. Muti was charged with attempted fraud in a case that has dragged through the Italian courts for years, according to the Telegraph. She received a six-month suspended sentence and was ordered to pay a fine. The actress, who previously told the court she couldn't pay another fine, may face jailtime if she does not.
Hot mess
LYNNFIELD, MASS. — After a 40-year career, a firefighter was placed on leave after police say he walked into a convenience store in his birthday suit. John Walsh, of Lynnfield, Mass., allegedly walked into a 7-Eleven store in Rhode Island, after his girlfriend dared him to do so. Apparently, she told him it was legal to be nude in public in the tiny state. The man, adorned only with a "smile on his face," purchased a drink and left in a car before he was pulled over by local police after a complaint, according to the Associated Press.