HR has a lot to consider when it comes to safety, the physical workplace, mental health and staffing changes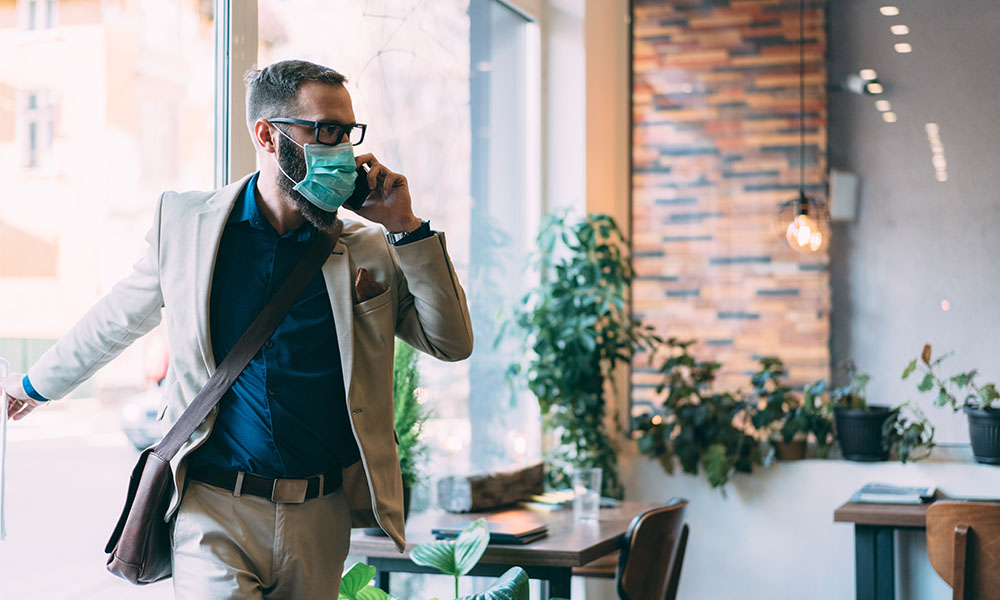 The numbers are hard to fathom: More than half of Canadians have been laid off, temporarily or permanently, because of the pandemic, and more than five million Canadians have applied for emergency benefits.
The deadly COVID-19 virus has led to immense upheaval in the workplace, with masses of workers working from home while others on the front lines are now wearing masks behind clear protective screens.
And much like the financial crisis of 2008 and the 9-11 attacks in 2001, the pandemic represents a pivotal moment for human resources, according to Kathryn Kitchen, head of HR at Manulife Canada in Waterloo, Ont.
"HR is really well positioned to think through capabilities, employee sentiments, employee needs in the future — that's part of our unique secret sauce — so taking that, bringing that to the table, figuring out what we need from a business and market perspective, that's magic. And so how the pandemic has hit our employee base, how we'll recover from it together, as a society, that's where HR has really unique perspective."
This could be a watershed moment for the workplace, says Gary Clarke, a partner at Stikeman Elliott in Calgary.
"I've been practising for over 25 years and I can't think of a situation that could spawn as much change as this."
Figuring out what the new world of work will look like once the worst of the crisis has subsided is the next big step for HR. In planning for the "new normal," employers will be looking for answers when it comes to issues such as physical health and safety, mental health, staffing changes and remote work options.
"Employers are being forced to make tough decisions that they don't want to make… There's definitely a 'How are we going to get people back to work?' in terms of return-to-work plans," says Ron Gauthier, CEO of Chartered Professionals in Human Resources (CPHR) Manitoba in Winnipeg.
Physical health and safety
For those employers that do bring employees back to the physical workspace, it's going to be a complex recall process, with comprehensive health, safety and wellness considerations, says Louise Taylor Green, CEO of the Human Resources Professionals Association (HRPA) in Toronto.
"Organizations are going to have to look at the physical distancing boundaries within their offices. And if you had people in super tight cubicles prior to this, you may end up in a scenario where employees want some reassurances from a health and safety perspective that their physical work environment is in fact safe and that there's proper cleaning and infection control protocols in place and that the proper processes are going to be in place to determine or receive attestations from employees that they are well and not returning to work ill."
When people return to the workplace, there's going to be heightened sensitivity with respect to workplace safety, especially until a vaccine is found, says Clarke.
"I could see employers focusing on sanitizing and ensuring workplaces are cleaner than ever, social distancing, even within the workplace, putting in place policies, even if they're not mandated by the government… [and] restrictions on internal meetings, events like client events."
There may also be situations where people say they don't feel safe to go back into the workplace. They may be in a compromised class and worried about catching the virus, he says.
"Employers may be faced with accommodation requests, where they're going to need to consider individual circumstances when they're returning employees to work. And they're going to need to be sensitive to that because there's a human rights analysis there as well."
It's important for employers to provide education and communication as to the changes that are being made and to the impact on the workplace to reassure employees who have fears, says Patrick Essiminy, a partner at Stikeman Elliott in Montreal. Because once things have calmed down and people are coming back to work in a more permanent fashion, employees may be more inclined to call a health and safety inspector.
"Definitely, this should be top-of-mind for employers as they're wrapping up toward a return to work — they need to review all of the health and safety practices, they need to review all of the manuals… or put in place a specific policy to deal with the pandemic; they need to review the physical organization of the workplace, the way that employees access the workspace; they need to review the areas of breaks and lunches and locker rooms to make sure that they are thinking immediately about social distancing, about sanitization of the environment and they are very proactively communicating that to the workforce to reassure them and to avoid the employees being afraid to come into work and to avoid the complaints to health and safety authorities."
In contemplating a return to the physical work environment, Manulife is taking its guidance from public health officials, says Kitchen.
"We're also starting to have and will continue to have really regular conversations with our managers on the ground, so it's a two-way street and we'll be working [with] and listening to employees as we start to bring people back to work. We're expecting a pretty slow and steady pace as we move through because we also have to think about our role as corporate citizen in our major communities… but also we're really mindful of anxiety and stress that coming back to work physically might bring for some of our employees."
As for social distancing in the office environment, that's something Manulife is already practising with essential workers, she says.
"That's definitely something we're considering when we bring people back in, but we'll take guidance from local governments and employee sentiment, too."
Mental health, trust considerations
But the physical act of coming out of isolation back to work may raise mental health concerns for people, says Kitchen.
"There's that stress, anxiety and concern for safety and well-being of yourself, your family and your customers as well," she says, citing Manulife's mental health benefit of $10,000 for employees and their dependants.
Situations like this definitely create anxiety and stress, says Gauthier.
"We have six million people on CERB [the Canada Emergency Response Benefit] and how many more are going to be on there? People are… worrying about pure survival on top of that, so what type of back-to-work programs from just a confidence, healing, mental health perspective will employers have to come up with?"
Employers have an enormous responsibility in attending to the total well-being of their workforce, and that includes people's mental health, says Taylor Green.
"This has been an unprecedented reality and everybody deals with anxiety and stress in different ways. You don't really want an employee that is not well to be at work, whether that's their mental health or their physical health. And, so, the degree to which employers can take the lead and demonstrate an active commitment to employee total well-being… will pay dividends in terms of employee loyalty but also productivity."
That means providing access to or directing employees to mental health resources, she says.
"If you know that they are suffering undue stress because of financial hardship in the home where maybe one person has lost their job already, why not direct them to those resources that they can look at from a financial health perspective? Or if… their kids or are suffering mental health issues or anxiety, directing them to those [resources], so not just taking the traditional route of saying, 'Well, here's the EAP, use it.' It's really not telling people but showing people what's available."
In some cases, relationships between employers and employees have been quite strained because employers had to cut hours, reduce payroll costs or lay people off, says Taylor Green.
"There's going to be a need for some restorative processes to rebuild those relationships. Some companies haven't been too worried about their reputation as an employer during this time and have really just worried about survival and I understand that dilemma, but there will need to be some perspectives on how we heal and learn to work together effectively in the new way, the new normal, so I think we're going to see graduated recalls."
As the pandemic eases, there's probably going to be some damaged relationships as people return to work. And there's still going to be uncertainty about the economy and fear of being laid off again, says Gauthier.
"When you're laid off and it's for maybe three, four, five months and you're getting maybe 25 per cent of your wages or 50 per cent of what your wage was, you can understand that the organization was put in a tough decision; but coming back, there's a healing process in the relationship building that needs to happen again."
The issue of trust is one that's being raised by HR and employers in looking at the recovery, says Kitchen.
"Our leaders are connecting with teams and individuals on a more regular basis than they might have before. As an organization, we've put communications and listening programs in place on a regular basis just to establish that routine… and it's been really fascinating to watch teams come together in really interesting and creative ways through the pandemic."
Virtual recruitment
Manulife has also pivoted its recruiting and onboarding process from a human-centred design perspective, she says.
"We are now 100-per-cent virtual, but we've changed the onboarding process to help make employees feel really welcome, to help them feel productive as quickly as possible, and we know that first impressions mean so much, so we are doing home delivery of technology, we're doing virtual technology setup one on one with one of our tech experts so that our new employees are feeling productive as quickly as they can."
Employers that have still been busy with recruitment, in sectors such as health care and manufacturing, are essentially doing interviews virtually, says Gauthier.
"People are getting more and more used to doing it, so [going forward] when you start looking at national searches and those types of things, will people be flying in and doing interviews in person or will a lot of the initial screens and those types of things in recruitment projects be virtually through formats like Zoom?"
With the easing of the pandemic, every company will have to consider where the customer demand is for their product or services and how that's going to change labour force requirements, says Taylor Green.
"Will you need the same workers with the same skills on the same schedules?" she says. "HR needs to be thinking about what… the knowledge and skill mix of your workforce will need to be because now is the perfect time, if people have excess capacity, to be upskilling employees. "
In making their way back to the "new normal," employers may realize they no longer need certain employees, and certain roles may be redundant or not essential, says Clarke.
"I could see a lot of consolidation… Those employers who have done significant layoffs or who have operated with a skeleton crew or a smaller workforce may find that they can do quite well with that smaller workforce," he says. "I think we're going to end up with, potentially, a lot of litigation coming out of all this, whether it's due to terminations or whether it's due to constructive dismissals."
Remote work ramps up
Employers are also going to have to revisit their work-from-home policies, and the parameters, says Gauthier.
"From a business perspective, even for a small association like ours, are we better off to have people work remotely and be as effective or do we pay thousands of dollars in office space every year?"
While many people enjoy working remotely and find their organizations are just as effective, others still feel a disconnect despite the video calls and meetings, he says.
"Right now, we know that flexibility in the workplace is one of the key things for attracting and retaining quality staff in terms of the war for talent, so working remotely is just another form of that flexibility… How do you create a balance where that's going to be attractive and still effective for the organization?"
When it comes to flexible work arrangements, there's going to be greater demand on the part of employees to either have increased flexibility around their hours of work or expanded access to remote work, now that organizations have made the investments in infrastructure to enable that, says Taylor Green.
"Employers are going to be faced with some policy decisions around whether or not they will support and continue to sustain those programs once we're back in the new normal," she says. "That presents a host of interesting challenges around collaboration and how work gets done in organizations… Some employers are not constructed for remote work, and it just won't be a long-term possibility for them. But others who have managed to embrace this new way of working will likely want to consider whether or not they need all of their physical office space anymore."
Until education institutions and child-care centres are open again, employers are going to have to be extremely flexible in providing employees with what they need to manage family, home and work, says Taylor Green.
Employers that might have had a more conservative view might be impressed by how well remote work has gone and be more open to employees doing the remote work going forward, says Clarke.
"Employers will also be looking at shrinking their overall bricks-and-mortar footprint, depending on the nature of their business, and they could do that, of course, by having employees alternate working from home or at the office."
Manulife has always offered flexible work arrangements to employees, and that piece will absolutely continue, says Kitchen.
"Might we see more people pick up on it and want to do that going forward? Potentially and possibly so," she says. "But we do expect to have people back into work physically because that collaboration, that human connection will always be an important part of the work that we do."
"You can virtually do white boards and ideation together, but there's something with people in a room together that's always going to remain really important, so it's [about] innovation, it's creativity, it's… also empathy with our customers and with each other."
---
CANADIANS LOOKING FOR REASSURANCES
Workers will only be comfortable with the government lifting restrictions to allow them to return to work when:
29%
there are no new cases for at least two weeks
25%
there are only sporadic cases being discovered and there are no pressures on the health-care system
21%
there is a COVID-19 vaccine
19%
pressure on the health-care system has been reduced and it is able to manage a moderate flow of new cases over time
Source: Leger
PEOPLE FEELING GOOD ABOUT EMPLOYERS IN PANDEMIC
49%
number of Canadians who have an improved relationship with their employer
29%
number of people that have seen their relationship decline with their employer
52%
number of people enjoying improved relationships with co-workers
Source: Argyle Public Relationships
HALF OF CANADIANS SUFFERING JOB LOSSES
49%
number of people who say the COVID-19 pandemic has caused a change in their employment status
1 in 10
number of people who lost their job permanently
4 in 10
number of people who lost their job temporarily
1 in 5
number of people who had their hours reduced
1 in 20
number of people who had their hours increased