Instructions on how to engage students and performance feedback not discrimination against B.C. school board's language assistant: Tribunal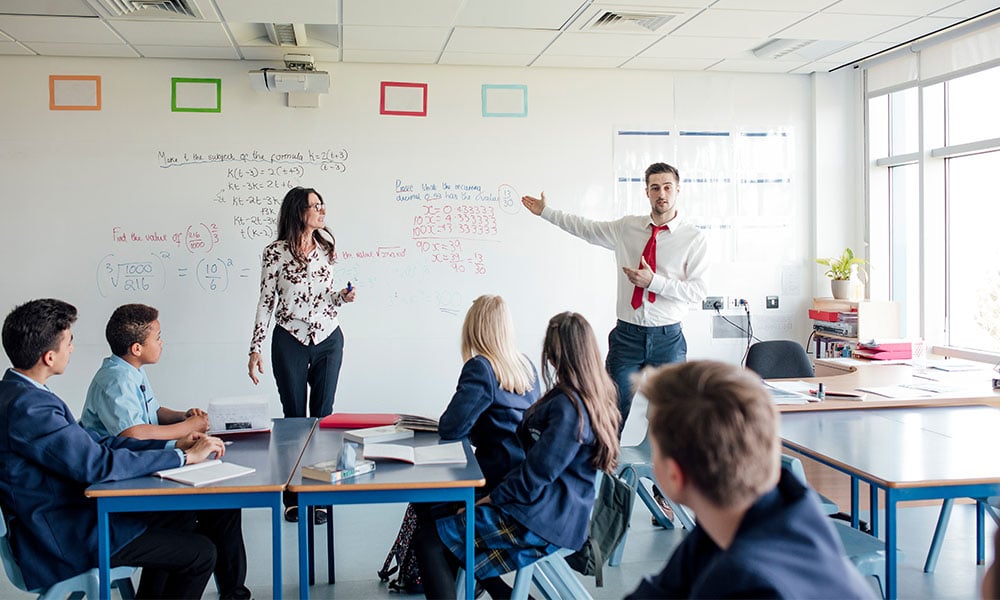 The British Columbia Human Rights Tribunal has dismissed a fired language assistant's claim of discrimination against a school board.
Adel Sahraoui was hired by the Central Okanagan School District in September 2017 to be a French-speaking language assistant in the French-as-a-second-language program. His job was to "create activities reflecting everyday communication situations to help students improve their language skills."
When Sahraoui met the school board's French co-ordinator, she expressed surprise at his age — most language assistants were in their late teens or early 20s, while Sahraoui was older — but she said his knowledge and experience would be an asset. When the co-ordinator introduced him to school staff, she discussed his Arab and Muslim origin and his cultural experience in Algeria, France and Quebec. Sahraoui didn't like the way she introduced him.
Bad first impression
On Sahraoui's first day in the Grade 1 class, he was 20 minutes late so the teacher started a work activity. When Sahraoui arrived, he introduced himself to the class in the middle of the activity and wrote his name on the blackboard in cursive writing. The teacher stopped him and showed him how the children needed him to print his name, after which Sahraoui appeared angry. Sahraoui then told the children he was from Algeria and that he was Muslim and they were Christian. The teacher was uncomfortable with the talk of religion when Sahraoui hadn't established a relationship with the children and she was also concerned that not all of the children in a public school may identify as Christian.
Sahraoui denied saying he was Muslim and instead said he was an Algerian Arab from Quebec. He suggested the teacher didn't know the difference between "the Arab origin and the Moslem religion."
On Sahraoui's second visit to the Grade 1 class, he was again late and interrupted an activity. He began a whole class lesson, which wasn't what the teacher expected — his role was to listen to the children read French books and help them learn the text, which she believed was an effective way to build relationships with students. When the teacher stopped him, Sahraoui raised his voice and argued that he needed to do the lesson, which frightened the children. She asked him to sit in the back of the classroom and listen to the students read, but Sahraoui said he would call the French co-ordinator. However, the co-ordinator told him to follow the teacher's instructions.
Sahraoui also attended a kindergarten class, where he was seven minutes late due to difficulty getting to the classroom. When he introduced himself to the class, the teacher translated every word he said into English, which he felt made his presence pointless. He asked if he could help with any activity, but she said the children were tired and didn't need anything so he sat and watched.
The kindergarten teacher claimed that she suggested that Sahraoui play learning games with the students and interact with them at their level. She also said that because they were young and it was early in the school year that it would be unrealistic to expect them to sit and listen to French-only instructions. However, Sahraoui tried to speak to the class only in French.
When Sahraoui visited the kindergarten class again, it was divided into small groups. According to Sahraoui, whenever he approached a group to talk to them, the teacher asked them to change or go get something. He claimed that, at one point, the teacher pushed him away from a table where students were colouring, saying she didn't want the parents to see him in pictures.
Sahraoui claimed that the Grade 1 teacher's behaviour hurt him and made him feel "dirty and inferior" as well as "useless and ridiculous." He also said the kindergarten teacher sabotaged him by preventing him from teaching the students French and acting like she was afraid of him and wanted to protect the children from him.
Performance complaints
After one month, the school board began hearing concerns about Sahraoui being too strict with students, failing to follow instructions, not providing engaging and age-appropriate activities and not understanding his role as a language assistant.
The French co-ordinator met with Sahraoui on Oct. 3. She suggested some strategies for the classroom and recommended that he discuss the French and Algerian cultures with students. However, Sahraoui said he had a hard time being with young children and they spoke French poorly.
Sahraoui said the co-ordinator acted aggressively toward him and when he asked her to speak more gently, she pointed at him and responded disrespectfully. She also asked him if he had learned the Koran and had been to Koranic schools as a child. This made him feel inferior about his religion and Arabic language, Sahraoui said.
On Oct. 12, the co-ordinator was told that many teachers hadn't seen a change in Sahraoui's approach and one teacher said she would no longer use him in her classroom. The co-ordinator met with Sahraoui to explain that his role was to enhance French language and culture in the classroom, not to teach or correct the students. They put him on probation for one week, saying that if he didn't meet expectations he might be dismissed. Sahraoui responded by accusing teachers of being hypocritical and disrespectful toward him.
At a follow-up meeting on Oct. 24, Sahraoui said the concerns about him were unfounded. He told the administrators that they were being racist, Islamophobic and homophobic, but the only incident he provided was when the kindergarten teacher pushed him — although he acknowledged that the teacher had waved her arm but made no physical contact.
The board discussed moving Sahraoui or trying other options, but Sahraoui said he didn't want to work under the French co-ordinator any longer — however, she was the co-ordinator for the entire school district.
On Nov. 1, the board terminated Sahraoui's employment for activities and interactions that weren't appropriate for elementary students and his lack of receptiveness to performance feedback. Sahraoui filed a claim of discrimination based on place of origin, religion, race and age.
The tribunal found that Sahraoui's discrimination claim had no reasonable prospect of success. Sahraoui was not deprived of his role as a monitor and language assistant, but he resisted teachers' instructions on how to interact with their classes. All of the instructions were related to the needs of the students and not his religion, race or place of origin. Even when asked for specific examples of discrimination, Sahraoui only cited the pushing incident, which turned out not to actually be a push.
"The evidence as a whole does not take beyond the realm of speculation the allegation that either teacher treated [Sahraoui] with disgust or disdain or that Mr. Sahraoui's protected characteristics were a factor in any treatment of him by [the teachers] that Mr. Sahraoui has interpreted in a negative light," said the tribunal.
In addition, the co-ordinator's surprise at his age was reasonable given he was older than most language assistants and the evidence was that she felt it would be an asset, the tribunal said.
The tribunal found that the school board had a non-discriminatory reason for terminating Sahraoui's employment and Sahraoui didn't prove the teachers, French co-ordinator or school board discriminated against him.
For more information, see:
Sahraoui v. School District No. 23 and others, 2020 BCHRT 141 (B.C. Human Rights Trib.).