Workplace health and safety, employee retention among considerations for employers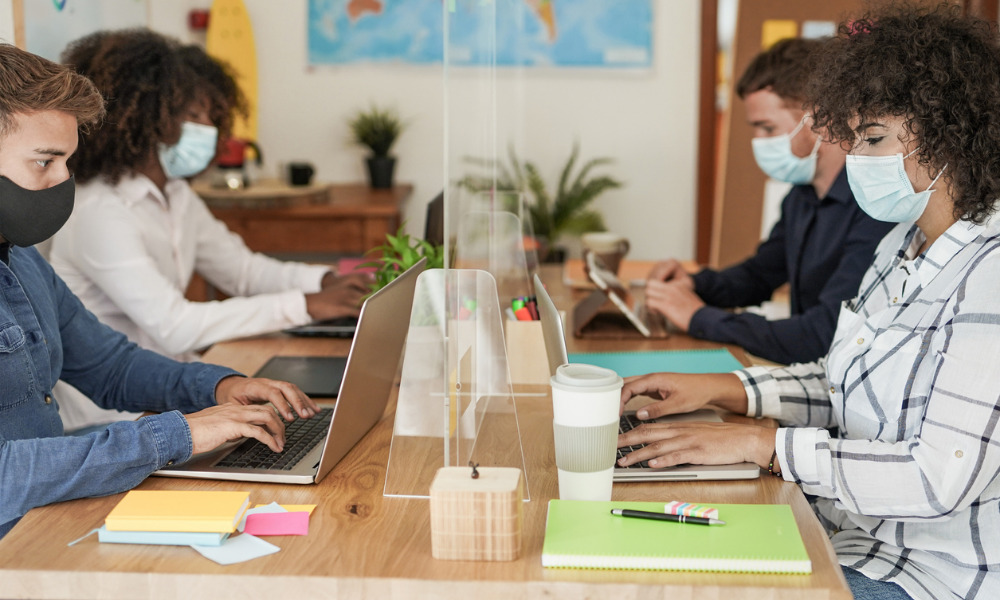 With many municipalities dropping mandatory COVID masking requirements, what exactly does this mean for private sector employers?
Canadian HR Reporter spoke with two employment lawyers for answers.
"COVID is obviously a significant health and safety risk and [employers] have generally the right to maintain these mask mandates because employers have, under the Occupational Health and Safety Act, a general obligation to take every precaution that's reasonable in the circumstances to protect their workers," says Joel Smith, partner at Williams HR Law in Markham Ont.
While the pandemic continues to be with us, it's up to each organization to decide which policies to follow, and courts have emphatically weighed in over the past couple of years around these policies, he say.
"There's a lot of deference given to employers to determine what health and safety measures they choose to take in response to health and safety risks that they face. Not complete deference but it's hard right now for anyone to argue that masks are not a reasonable precaution to protect worker safety, especially as we're entering another COVID wave."
Even if it's not technically required, at least by the government's rules and policies, "it's still a prudent step for an employer to take," says Marty Rabinovitch, who heads the employment law group at Devry Smith Frank in Toronto.
Employing such a policy may also help in cases in which an employee contracts the disease, he says.
"If you have an employee who says… 'I contracted COVID 19 at work and I think that that's your fault effectively as an employer,' it might not really have been the employer's fault but if an employer had policies in place, such as a mandatory masking policy, that would be something that the employer could rely on in defending those allegations."
Read more: How should employers handle conflicts around mask wearing?
A lot of it comes down to the particulars of each workplace, says Rabinovitch.
"It does come down to the facts and circumstances. It is going to be relevant to consider things like size of the employer, and how much physical space there is, and how close the employees need to be to each other when they're performing their jobs."
Retention considerations
For employers that are facing challenges keeping staff, taking a hard look at this stance might be something to consider, says Smith.
"There's also a business implication that employers can rely on to maintain these masks mandate as well because a lot of employers are struggling with staffing; employees are being poached left, right and centre, the unemployment rate is continuing to plummet and so there's a big fight for talent right now. A lot of employers are understaffed, [and] it's even more important to make sure that the employees that you do have working for you are able to work."
By publicizing that masks are still required, this might show candidates that the employer has an employee's best interests at heart, he says.
However, for other employers, the opposite might be true, says Smith.
"It's a tough job market out there, it's tough to get talent and a lot of people don't want to wear masks anymore. So even if there's a good health and safety reason to do it, employers should consider: Are they going to risk losing their staff [in] requiring masks and people who really don't want to wear them anymore, and that needs to be considered as well."
Legal issues of mask mandates
For those employees who refuse to wear a mask, the policies are still important, says Smith and human rights accommodations must be made for medical or religious reasons. But for those who cannot make such a case, the answer is clear.
"[For] those who are saying, 'COVID is over, leave me alone,' employers generally are going to need to follow their policies in disciplining those employees to try to hold them to the policy that the employer has in place at the time," he says.
"The limitation will be [that] it's going to depend on the circumstances whether an employee who consistently refuses to wear masks, even after confronted with discipline, whether you're going to reach that point of just cause for dismissal to let them go."
Read more: Can employees allege a human rights breach for being forced to wear a mask?
It's also a best practice to update policies in light of the new rules, according to Rabinovitch.
"It's certainly a good time for employers to look at their masking and other COVID -elated policies, and policies too. Normally, what I recommend to clients, generally, is that at least once a year that they have their employment contracts reviewed and policies as well."