What are the risks of cancelling an annual bonus for one year?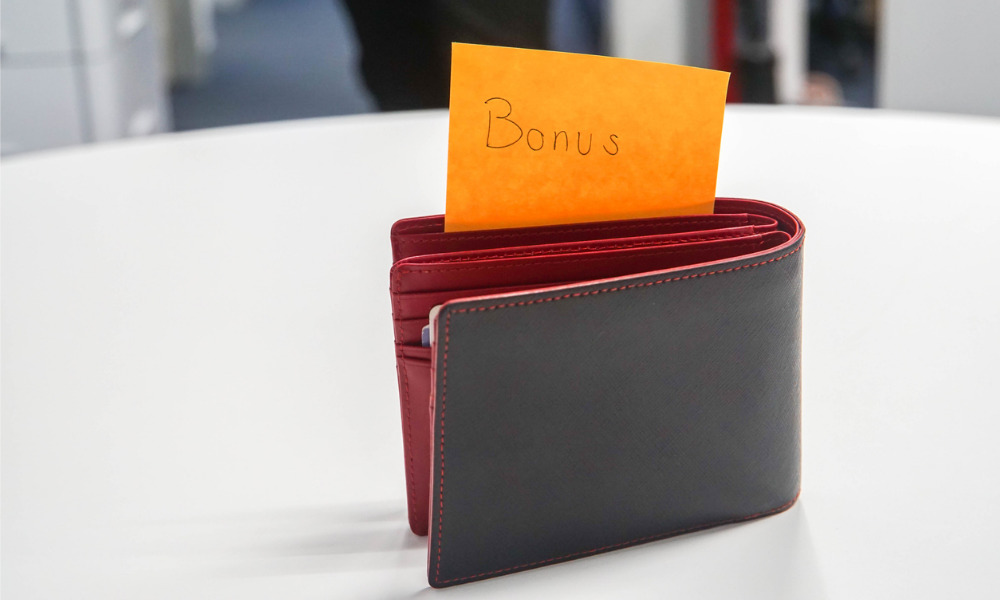 Question: What are the risks of cancelling an annual bonus for one year?
Answer: Annual bonuses provide a mechanism for employers to reward employees for their productivity, commitment, and loyalty. The employer's right to cancel or decline to provide an annual bonus depends on the terms of the bonus plan and whether eligibility for a bonus forms part of the employee's terms and conditions of employment.
A bonus plan contained in an employment contract or company policy may provide an employee with a legally enforceable entitlement to a bonus, based on a specific formula or other form of measurable criteria.
In other situations, bonuses may be discretionary. Even in those circumstances, however, an employee may be entitled to a bonus on the ground that it has become an integral part of the employee's compensation package. In Nardulli v. C-W Agencies Inc., the B.C. Court of Appeal reviewed the four factors that are relevant to determining whether a bonus constitutes an integral part of an employee's compensation:
Has a bonus been received each year?
Have bonuses been required to remain competitive with other employers?
Have bonuses been awarded historically?
Did the bonus constitute a significant component of the employee's overall compensation?
Annual bonuses that have been consistently awarded over a long period of time, and which comprise a significant portion of the employee's compensation, are more likely to be deemed integral than those that are nominal and awarded infrequently.
Where an employee is entitled to an annual bonus, there are two legal risks that can arise if the bonus is unilaterally cancelled by the employer.
First, the employee may claim that non-payment of the bonus constitutes a constructive dismissal. At common law, a constructive dismissal occurs where an employer unilaterally makes substantial changes to the essential terms of an employee's contract of employment and the employee has not agreed to the changes: Farber v. Royal Trust Co. An employee who is constructively dismissed has all the rights of an employee who is expressly terminated by the employer without cause, meaning that the employee is entitled to seek compensation through a wrongful dismissal claim.
In Pavlis v. HSBC Bank Canada, however, the B.C. Supreme Court, after reviewing a number of decisions from various provinces, indicated that employers that are experiencing financial difficulty have some leeway in this area, and a pay cut representing up to "9-10 per cent of…average salary without more does not amount to a fundamental breach," while a reduction in pay of "14-17 per cent can amount to a fundamental breach, but only in conjunction with some other significant unilateral change to the employment contract." While these percentage thresholds are not a concrete rule, this case is a useful guide in evaluating the impact of cancelling an annual bonus.
The second legal risk is that even if the cancellation of a bonus does not represent a sufficiently fundamental change to constitute a constructive dismissal, the employee may nevertheless be able to pursue recovery of a bonus to which they are contractually entitled, through an employment standards complaint or court action.
Even where an employee is not legally entitled to an annual bonus, an employer must be mindful of the negative impact that cancellation of an expected bonus can have on employee morale. At a minimum, an employer should be careful to explain why bonuses are not being awarded or it will risk losing valuable employees.
For more information, see:
Nardulli v. C-W Agencies Inc., 2014 BCCA 31 (B.C. C.A.).
Farber v. Royal Trust Co., [1997] S.C.R. 846 (S.C.C.).
Pavlis v. HSBC Bank Canada, 2009 BCSC 498 (B.C. S.C.).
Colin Gibson is a partner with Harris and Company in Vancouver. He can be reached at (604) 891-2212 or [email protected].