HR will need to ramp up its policies and procedures to comply with new rules for federally regulated employers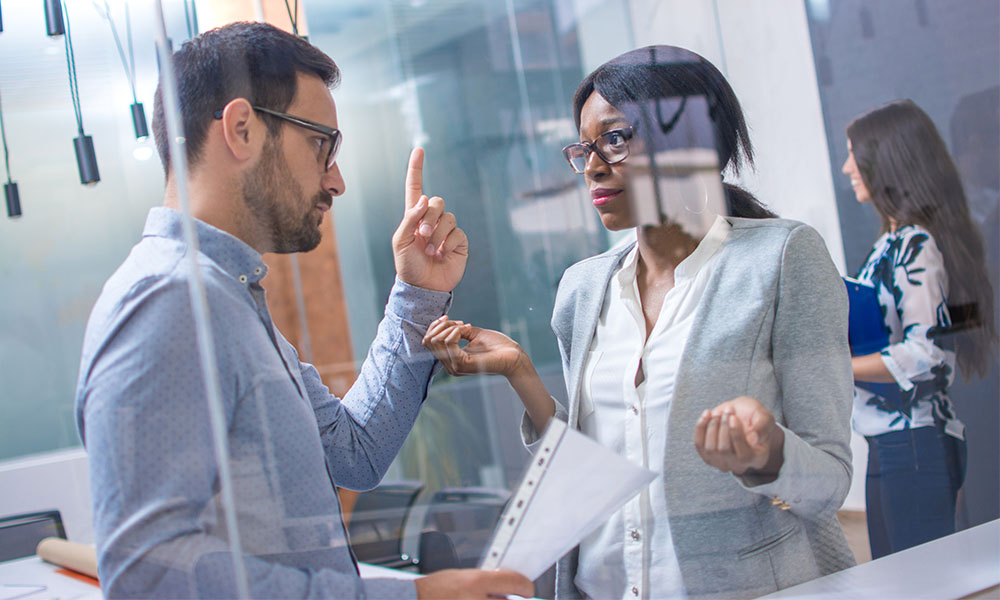 "Significantly more onerous and time-consuming." So says Amy Fong, a lawyer at McCarthy Tétrault in Vancouver, in describing the impact on employers when it comes to the federal government's new rules around workplace harassment and violence taking effect in 2021.
While an important initiative, the new rules provide less freedom for employers and "may be restricting in that they've had an effective way of dealing with violence and harassment in the workplace that is outside what these requirements indicate," she says.
"It's important for employers to know that there will be a bunch of legwork that needs to happen before Jan. 1 to ensure that they're in compliance."
'Straightforward' but 'prescriptive' rules
The legislation passed back in December 2018, but after months of consultations and revisions, the final regulations were released in July 2020, giving employers six months to finalize appropriate policies and processes.
The Work Place Harassment and Violence Prevention Regulation around Bill C65 was brought in because the previous legal framework was "fragmented and not designed to adequately address occurrences of sexual harassment and sexual violence," according to the federal government. The legislation will apply to all federal workplaces covered under the Canada Labour Code, including the federally regulated private sector — such as finance, telecom and transportation — the federal public service and parliamentary workplaces.
The legislation shouldn't come as a surprise for many of the large corporations that are affected, such as banks or the media, that have been addressing the issue for years, says Barry Kuretzky, a partner at Littler in Toronto.
"It's pretty straightforward because it sets up the basic principles that everybody wants in their workplace: clear, unambiguous rules as to how people are to be treated respectfully in the workplace; a process when something isn't moving in the right direction; and a means for resolution in a positive way."
However, the new regulations are "more prescriptive and cumbersome" than current workplace harassment requirements under occupational health and safety legislation, says Laura Freitag, an associate at Filion Wakely Thorup Angeletti in Toronto.
"A lot of the really sophisticated federally regulated employers have these policies in place, they have some type of workplace harassment and violence prevention policy, [but] the question really is what do they need to add to those policies? I think, for the most part, we're going to see policies in terms of scope becoming a little more comprehensive and now there's a specific procedure that is provided for that will have to be included."
The new rules really empower the employee and take away some of the normal decision-making power that employers have around investigations, says Andrea Raso, a partner at Clark Wilson in Vancouver.
"It's a bit of a change of what we have seen in the past in terms of really giving control of the situation not just to the employer but to the other parties involved," she says. "The prevention side of things are fairly onerous, and that's what employers are going to have to do immediately, which is why I think they've been given some leeway to get themselves ready for it."
Prevention policies and training
Bill C-65 defines harassment and violence as "any action, conduct or comment, including of a sexual nature, that can reasonably be expected to cause offence, humiliation or other physical or psycho-logical injury or illness to an employee, including any prescribed action, conduct or comment."
This is really an expansion of harassment and violence in the workplace, says Raso.
"The definition is quite broad now and I think that will take a while for employers to understand that it doesn't have to be the most egregious type of conduct that requires following this process."
As part of the new rules, employers will have to jointly conduct a workplace assessment that identifies risk factors related to harassment and violence in the workplace and develop and implement preventive measures to protect the workplace from these risks.
"Employers are becoming more aware that, at the end of the day, there are lots of dangers and there are lots of violence risks that happen both inside and outside the workplace, and that, where appropriate, precautions and measures should be taken in order to ensure that the workplace is safe for all employees," says Freitag.
At least every three years, the assessment will need to be reviewed and, if necessary, updated, says the government.
"The risk assessment that an employer conducts, and then the recommendations that they have for eliminating those risks, will tie into the policy," says Fong. "To start, I would recommend employers have a look at the workplace assessments and risk factors because that will be the step one that they need to look at and develop to ensure that their policies and training are in compliance."
Employers will also be required to jointly develop and make available a prevention policy that outlines information on how their organization will address harassment and violence in their workplace.
"The vast majority of workplaces have policies and procedures for dealing with harassment and violence, but with the new regulations, they've imposed more specific obligations — probably the most specific I've seen, and they will take time and effort for employers to ensure that their policies meet what the regulations want them to do," she says.
Employers will also be required to jointly identify or develop harassment and violence training and ensure it is delivered to employees at least every three years, providing instruction on the elements of the prevention policy, as well as how to recognize, minimize, prevent and respond to workplace harassment and violence.
The training obligations will require significant time to implement, says Fong.
"All employees require training within one year of the regulations coming into force — this includes both employees and managers. And then anyone who is hired that is new will need training within three months of being hired."
'Designated recipients' for investigations
Employers must respond to every notice of an occurrence — formerly known as a complaint — of harassment and violence in their workplace that is not anonymous and select a person or work unit as a "designated recipient" who is properly trained to deal with the situation.
It's important to note that the investigators must be qualified, says Raso.
"That has been seen [as an issue] with complaints not being properly dealt with because, a lot of times, they're just dealt with internally; they may be dealt with by somebody within the organization who has no skill and training as an investigator. And so, often, the report that comes out is not what it should be, and the findings are not what they should be."
HR may now be able to make a case for spending the money to have a qualified investigator if there's no one internally who's qualified, she says. And employers are probably going to want to come up with a list of predetermined persons with whom they're comfortable ahead of time and consider qualified under the regulations, "so, if there is a complaint, they can quickly negotiate or have communication with… the principal parties."
HR people, if they're going to do in-house investigations, have to be very careful that there's no prejudice, says Kuretzky.
"And that's why independent investigators are often the best format to go with. But when that's not always possible, it's important that it be done by people who are well qualified and don't have any particular bias."
Resolution process
The regulations outline a resolution process that focuses on greater communication between the employer and the parties through: monthly updates; prescribed timelines for completing the resolution process; and increased control on the part of the principal party — the person making the complaint — regarding the subsequent steps for resolution should negotiated resolution not complete the process, says the government.
The resolution process includes multiple options for resolution: negotiated resolution, conciliation and investigation. While the first two are more flexible, if an investigation is chosen to address the occurrence, employers will have to follow the requirements regarding the qualifications of an investigator, how they may be appointed, the report the investigator must submit and how the employer will handle this report.
With these changes, the principal party and the employer can now sit down to review the notice of occurrence and determine whether it describes an action, course of conduct or comment that constitutes harassment and violence, says Freitag.
"Previously, there really wasn't an opportunity for any of the parties to engage in that sort of initial screening phase… It makes really good sense because why would you ever proceed to an investigation if the threshold issue isn't even captured by the harassment and violence policies?"
However, that also is a potential area for pitfalls, she says.
"If they come to the conclusion that this didn't even meet the required threshold, then that deprives a complainant from going through the entire process. So, that's an area… of potential risk but also a potential weeding-out process that's important."
Determining whether a complaint is valid will be highly dependent on the policy that employers develop as part of the requirement of the legislation, says Fong.
"That is basically your decision-maker on whether the complaint fits within that definition and [it] then triggers the rest of policy."
The negotiated resolution or con-ciliation part is quite emphasized in the regulations with the hope that the parties will make use of this before they go through an investigation, says Raso.
"But if the employee is unhappy with the process and the way the more informal resolution is going, they can automatically pull the plug and say, 'I want an investigation to be started.' So, it gives them that control."
Previously, the conciliation phase could be discontinued; now, it can continue if no investigation has been initiated or if an investigation has been initiated, says Freitag.
"It allows parties to continue to engage in conciliation during the period at which the investigator is interviewing people, for example, as long as that report isn't delivered yet, and I think it just puts more power in the hands of both complainants and respondents and employers to work together to find reasonable solutions before they're given this report that makes findings one way or another."
That's to everyone's benefit, she says.
"It's this consent model of 'OK, we want to work together to find a solution outside of just the strict structures of the regulation.'"
Timelines important
It will be important for employers to ensure that they have robust procedures for when they receive a notification, how they deal with that notification and respond within the seven-day deadline that's prescribed, says Freitag.
"That's one big area [where] I think… training will be necessary, just to make sure that there's active responses to those types of notices."
There is also a one-year cap on the entire resolution process, unless one of the key parties is temporarily absent from work for more than 90 consecutive days, she says.
"I see people going on stress leaves as a result of these types of investigations quite often — it's not uncommon. They're very stressful for folks," says Freitag.
"On the flip side, if you have someone who's gone for 60 days, that's going to have a major impact depending on what phase you're in in the investigation… It's almost too prescriptive or it doesn't leave a lot of room for discretion, which worries me."
As far as the timelines go, they've set out obligations on investigation, deadlines and resolution processes, so the nature of the complaint will dictate how quickly that needs to be completed, says Fong.
"Once a complaint is received, the new regulations indicate it has to be completed, including implementation of any recommendations, within one year of receiving the occurrence. But how an employer initially responds to that will depend on the type of complaint," she says.
"It will present some challenges for employers for more complex complaints, given the nature of the investigation. Some simplistic complaints could just require a mediation session between the complainant and the respondent and then it's resolved — and that could just take a number of weeks. But more complex complaints [and] investigations can sometimes take over a year, depending on the circumstances. So, I think this will put a time pressure on some employers for those complex ones."
They're reasonable timeframes, says Kuretzky.
"Bottom line is that it's good. It is designed to move quickly and appropriately so that someone who's got an issue, it's dealt with [and] they're advised of the protective and corrective action that's going to take place. And it is designed to happen in a timely fashion when a complaint is made."
Annual reporting of all occurrences required by government
To support enforcement of the regulations, employers will also have to keep a number of records, says the government, including: records of all notices of occurrences of harassment and violence in their workplace; records of the actions taken to address the notices; records of the decisions they make in the event they are unable to agree on an issue that they must do jointly; and records of any delays to the timelines.
Bill C-65 also requires employers to report annually all occurrences of harassment and violence to the government and, secondly, that the government prepare and publish an annual report related to harassment and violence within federally regulated workplaces.
The draft regulations had required semi-annual reporting, but it was thought that this would be too cumbersome for employers, says Freitag.
"It's not to say that the reporting requirements are gone; there's still some, I would say, onerous reporting requirements. For example, we still have that, March 1 of each year, the employer is going to have to provide the minister with a report setting out the total number of occurrences, where those occurrences are happening, any types of occurrence that fall under the Canadian Human Rights Act and that variety of information."