'Exemptions, medical or otherwise, will be exceedingly narrow, specific and somewhat onerous to obtain': Trudeau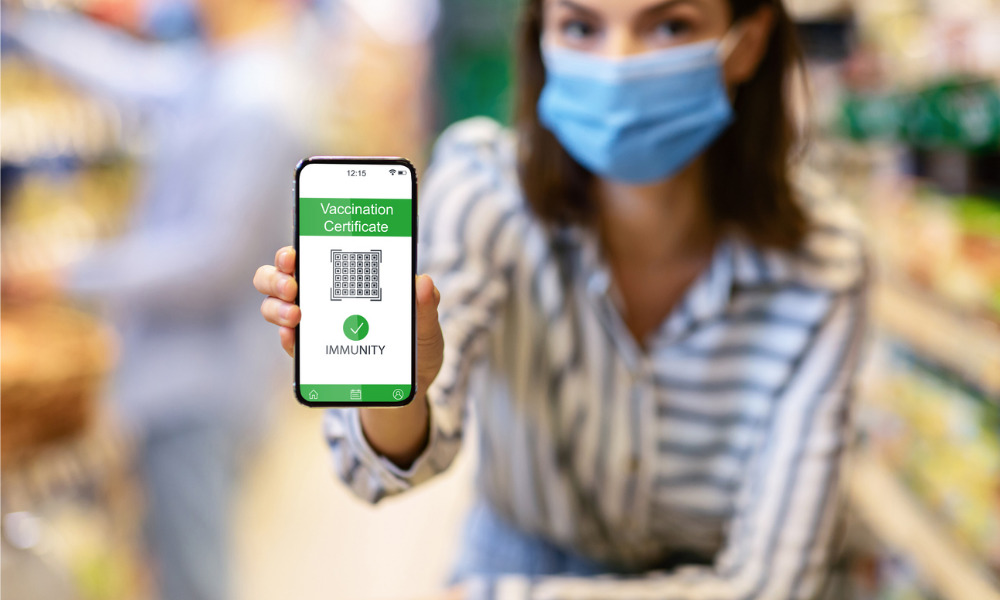 Looking to ramp up vaccination rates and improve health and safety, Ottawa has announced that workers in federally regulated workplaces will have to be fully vaccinated by Oct. 29.
This includes the RCMP, internationally based public service employees, casual workers, students and visiting scientists.
It also includes people who are working remotely or teleworking, full time or part time.
"Bottom line: Proof of vaccination will be required by no later than the end of this month for all federally regulated employers. And by the end of November, enforcement measures will make sure everyone is vaccinated," says Prime Minister Justin Trudeau.
All people travelling by plane or train will also have to be fully vaccinated, with "only be few extremely narrow exceptions."
These measures "are some of the strongest in the world," he says. "This is no time for half measures."
Nearly half (48 per cent) of Canadians believe that employers should require workers to receive a booster shot against COVID-19, according to a survey by Express Employment Professionals in September.
Employees can disclose their vaccination status using the Government of Canada Vaccine Attestation Tracking System (GC-VATS).
There will be "severe consequences" for anyone who misrepresents themselves through the system, says Trudeau.
Vaccine accommodations
All employees of the core public administration must fully vaccinated unless accommodated based on a certified medical contraindication, religion or another prohibited ground for discrimination as defined under the Canadian Human Rights Act.
Employees are also directed by Ottawa to refrain from directing harassment or any other prohibited conduct toward an individual for any reason, including their vaccination status or accommodation measure.
"Exemptions, whether they're medical or otherwise, will be exceedingly narrow, specific and to be honest somewhat onerous to obtain," says Trudeau. "Simply having a personal conviction that vaccines are bad will not be nearly enough to qualify for an exception."
Is refusing a vaccine considered a frustration of contract? Canadian HR Reporter spoke with Paul Boshyk, partner employment labour relations at McMillan in Toronto, about some of the legal landmines employers will have to be aware of when implementing such a policy.
Unpaid leave requirements
For those employees who are unwilling to be fully vaccinated or to disclose their vaccination status, the employer will:
require them to attend an online training session on COVID-19 vaccination
restrict their access to the workplace, off-site visits, business travel and conferences
place employees on administrative leave without pay
Employees who are partially vaccinated will be placed on leave without pay if they have not received their second dose by 10 weeks after their first dose. But those who have been placed on leave without pay and who become partially vaccinated will resume work and have their pay reinstated.
But leave with pay is not available for employees unwilling to be fully vaccinated or unwilling to disclose their vaccination status.
"The chief human resources officer may direct deputy heads to take appropriate action to address non-compliance issues or may impose any other measures deemed appropriate to assess whether requirements of this policy or its supporting instruments and mandatory procedures have been met," says the government.