If employees are terminated, would it be considered for cause?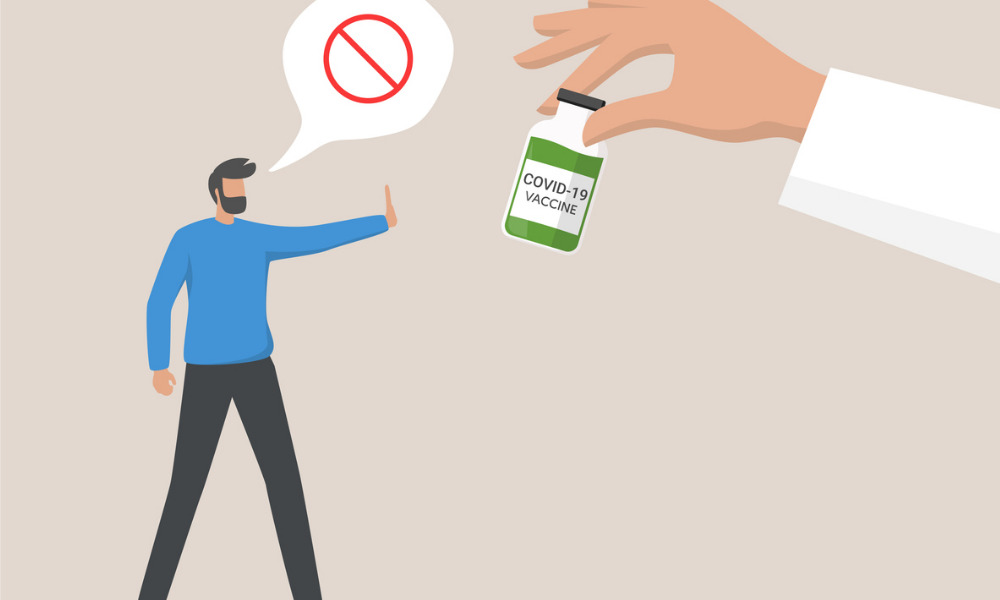 For all the challenges around mandatory vaccinations and the workplace, one big area of contention involves the employer response to workers who refuse to get the vaccine. Should they be put on unpaid leave, paid leave or terminated?
Canadian HR Reporter spoke with three employment lawyers for their thoughts.
In such a difficult time, it's an evolving area, says Irv Kleiner, a partner in the Employment & Labour Group at Torkin Manes in Toronto.
"Most employers and a lot of the clients that we represent have chosen not to go the termination route, especially in the healthcare sector… A good number of employers are just saying, 'We're putting you on an unpaid leave of absence.'"
It's more of an exception than a rule where employers have been terminated, he says — but that's now beginning to emerge as a trend.
"A lot of employers are now saying, 'We're putting you on an unpaid leave of absence for a period of time. And at the end of that leave, you either come back, fully vaccinated, or your employment is terminated.'"
What's unclear at this point is if people are terminated, will it be deemed for cause, says Kleiner, and will they be entitled to termination pay or severance pay under the Employment Standards Act?
"Or will they have an entitlement to be paid common law notices or payment in lieu of notices? So that part is still not entirely clear; the case law is still evolving at this point."
Two recent Ontario arbitration decisions provide some takeaways for employers on the reasonableness of mandatory vaccination policies.
Termination for cause?
There's no settled law in this area of discipline and vaccines, but context and a union or non-union environment make a difference, says Kevin MacNeill, senior partner at Norton Rose Fulbright in Ottawa.
"Employers are taking different approaches. Some are being very clear: 'If you do not get vaccinated and you don't have a valid exemption, you're fired; and the firing will be for cause.' Other employers are going with a lever out."
There's also a hybrid route, where an employer gives staff a certain amount of time to be vaccinated, and if they don't meet the deadline, they're put on leave for a year; if in the next year COVID has not gone away and they're still not vaccinated, then their employment is terminated, he says.
"And then when you're terminated, some employers are leaving their policy silent on whether that's going to be for cause; some are being expressed in terms of it's going to be for cause."
There's a couple of ways that it could be argued, says MacNeill.
"From the employee side, [they could] say, 'This is a new term of employment and it's very personal decision, and therefore any termination for refusing to get vaccinated can't be just so I'm entitled to a payout' or whatever. And on the employer side, for the people who have adopted the just cause position, they could argue, 'Hey, it's always been a term of your contract that you will comply with lawful directives, especially when those directives are adopted pursuant to safety legislation, and our directive is adopted pursuant to safety legislation and it's an implied term in your contract that you will comply with valid safety directives and your refusal to do so is insubordination, giving rise to cause.'"
Some employers are taking a phased approach, so if someone fails to get vaccinated by a certain date, they're basically put on decision-making suspension, so it's a disciplinary unpaid suspension, he says.
"The idea is it doesn't lead immediately to termination, and they do that as a way to shock the employee into compliance and to correct the employee's insubordinate behaviour. And they would have an argument that it's progressive discipline: 'We established a lawful policy, you refuse to follow it, we suspended you as a first step, we gave you a chance to change, you didn't, then we terminated for cause.' And so all these questions haven't been fully thought through by the courts."
Canadian HR Reporter recently spoke with Neena Gupta, a labour lawyer at Gowlings in Waterloo, Ont., for answers to questions about mandatory vaccinations and the workplace.
Admin leave with pay?
The question of discipline is interesting because in Electrical Safety Authority and Power Workers Union, arbitrator John Stout actually says if it is unreasonable to the extent that employees may be disciplined or discharged for not being fully vaccinated, it is also unreasonable to place employees on administrative leave without pay, says Sara Parchello, a partner at Bennett Jones in Toronto.
"He doesn't address the situation of what would they have done If they have been placing people at admin leave with pay as they were taking these other steps? I mean, you have to question yourself, as an employer, if you're going to want to do that, because then you're going to have a lot of people that don't necessarily want to come to work."
But Stout does suggest that leaving people on administrative leave with pay may be acceptable, she says.
"[But] he doesn't address the situation where you might be able to put people on admin leave with pay, pending a further review of the workplace to determine whether or not this is… a policy that you can implement."
In Blake v University Health Network, both the union and non-union employees disputing the validity of UHN's vaccination policy and sought an injunction to preserve the employment of those employees who did not meet the vaccination requirement. The injunction was denied.