'This just creates more uncertainty'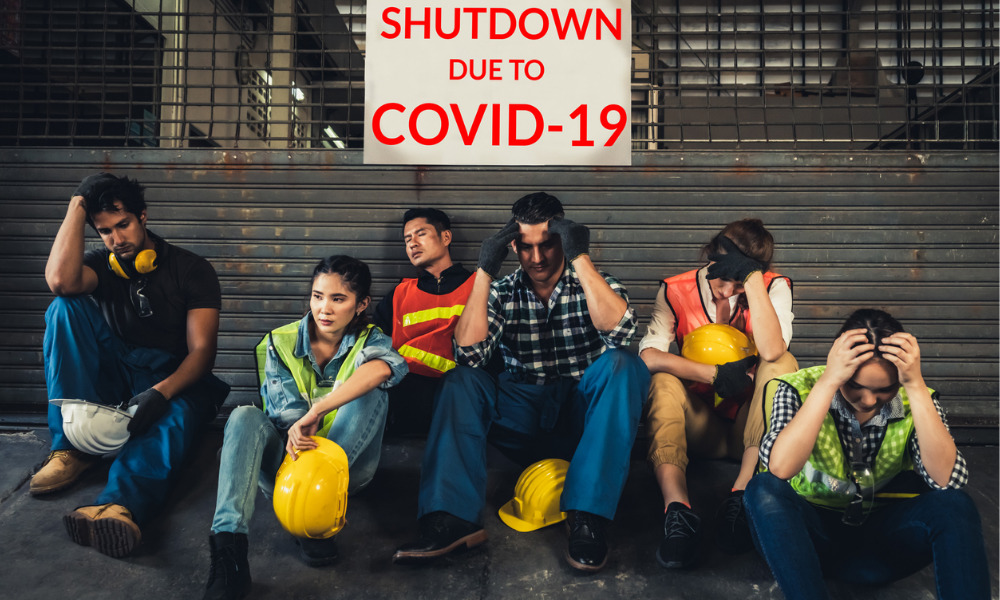 The Ontario Court of Appeal has set aside a motion judge's ruling that a dispute over whether a legislated pandemic emergency leave could be constructive dismissal was precluded from going to trial by legislation providing for the emergency leave, but it declined to make a finding on the issue itself.
Many people who were anticipating a decision on the issue are disappointed that the appeal court avoided it, according to Barry Fisher, an employment law mediator in Toronto.
"There was great disappointment in the community," says Fisher. "Certainty is a welcome factor in law, especially in employment law, and this just creates more uncertainty."
In May 2020, the Ontario government amended the province's Employment Standards Act (ESA) to create a new category of job-protected leave – Infectious Disease Emergency Leave (IDEL). Employees were entitled to up to three days of paid leave if they were required to miss work due to reasons associated with COVID-19.
The provincial government also passed a regulation under ESA, O. Reg. 228/20, that indicated that a reduction of hours or wages, including a temporary layoff, was deemed an unpaid part of IDEL. Normal temporary layoff limits under the ESA were suspended during the specified COVID-19 period.
Candace Taylor was an assistant manager at a Tim Hortons store in Whitby, Ont., owned and operated by Hanley Hospitality. She was laid off without pay on March 27, 2020, as a result of COVID-19. She was recalled a few months later, but she filed an action claiming constructive dismissal. She argued that because the store continued to operate with reduced staff, her layoff was a business decision made in response to unfavourable economic conditions, not COVID-19.
Read more: Ontario courts' disagreement on constructive dismissal and emergency leave means the law on the issue is unsettled, writes an employment lawyer.
Hanley Hospitality argued that the province's state of emergency forced it to temporarily lay off more than 50 employees, Taylor agreed to the layoff, and she was on IDEL and therefore never terminated.
Hanley brought a motion under Rule 21 of Ontario's Rules of Civil Procedure to determine an issue before trial and without considering evidence – whether the action was precluded by the IDEL provisions in the ESA and O. Reg. 228/20.
The motion judge found that that the IDEL regulations were intended to benefit employers by allowing them to lay off employees for reasons related to COVID-19 without risk of liability for constructive dismissal. It added that the ESA displaced common law constructive dismissal, as the employee could not be on a leave of absence under the ESA and still be terminated for common law purposes. To interpret them differently would render IDEL meaningless, said the motion judge in granting Hanley's motion and dismissing Taylor's action.
Read more: The Ontario ESA draws a line between legislative rights and civil remedies, leaving the door open to employer liability for constructive dismissal for pandemic emergency leave.
Taylor appealed to the Ontario Court of Appeal.
The Court of Appeal upheld the appeal and set aside the rule 21 motion, finding that the motion judge erred in law in dismissing the action under rule 21 – as such a motion required the facts pleaded in Taylor's statement of claim to be assumed to be true. This would require the motion judge to assume that Hanley had temporarily laid off Taylor because of unfavourable economic conditions, but this was contrary to the judge's ruling that Taylor had been on IDEL, said the appeal court.
The appeal court noted that there were "myriad disputed issues" related to the interpretation of the ESA and O. Reg. 228/20 that could not be resolved on a rule 21 motion without hearing evidence.
Given the need for an examination of the evidence, the appeal court remitted the matter back to the Superior Court of Justice for a full determination on the facts. As a result, it declined to rule on the constructive dismissal issue, since that would be part of the trial's purpose.
Unsettled law
As a result of the appeal court's refusal to make a finding on constructive dismissal and IDEL, things are still up in the air on the issue – particularly since the lower court decision contrasted with two other Ontario court decisions that reached a different conclusion – and one of them, Coutinho v. Ocular Health Centre, had its appeal dismissed for technical reasons, says Fisher.
"The score used to be two-to-one in favor of [Taylor's] position that the common law wasn't affected, with Taylor being the only one on the employer side, he says. "You can't even cite it anymore, because the [Court of Appeal] is saying that basically that whole award is null and void. If you're keeping a scorecard, it's two-to-zero."
With the case going back for trial, it will be a while before the issue is resolved, says Fisher. However, employers might be facing liability and potential litigation when the latest extension to the COVID-19 period for IDEL ends on July 30, without more judicial guidance on how the leave should be treated in relation to common law constructive dismissal, he adds.
"Because it's a statutory leave, the employer has a statutory obligation to put the person back, just like maternity leave," Fisher says, who notes that even if an employee found other work, they could still be entitled to ESA termination pay, which isn't subject to mitigation.
"Employers will argue that [employees] consented to the layoff and employees will say they didn't consent to anything and now it's a deemed layoff because they weren't called back," he says. "Now, if the employer does call them back before July 30 and they don't show up, then they've lost their rights. But some of them might show up."
See Taylor v. Hanley Hospitality Inc., 2022 ONCA 376.