'Let's be honest, there are no perfect solutions'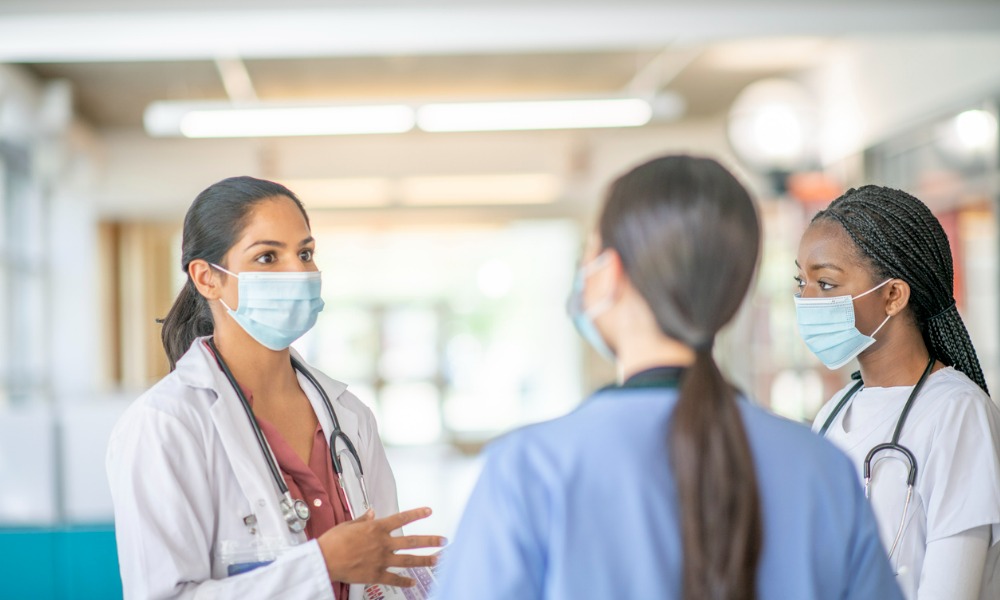 Not wanting to lose up to 25,000 employees in the healthcare sector, Quebec has decided to postpone its vaccine mandate until Nov. 15 instead of Oct. 15.
"When we have the potential departure of the unvaccinated staff already, we find ourselves adding undue pressure on our network and especially on the vaccinated health workers who have been at the front for months," said Health Minister Christian Dubé.
"If we continue like this, we run into a wall."
Even if the province accepted staff who had a single dose of the COVID-19 vaccine, roughly 14,000 people would be removed from their jobs, he said, and by accepting unvaccinated people in critical places, it could mean the departure of 12,000 staff.
"Therefore, we took the difficult decision… to postpone the implementation of the decree of mandatory vaccination in the health network until Nov. 15. We want to give the unvaccinated staff extra time to collect their dose."
It's the best solution under the circumstances, said Dubé.
"Let's be honest, there are no perfect solutions."
Looking to ramp up vaccination rates and improve health and safety, Ottawa has announced that all workers in federally regulated workplaces will have to be fully vaccinated by Oct. 29.
Consequences for unvaccinated
As of Oct. 18, all employees who are not vaccinated will have to be tested at least three times per week before their shift, he said. For now, that applies to all staff in direct health services but it could extend to all employees in healthcare.
In addition, all new hires to the public network will have to be adequately vaccinated.
When asked about consequences for those workers who are not vaccinated, Dubé said they will lose their premiums, which include retention bonuses of up to $18,000, along with retirement savings and seniority for vacations.
"There are monetary and non-monetary disadvantages," he said.
Is refusing a vaccine considered a frustration of contract? Canadian HR Reporter spoke with Paul Boshyk, partner employment labour relations at McMillan in Toronto, about some of the legal landmines employers will have to be aware of when implementing such a policy.
Unions welcome news
The president of the Fédération de la Santé du Québec (FSQ-CSQ) is satisfied with the decision to postpone the compulsory vaccination deadline.
"As he admitted, the minister simply had no choice, given the fragile state in which the network finds itself, to make this responsible decision," said Claire Montour. "Dubé seems to have listened to the message launched by the health unions last week. We now encourage all our members to take advantage of this extra time to complete their vaccination."
The health minister had no choice but to announce some flexibility, said the Fédération interprofessionnelle de la santé du Québec (FIQ) "because he could see that he was steering us directly into a wall." [translated]
"We are avoiding chaos in the short term, but we are not out of the woods. The network is still extremely fragile."
Legal considerations
Canadian HR Reporter recently spoke with experts about some of the practical considerations for employers in implementing a mandatory vaccination policy, along with how to handle potentially sensitive employee medical information.
Employers looking to protect the health and safety of employees by imposing vaccine mandates should determine if this obligation justifies the encroachment upon employees' privacy and human rights protections under Canadian law, say lawyers at BLG.
"Unfortunately, the answer to this question is not obvious."
Examples of circumstances that tribunals may consider as a reasonable purpose for the collection of such data include:
A very high risk of COVID-19 transmission in the specific workplace of the employer (compared to society at large), due to intrinsic characteristics present at the time the mandatory vaccination policy is in place
The impossibility (or high impracticality) of implementing other less intrusive measures
The demonstrable inefficacy of other less intrusive measures due to the nature of the work/the workplace.
Under human rights legislation, employees may refuse to receive the vaccine based on prohibited grounds of discrimination (such as medication conditions and religion), say Justine Laurier, Vanessa Lapointe, Danny Kaufer and Stuart Aronovitch of BLG.
"A mandatory vaccination policy would need to be reasonably justified and necessary, along with other, less invasive measures being insufficient to protect employee health and safety. In addition, it would also need to account for an employers' obligation to provide reasonable accommodation to employees who refuse to be vaccinated based on such protected grounds, up to the point of undue hardship."
To prepare for any legal challenges to a vaccine mandate, employers should ask themselves the following questions, says the team at BLG:
Are the measures imposed necessary and justifiable, given the specific circumstances of our workplace, in light of our business context and reality?
Are we using the least intrusive measure possible to reach our goal?
Are we complying with all other applicable legislation and up-to-date government/labour board/health authorities' guidelines?
Are we protecting employee privacy at all times?
Are we complying with human rights legislation and accommodating employees where necessary?