EllisDon, Nutrien, Rogers are among growing number of employers rolling out rapid antigen testing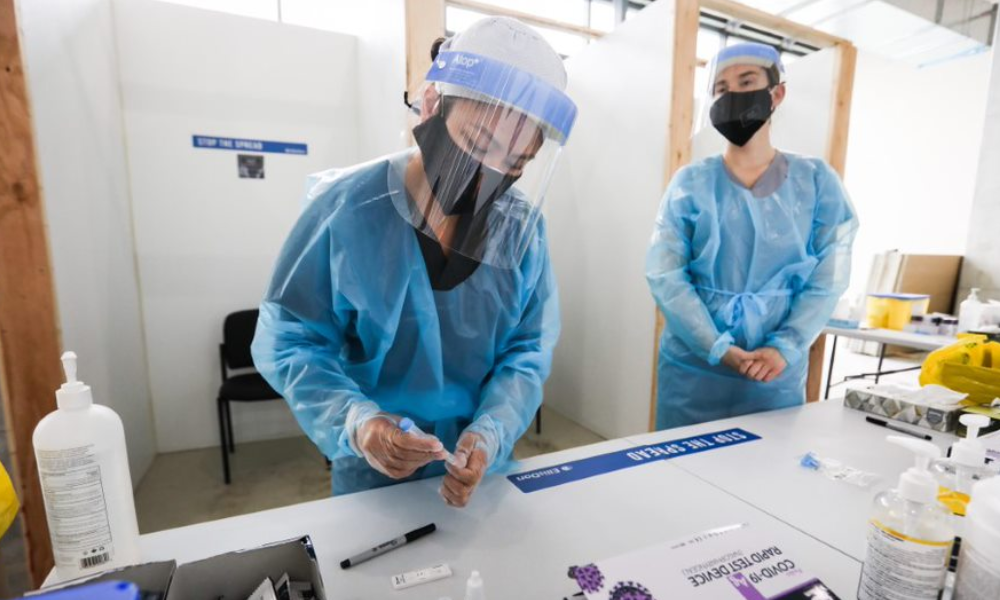 Roughly 31,000 tests — that's the number of rapid antigen testing carried out by EllisDon in the first few weeks of 2021.
The construction firm is fully embracing the screening method, which has been "really successful" in the early identification of presumptive positives that are then confirmed through a polymerase chain reaction (PCR) test, says Steve Chaplin, vice president of health, safety and environment at EllisDon.
"We thought we'd have a lot of pushback [from workers], there's always a few, but really it was adopted quite well. And now we've moved to a spot where in the GTA [Greater Toronto Area] we've got about 16 sites where we're doing the testing. And we've just completed, as of today, over 31,000 rapid test screens… And we're doing 8,000 tests a week."
EllisDon acted early to boost safety efforts both on worksites and at offices by introducing physical distancing, reduced capacities, staggered start times, hand sanitizer and health screening questionnaires. More recently, the company was an early adopter of thermal imaging temperature scans, and it is now fully embracing rapid antigen testing to limit further spread of the virus.
"We really tried to be proactive and… to be on the leading edge of keeping employees safe and the worksites open," he says.
With newer screening technologies such as rapid testing and distancing devices — and the rollout of promising vaccines — employers such as EllisDon have a lot to consider when it comes to keeping employees safe, whether they are at the workplace now or going back to the office once the worst of the pandemic subsides.
EllisDon mandates testing
Back in December, as part of an Ontario government pilot project, EllisDon started a voluntary screening program with rapid tests at a few of its worksites. This involved a full nasal pharyngeal done by a registered nurse.
Basically, it's an enhanced workplace screening program, says Chaplin.
"We're only doing the testing on asymptomatic people. So, workers still come in every day and they have to get their temperature screened, have to answer their health screening questions. If they pass that, they're allowed onto the worksite. And twice a week… they'll go and do their antigen screen."
While effective, the participation rate was pretty low to start so the company decided to make the test mandatory. This was done after consulting with the legal department and the unions, he says.
"We said, 'We're going to do it and it's a pandemic, it's the right thing to do, and we're going to see what happens.' And, so, we took a bit of a leap."
Any workers who don't want to participate will not have access to that worksite, but they can work at another location or at home, if possible, says Chaplin.
But resistance should be reduced as the test is easier now.
"Doing a full nasal pharyngeal on employees twice a week… nobody would want to do that. And so… we've been doing the back of throat and two lower nasal [swabs], which is fairly accurate if not as accurate as the full nasal pharyngeal. But it's good in early detection," he says.
And the tests can now be done by a trained person instead of a health-care professional, who can test about 100 people in a day. Workers sign in with a QR code to register and are given a time slot during the workday to take the test, says Chaplin.
"The swab is really quick, it's literally a minute for them to do the slot, and then they leave and they go back to the job site."
A mechanism will call the worker back within 15 minutes if the test comes back positive, and they then go for a standard PCR to confirm the presumptive positive.
"We've been able to identify, I would say, over 20 cases through this process, since January, of presumptive positives... That really has helped to prevent further spread," says Chaplin.
In some cases, people are compensated for having to stay home, but it's really approached on a case-by-case basis.
"We had one individual that was a false positive and we ended up paying him for the day because it was the right thing to do. But every case and every situation is different," he says.
Office employees are also doing the rapid testing, although, with the lockdowns, less than 10 per cent are in the office each day, says Paul Trudel, senior vice president of people and culture at EllisDon.
"If you're in five days a week, you're probably still only getting [the test] once or twice a week versus having it done every single day."
The main message to employees is that this about helping them feel safe, he says.
"The benefits are far outweighing any sort of negatives that we're experiencing. So, we would certainly look at continuing it."
Legal considerations
There are, not surprisingly, a few legal considerations when it comes to rolling out screening methods such as rapid antigen testing. And a big one would be the requirement for mandatory testing.
If the employer is in a jurisdiction that has privacy legislation or has a unionized environment, making it mandatory is about establishing that there's need for it, says Daniel Michaluk, a partner at BLG in Toronto.
"That's basically it — you're going to argue that 'We have a need to collect this information and administer this test, based on our interest in keeping a safe workplace, that overrides the intrusiveness associated with the testing process itself and the associated information collection.'"
This was seen, for example, with a recent case in Ontario involving a worker at a retirement home, where the arbitrator issued an award upholding an employer's right to make employees take a COVID-19 test, he says.
Plus, with the more comfortable rapid antigen testing that is available, employers can argue that they're using a less-intrusive method, says Michaluk.
"The good thing about testing is… it's not the same as administering a vaccine… that [involves] putting a foreign substance into your body that's meant to have an effect on your health, which is far more intrusive. So, testing has been defended and, I believe, could be defended again."
As for any workers who refuse to take the test, discipline may not be an option for employers.
"I'm not sure you can ever rightly discipline someone for disobeying a requirement to have a bodily intrusion or something like that," he says. "It's not insubordination in the classic sense... Insubordination is about thumbing your nose at the employer's authority."
Often, the employee will say they are making a bonafide choice about their privacy, which in most cases rules out a disciplinary approach, says Michaluk.
"But you can require it as a condition of doing [the job]."
Another important consideration is securing the screening data, which is a requirement. But data retention shouldn't be an insurmountable barrier to bringing in testing, and the information can probably be stored in identifiable form, he says.
"In most cases, I don't see any compelling reason to scrub it because you're only going to retain it for a short period of time… I understand most employers are landing on about 30 days — I haven't heard a compelling reason to keep the data for longer."
Nutrien sees results with rapid testing
As a member of the Creative Destruction Lab (CDL)'s Rapid Screening Consortium, Nutrien has been piloting rapid antigen testing for its office and field employees.
"We want our employees to be coming to work and not be distracted by anything that would take them away from their focus on what needs to be done and be done the safest possible way," says Michael Webb, executive vice president and chief HR and administrative officer in Calgary.
And while accuracy was a concern initially, the rates are now up to 95 per cent, he says.
"We're feeling much more confident with the rapid tests that we have today and their accuracy."
Unlike EllisDon, the tests are not mandatory for Nutrien staff, and as people become more comfortable with the concept and greater numbers of people go back into the office, it's likely a tool that will be used more often, says Webb.
"We've communicated that we wouldn't be returning to the office before July 1. As we get closer to that date, and if things continue to be positive, which they have, then we may roll it out more broadly to our corporate centres, certainly, and to the field operations," he says.
"This is something that we're growing more comfortable with; the availability of it continues to grow as these tests are produced and released, and it could very well be a big part of our broader return to the workplace."
Nutrien has also been testing a proximity monitoring device with roughly 8,000 employees and plans to roll that out for another 6,000 at corporate centres and manufacturing sites. The tracker sets off an alarm when people are closer than six feet apart.
"It's fantastic because it's a constant reminder of... your situational awareness," says Webb. "It's almost like a competition; you don't want that thing to be beeping. So, you get into the practice of keeping the safe distance."
The technology also provides a record of who has been in contact with others should someone test positive for the virus and the company needs to notify others.
Positive feedback for rapid testing
When companies that are doing the rapid testing ask employees why they like this approach, they come up with two answers: one, they feel good about being in a safer workplace; and two, they're more confident that, when they go home at the end of the day, they're not transmitters of the virus back to their family, says Janice Stein, a member of the CDL steering committee and founding director of the Munk School of Global Affairs and Policy at the University of Toronto.
"From an employer perspective, you don't want an infectious employee in the workplace... We call it breaking the chain of transmission. Because the one worker — and you don't know which one, that's the issue — can infect multiple people in the course of the day, and that person themself doesn't know they're sick, doesn't have symptoms and may never have symptoms, frankly, but they can infect others."
While the downside of a false positive is not great, with somebody having to miss work to take a PCR test, the downside of an asymptomatic person bringing the virus in the workplace is really not good, she says. And while some employers may be concerned about the cost, they should consider the price of having to shut down a worksite for two weeks, as seen with Amazon's Brampton, Ont. location in March.
"The losses from that far outweigh [the costs] if you were able to catch the few asymptomatics that might in fact be spreaders," says Stein, adding that, with many people being vaccinated at long-term care homes, "the chief site of outbreaks now is in the workplace."
Plus, the screening continues to evolve, going from an average time of eight minutes to less than a minute and from a "brain tickle" or nasal pharyngeal swab to a more comfortable swab lower down in the nose, she says.
There is also the possibility that people can do testing at home virtually.
"There's all kinds of new innovation that is taking place," says Stein.
The most important thing is to do it consistently, says Catherine Connelly, professor of organizational behaviour at the DeGroote School of Business at McMaster University in Hamilton, Ont.
"It [should have] the same rules for everybody. So, if the VP is going to get a privately done temperature check and swab, then everybody should get that. There shouldn't be special rules for special people," she says. "Any good executive worth their salt would make sure that they are doing the screening in a very public way so that everybody does see them."
Rogers rolls out pilot program
Rogers is also involved with CDL's Rapid Screening Consortium, rolling out a pilot program with workers in Toronto, with the possibility of expanding the pilot to other teams and locations.
The screening is done on a voluntary basis because most employees are working remotely. For those who are required to work on-site, there are public health measures to help keep them safe, says Karina Dearborn, rapid screening program director at Rogers in Toronto.
"We are told by our participating volunteers that the screens help them to feel safer when coming to work."
But the rapid testing may not be for every employer.
"It depends on each organization and their business model and what the level of risk is in terms of transmission or outbreaks of infection," she says.
"The biggest challenge for organizations looking to deploy rapid screening may be the cost of paying for the staffing to run the onsite clinics."
As for how long Rogers will continue rapid screening, that will be determined by the company's chief medical officer, says Dearborn.
"He will take into consideration best practices in terms of minimizing the risk of transmission but also what measures help our employees feel safer and more protected as our offices begin to reopen," she says.
"In addition to rapid screening, there are a number of critical elements needed to ensure a safe and successful return to office including offering teams flexibility, continuing to focus on health and safety education and protocols and encouraging vaccination among employees."
Will testing end with vaccines?
Of course, with vaccines now rolling out across the country, the need for rapid testing may lessen. Many companies plan to continue until the virus level drops in the community, says Stein.
"The vaccines do not signal the end of the testing — it will go on until the level of the virus in the community drops to a point where it's not replicating anymore."
There will still be challenges because even the best vaccines are only going to be 90 per cent effective and there must be enough people in the community vaccinated. Plus, it's not yet clear if vaccinated people can transmit the virus, she says.
"We're hopeful that the likelihood is less because, once you're vaccinated, even if you get it, you should get a much milder case and your viral load should be lower. But we don't know the answer to that yet."
As a result, many employers are saying that they're going to need to screen for another year or 18 months, says Stein.
With its various screening methods, EllisDon is looking to bridge the gap between now and vaccines, says Chaplin.
"As we see the numbers of cases drop off, more people get vaccinated and we're identifying less presumptive positives, then that would be an indicator for us to slow down the screening."
We will reach a midway point where some people are vaccinated and others are not, and the people who have been vaccinated are still contagious, says Connelly.
"So, all of the existing measures need to be maintained… We still need masks, we still need social distancing, we still need hand washing. Companies can't just say to employees, 'Oh, get a vaccine' and then absolve themselves of responsibility."