Apple, Meta require third shots from workers – but what are the risks?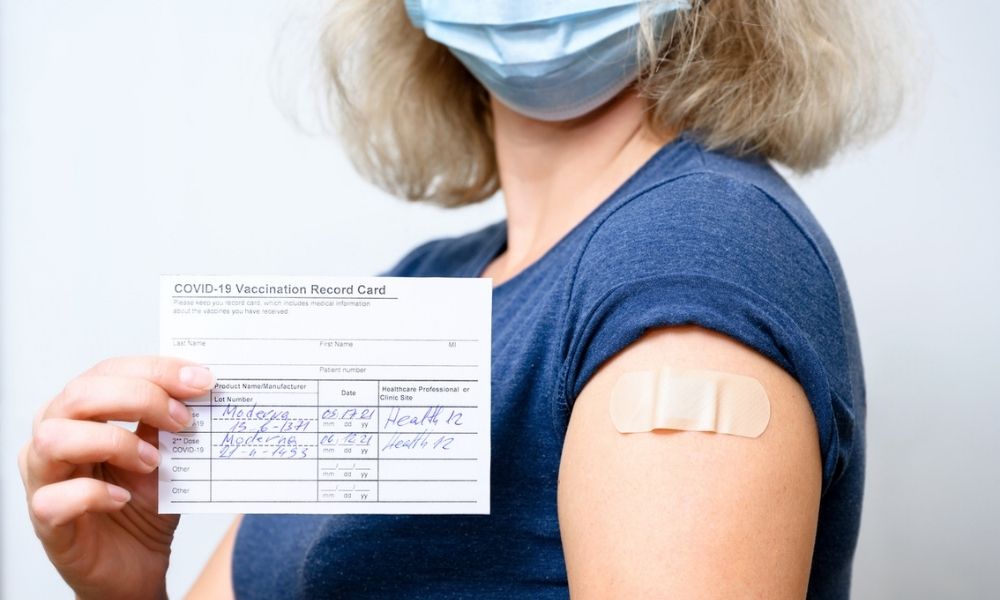 Now that booster shots for COVID-19 have been available for a couple of months, some employers have decided to update their mandatory vaccination policies to include the third shot.
Both Apple and Meta in the U.S., for example, are requiring staff to get the extra jab, according to the Verge.
And back in September, nearly half (48 per cent) of Canadians felt that employers should require workers to receive a booster shot against COVID-19.
But is this necessary? Is it just a matter of updating your policy? And what are the risks? Canadian HR Reporter checked in with two legal experts for answers.
For the most part, the same requirements apply as with the first round of vaccines, says Hena Singh, partner at Singh Lamarche in Toronto.
"Whether you require two or three, the law doesn't change at all, in those circumstances," she says.
"There's also an assumption, I would think, that if people have gone out, been poked twice, that they're probably getting in line to get poked a third time as well. People tend not to turn into anti-vaxxers after the second shot. So, my guess is that employers are not as concerned about the people who have had two shots getting the third as they were people with zero shots."
But the whole purpose of vaccine mandates was to stop the spread of COVID-19, and now with the omicron variant, "tons of vaccinated people are getting it and vaccinated people are transmitting it," says Gregory Sills, senior associate at Samfiru Tumarkin in Toronto.
"As new variants come out, and the efficacy of our existing vaccines tends to dwindle, there's becoming much less of a foundational basis to argue that the mandatory vaccination is actually necessary, and that it actually creates a benefit."
But the vast majority of the science is saying that the shots are helpful in terms of keeping the boosted out of the hospitals, says Singh, and "if [the unions are] not fighting over the anti-vaccination policies, it would surprise me if they started fighting over the boosters."
The recommendation is that people get vaccinated and employers have the right to make that a requirement, she says.
Plus, "it's effective, because a lot of people who are scared about losing their jobs went and got vaccinated."
Recently, employees at the University Health Network in Toronto were denied an injunction seeking to prevent the employer from enforcing its vaccination mandate in the workplace.
Is a policy change required?
In considering adding boosters to their mandate, employers will want to make sure that the language in their policies allows for such a change, says Sills.
"I certainly hope that they included provisional language to begin with that allowed them to amend it, because then they stand a better chance of including the requirement for booster shots at a later date in saying to their employees, 'Well, you've already accepted this policy as a term of your employment, you've complied with it, and now we are amending it as we are entitled to do,'" he says.
"But if there's no language that allows an employer to amend this, they're opening a further can of worms."
If the policy uses the term "fully vaccinated," that's also a moving target, says Sills.
"Either way, for an employer unilaterally changing the provisions of their policy at this point in the game, they may run into hurdles."
One of those could be employee resistance: While they may be "begrudgingly complied" for the first two vaccines, they may not have the same predilection for a booster shot, he says.
Plus, enforcement of the policy has lead to shortages in staffing for employers that "perhaps didn't think that the opposition to these policies would be as strong as it is," says Sills.
"I've had a few people that I've spoken to where they were expecting to be placed on an unpaid leave at the beginning of January and nothing has happened. Because employers, I believe, some of them are facing some staffing issues."
Legal challenges around vaccine mandates
These policies are troublesome to begin with, says Sills.
"If you're introducing them for existing employees, they can certainly amount to a material change to existing terms of employment. And when you do that, you start running into potential issues where, when people want to refuse it, that employer — even though they may be trying to do their part for the social greater good — may not have a legal basis to stand on."
The possibility of a constructive dismissal claim after employees have been laid off because they didn't comply with a mandatory vaccine policy is another concern.
"I wouldn't be surprised if we saw some employers back off of [the policies]," he says.
Unfortunately, the law is somewhat confusing when it comes to layoffs during the pandemic, and many employers think they've been given a green light by the government — and then are faced with a wrongful dismissal or constructive dismissal claim, says Singh.
"Employers are in a bit of a pickle because the government's really encouraging these things. But there's no subsidy or way to compensate employers that have to pay an arm or a leg to terminate these employees without cause," she says.
"It's causing a lot of difficulty for some employers who realize that they are the ones that have to bear the cost of someone not following the requirement to get vaccinated."
Canadian HR Reporter previously spoke with two employment lawyers for answers to five key questions about vaccines and the workplace.
Does testing still make sense?
A lot of arguments have been made that employers should allow for random testing of workers if they choose not to get vaccinated. However, with omicron, you hear of people getting infected by people who test negative and who are asymptomatic, says Singh.
"Right now, we're in a situation where there's no really failsafe way to do this. We're all trying to do our best and trying to do it the safest way. And the least intrusive way to protect ourselves and each other."
People who are vaccinated are also spreading the virus so it would be "prudent" for employers to be testing everyone, not just those who are unvaccinated, says Sills. But with the "questionable efficacy" of rapid antigen testing, along with limited access to PCR testing due to high demand, employers should continue to offer remote work or work from home as an alternative.