'The testing was a generous accommodation that the employer gave to these people'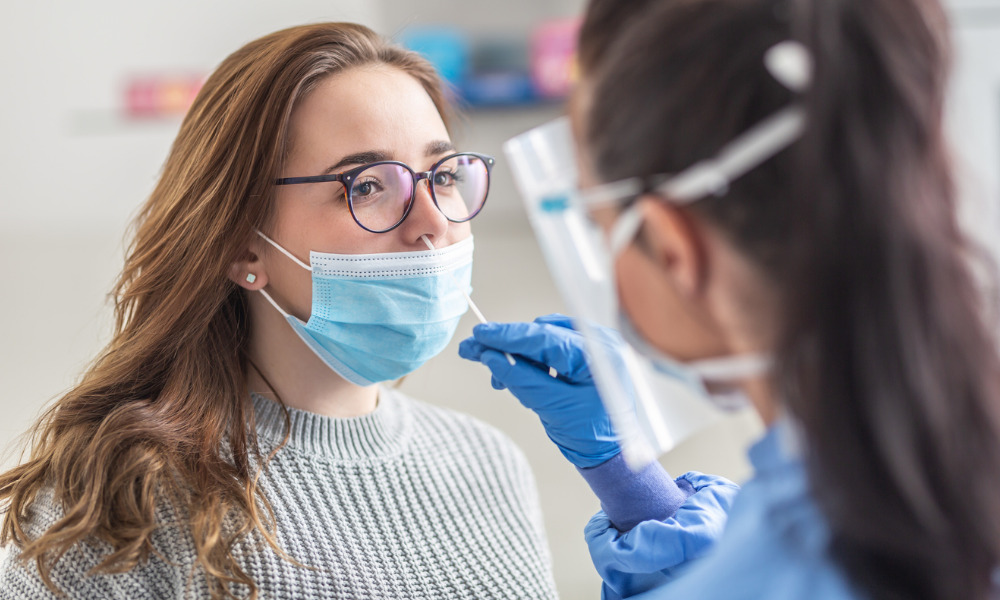 A British Columbia employer's policy that required unvaccinated employees to undergo regular COVID-19 testing is reasonable, an arbitrator has found.
The decision demonstrates that such a policy is an acceptable way to accommodate employees who refuse to get vaccinated, says Israel Chafetz, a partner in labour and employment law at Harris & Company in Vancouver.
"Accommodations in general come about most often because of somebody's physical limitations, which is not their fault — but in this case, the accommodation is based on people choosing not to do something; it wasn't something beyond their control," says Chafetz, who represented the employer, CKF, in the case.
"That's why I say the testing was a generous accommodation that the employer gave to these people. It's not surprising to me that the arbitrator confirmed the employer's generosity."
Read more: A B.C. worker's failure to follow COVID-19 protocols didn't deserve dismissal, according to an arbitrator.
CKF is a manufacturer of single-use food packaging products that operates two plants in Langley, B.C. — one produces egg cartons and the other produces foam food packaging. The plants run 24 hours a day and provide more than half of the food packaging in grocery stores.
When the COVID-19 pandemic hit, CKF quickly took measures to protect against transmission of the virus in its Langley plants, including increased sanitization, masks, and maintaining physical distance wherever possible.
In April 2021, the local health authority ordered CKF to shut down the foam packaging plant due to seven employees testing positive for COVID-19. The closure was expected to last at least 10 days, but the health authority agreed to inspect the plant and establish an onsite testing and vaccination clinic. The plant was allowed to reopen one week after the closure, after more than 200 employees were vaccinated.
Vaccination policy introduced
On Sept. 9, CKF's parent company, Scotia Investments, introduced a vaccination policy that required all employees to be fully vaccinated by Oct. 31 unless the company approved reasonable accommodation for medical or religious reasons. Unvaccinated employees had to submit to weekly COVID-19 testing. CKF set up a free on-site testing facility, but the policy allowed for employees to get tested offsite and submit the results.
After the testing requirement came into effect, 12 unvaccinated employees agreed to weekly testing and one was placed on unpaid leave after refusing to submit to testing.
The union grieved the requirement for weekly testing of unvaccinated employees, arguing that it was an unreasonable exercise of management rights. It claimed that the testing was a gross invasion of privacy and "abuse of personal bodily integrity."
The union added that since there were so few unvaccinated employees — about four per cent of the workforce — it would be reasonably easy to separate the unvaccinated employees and use other safety methods.
The arbitrator noted that COVID-19 testing intruded on employee privacy and bodily integrity, so the employer's policy must have a reasonable justification for such an intrusion. CKF argued that the justification was that its business was essential to food distribution and it couldn't afford a lengthy shutdown or loss of labour due to an outbreak.
"The testing process was in the least invasive way it could be done — it was done by a third-party professional nurse, in private, and it takes but a few seconds," says Chavetz. "When you put that up against what was at stake here, the invasiveness was negligible."
Read more: An Ontario arbitrator found a company's introduction of COVID-19 rapid testing at a construction site was reasonable.
The arbitrator disagreed with the union's assertion that because vaccinated employees weren't immune to COVID-19, this meant that the testing requirement didn't make sense. The evidence of waning immunity showed that unvaccinated employees posed a risk to vaccinated employees from an increased risk of transmission. This was a real workplace concern, particularly since the spread of illness would have a negative impact on employee health and absenteeism — and CKF's business, said the arbitrator.
"The employer acted quickly and the justification for acting quickly, and as resolute as they were, was because they're an essential part in the movement of food, from the producer to your table — and they're the dominant supplier of these products," says Chavetz. "In fact, they were shut down once and then as soon as everyone figured out how significant they were, they were told to reopen right away."
The arbitrator noted that the pandemic featured "unpredictable and changing circumstances" and it was reasonable for a workplace health and safety strategy to "err on the side of caution." In addition, the same December 2021 public health order to which the union referred stated that unvaccinated people were at a higher risk of transmitting the virus, including to vaccinated people.
As a result, the arbitrator found that CKF's requirement for unvaccinated employees to submit to weekly testing "serves a real and pressing workplace health and safety objective" to reduce the risk posed by unvaccinated employees to all other employees.
Measured approach
The arbitrator also found that CKF's policy adopted a measured approach, as a failure to vaccinate didn't lead to termination of employment but rather a testing option that allowed unvaccinated employees to continue working. If an employee refused to submit to testing, they would be held out of service with no other negative consequences.
The arbitrator addressed the union's comparison to random drug and alcohol testing by saying that the testing of all unvaccinated employees at specified intervals wasn't arbitrary and was beneficial to the employer and employees "in the face of a global pandemic." In addition, COVID-19 testing only revealed whether the person was infected, the arbitrator said.
The testing requirement for unvaccinated employees was reasonable, and the choice of employees not to get tested, without any accommodation issues, was an economic decision on the employees' part — a choice that was not irreversible, the arbitrator added.
The decision is encouraging to employers to act with conviction when it comes to meeting their obligation for maintaining a safe workplace — which can't be dismissed because some employees don't want to get vaccinated or tested for COVID-19, he says.
"[Employers] can learn that you shouldn't be timid about this and you shouldn't let a small minority of people with their own motivations dictate how you keep a safe workforce," he says. "There's been, globally, about 10 billion vaccinations given to date and we know it works. If someone doesn't want to do it, OK, but that doesn't give them a veto power over the safe conduct of work."
See CKF Inc. and TC, Local 213 (COVID Testing), Re, 2022 CarswellBC 198.