Worker's religious beliefs against abortion prevented her from taking vaccine developed with fetal cells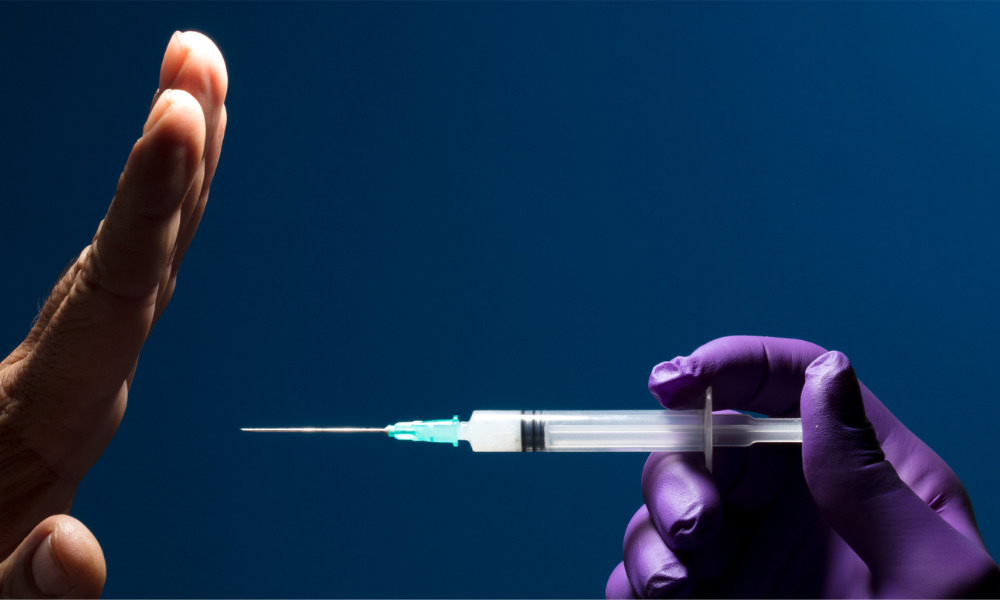 A new landmark decision from an Ontario arbitrator, Public Health Sudbury & Districts v. Ontario Nurses' Association, has found that Public Health Sudbury and Districts (PHSD) breached the Ontario Human Rights Code when it terminated an employee who refused to comply with the employer's vaccination policy on the basis of a protected ground under the code – that being the employee's creed.
This decision may be of assistance to employees who were placed on leaves of absences or terminated from their employment due to their refusal to comply with their employer's vaccination policies, on the basis of their creed – including religion – or other grounds under the code.
An employee may be exempt from a COVID-19 vaccination policy at the workplace if they require accommodation under the code – for example, on the basis of a medical exemption their creed. This is despite the Ontario College of Physicians and Surgeons, as well as the Ontario Ministry of Health, trying to limit what qualifies as a valid medical exemption.
Moreover, on Sept. 22, 2021, the Ontario Human Rights Commission published a statement that a person who chooses not to be vaccinated based on their personal preference does not have the right to accommodation under the code. The commission further stated that while the code prohibits discrimination based on creed, personal preferences or singular beliefs do not amount to one's creed for the purposes of receiving protection under the code.
Devout religious sect
The worker was employed as a public health nurse at PHSD in Sudbury, Ont. She was a devout Roman Catholic and had been a member of Latin Mass, a more traditional and orthodox approach to Roman Catholicism, for about six years.
PHSD's vaccination policy took effect on Sept. 1, 2021, which required all employees to comply with the policy unless an exemption applied. Under the policy, unvaccinated employees who did not receive an exemption would be subject to a leave of absence, which could be followed by termination of employment.
Read more: An Ontario company was required to accommodate three employees whose religious beliefs precluded them from using a biometric security system.
The worker sought an exemption from being vaccinated for religious reasons under the code and submitted a COVID-19 vaccination declination form on Sept. 17.
PHSD reviewed the worker's exemption request and denied it on the basis that an employee's singular belief against vaccinations did not amount to creed within the meaning of the code. PHSD placed the worker on an unpaid leave of absence and subsequently terminated her for refusing to get vaccinated as required by the policy.
Vaccines made with fetal cells
The worker's objection to receiving the COVID-19 vaccine centred around the fact that its development involved the use of fetal cell lines that were descended from cells taken from fetuses aborted in the 1970s and 1980s. The arbitrator acknowledged that the worker's strong disapproval of abortion was an essential and significant part of her religion and creed, and it was her belief that taking the vaccine would amount to condonation of abortion as well as partaking in the sin of those who aborted the fetuses in the first place.
While the arbitrator noted that the current fetal cell lines that were used to develop the COVID-19 vaccines were thousands of generations removed from the original fetal issue – making the connection between the use of fetal cell lines and the COVID-19 vaccine "objectively quite remote," the arbitrator held that the central focus in assessing one's creed is the individual's sincerity in their belief.
"There can be multiple reasons for objecting to getting vaccinated, but as long as one of the reasons is sincerely and legitimately based upon one's creed, as subjectively interpreted and applied, an applicant would be entitled to an exception under the code and the vaccine policy itself," the arbitrator said. "Once the [worker] learned about the fetal cell line connection with the vaccines, even if that connection is factually and objectively quite remote, if the [worker] sincerely believes that her faith does not allow her to get vaccinated, that would be sufficient grounds for granting her request for an exemption."
In addition, the arbitrator held that the worker's beliefs could not simply amount to a "singular belief," since the Latin Mass community's doctrine and belief also strongly opposed contraception and abortion.
Takeaways for employers
PHSD erroneously deemed the nurse's creed-based objection to not meet the requirements under the code and, in doing so, failed to accommodate the employee and breached the code. Employers should be very cautious when assessing whether to accommodate an employee's objection to a vaccination policy and should not let their personal beliefs interfere with whether or not an employee's objection meets the definition of "creed" under human rights legislation.
Read more: For a successful religious exemption from vaccination, employees must establish that they have a sincerely held practice or belief that has a nexus with a religion or faith, which calls for a particular line of conduct, says an employment lawyer.
This decision stands for the principle that if an employee sincerely believes that their faith does not allow them to be vaccinated, then their request for an exemption from a requirement to vaccinate should be granted.
Although arbitration decisions do not have a binding effect in a non-unionized employment context, they can serve as a helpful indicator to both employers and employees on how the courts and the human rights tribunals may interpret creed-based challenges to COVID-19 vaccination policies in the workplace.
It is imperative for employers to consider their legal obligations prior to denying an employee's request for an exemption or taking disciplinary action, such as placing an employee on a leave of absence and/or terminating employees who requested exemption from the policy based on a human rights-protected ground. Making hasty decisions may result in an employer facing a lawsuit.
Ronald S. Minken is the founder and managing principal, senior lawyer, and mediator at Minken Employment Lawyers, an employment law boutique in the Greater Toronto Area. Ron gratefully acknowledges Tanya Sambi, an employment lawyer at Minken Employment Lawyers, for her assistance in the preparation of this article.