Should vaccines be mandatory? Do incentives make sense? And how much accommodation is needed?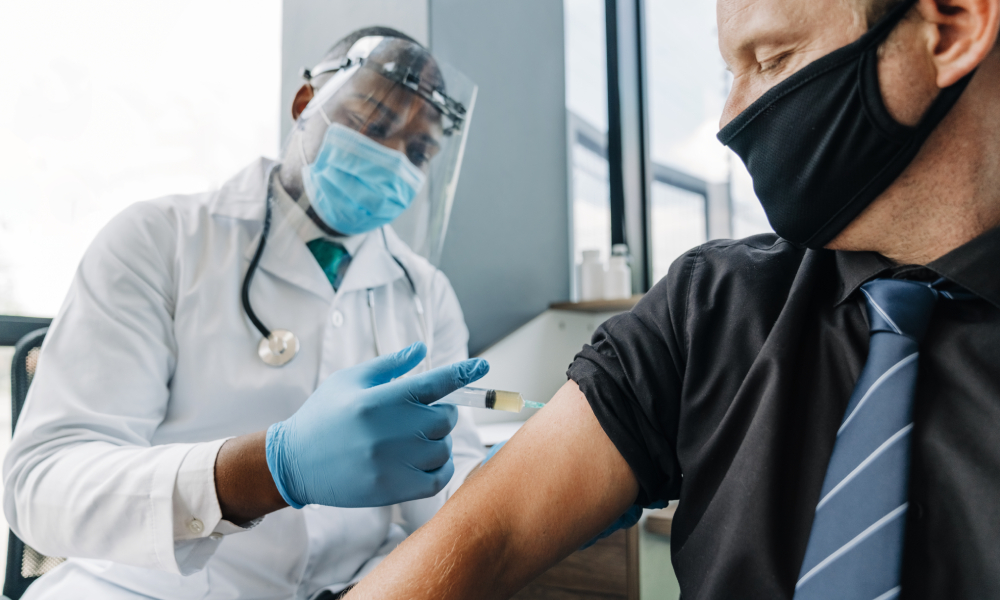 A total of $350. That's how much a worker at EACOM Timber can earn if they prove they are fully vaccinated for COVID-19, with $200 for the first dose, $150 for the second or $350 for a single-shot vaccine.
The wood products company thought the formal bonus would be a "good tool," says Éric Larouche, vice president of HR at the 1,200-employee company.
"It's really a 'Thank you for everything that you have done. And thank you for continuing to be safe,'" he says. "We want to… be supportive and play a role in getting back to what's going to be the new normalcy. And it's not in response to [worker] resistance, but it's more in support of being a good corporate citizen."
The company hopes to achieve an 85-per-cent vaccination rate among staff at its nine sawmills and two manufacturing facilities in Quebec and Ontario. Even those who cannot receive the vaccine for medical reasons can apply to receive the bonus, as can new employees who were vaccinated before their start date, he says.
EACOM also plans to hold a draw among those facilities that achieve the 85-per-cent target for three prizes of $10,000 each that will be used by the joint health and safety committee for equipment upgrades.
The company did have an outbreak at one location, but overall it's been fortunate, says Larouche, citing ongoing safety measures such as thermal scanning, face masks and visors, along with social distancing, disinfecting and some rapid testing.
"We have many, many things to protect people. But we're not immune."
There's no doubt that vaccination is going to be a key factor in the workplace going forward, says Kate McNeill-Keller, partner at McCarthy Tétrault in Toronto.
"What that looks like will vary from business to business and workplace to workplace, and potentially province to province," she says. "Employers are going to continue to need to evaluate all of the various health- and safety-related options that present themselves, and vaccines are going to be a significant part of that."
To that end, employers in an unprecedented situation face many questions about vaccines, from requirements and accommodation to efficacy, incentives, employee privacy and passports.
Should vaccines be mandated?
Of course, one of the biggest questions confronting employers is whether vaccines should be mandated for their workplace once they are widely available among the population.
"[Employers] have the difficult and unenviable task of balancing the health and safety concerns of their employees or visitors or customers with the human rights concerns of their employees and workers," says Puneet Tiwari, legal counsel and legal claims manager at Peninsula Canada in Toronto.
It's definitely workplace- or sector-specific, he says.
"If you're in a long-term care home or in any kind of health setting where there's vulnerable individuals, or in a sector that is really an essential service or where social distancing or other protective measures can't be maintained, I think it's very important that those employers mandate something."
But that doesn't mean people either have to be vaccinated or they'll be fired, says Tiwari; it means the employer should try to find an alternative.
"For example… your employer could ask you to stay home until the pandemic is over because you refuse to get a vaccine. That would be reasonable."
Employers will look to be a driving force towards "getting us as a society to herd immunity by incentivizing vaccination, by encouraging and educating their workforces to become vaccinated, and potentially mandating vaccinations in particular environments," says McNeill-Keller.
But mandating vaccines depends on a lot of factors.
"The consensus generally is that forcing someone to put the needle in their arm is not something an employer can do," she says. "But whether there is organizational redesign, whether there are changes in terms and conditions of employment, whether there are accommodation or other issues that come out of vaccination is very much a live issue and will depend on a host of factors, including the nature of the workplace… occupational health and safety and public health guidelines, and the circumstances of individual employees."
As part of that, employers "will look to whether identifying certain individual employees as vaccinated versus non-vaccinated, and altering terms and conditions of employment associated with that, will be a reality," says McNeill-Keller.
As an occupational health and safety obligation, employers should have vaccine policies, and they should be mandating that all employees be vaccinated, says Ian Pickard, partner at McInnes Cooper in Halifax.
"That's the easy part, and I think that would be fairly unanimous. But the harder part is: What's the repercussion to the employee who chooses not to have the vaccine? And our position is… that employee shouldn't be terminated in that situation. You need to find… an 'off ramp' for the employees."
That could mean a leave of absence without pay until herd immunity is achieved, working from home, agreeing to be tested before work or demonstrating that they've had COVID —although the latter could be problematic unless the science is clear that someone with the antibodies is not going to be able to spread it, says Pickard.
"As long as there's an option for the person who doesn't want to be vaccinated, other than staying home… that's satisfactory, then I'm good with it. That delegitimizes any argument about 'My body, my right,'" he says. "I do think in order to be enforceable, there needs to be a second option."
Accommodation considerations
When it comes to human rights objections to having the vaccine, the two that need to be accommodated are religious and disability objections. But for those people who don't want to be vaccinated or are scared of the shot or think "the government is going to put a tracking device in them," says Pickard, that's not a human rights issue, so they're not entitled to accommodation.
Even with valid human rights objections, the employer's only obligation is to accommodate to the point of undue hardship. If allowing that person to come to work without being vaccinated is creating a risk for everybody else and there is no way to accommodate them, "it might be an undue hardship," he says.
In health care or long-term care, for example, where large groups of people are being serviced by the employees, "I would argue it would be undue hardship to allow one or two unvaccinated people or untested people to be in that space," says Pickard.
But if workers are working from home, the employer may not be able to require those people to be vaccinated because the impact is little or none. "Your undue hardship argument becomes tough at that point," he says. "They'll say, 'Well, I've been working from home totally fine for the last year and a half. Why can't I just keep doing this?'"
While religious or disability objections are valid, employees who are objecting on political or other grounds "will have an uphill battle from a human rights perspective, because that's not protected in most jurisdictions," says McNeill-Keller.
"But whether or not a tribunal will say that the public health implications of not being vaccinated constitute an undue hardship such that an employer does not need to accommodate will be a case-by-case analysis that's going to have to be undertaken based on the timing of the pandemic and where we're at from a public health perspective, the circumstances of the workplace, and what the employee in question does. Can they work from home, or are they a front-line worker, for example… or essential employees?"
The efficacy argument
Another problem employers could face is if someone challenges the necessity of a vaccine by questioning the data. If the science shows that vaccines are not efficacious, that might set up an argument later on, says McNeill-Keller.
"But that's not what the science has shown today. And employers are going to be making point-in-time decisions based on the science available now… including public health recommendations, Health Canada recommendations and other relevant sources, government or otherwise. [Right now], the consistent refrain is that vaccines work; that they are, generally speaking, safe; and that they are a key component of our exit from this pandemic."
When it comes to the influenza vaccine, there's been case law in Ontario around whether the science was correct and whether the vaccine would have a significant impact on the spread of the flu, says Pickard.
"The arbitrators found that science was not strong enough to uphold the employer's position. So, if we ever get into an argument… about whether or not vaccines are truly making the difference, then that could become a difficult path for the employer in a mandatory vaccine situation."
In addition, a person might argue that they're prepared to wear a mask instead of getting the vaccine. But that could cause some issues "down the road because the business may not want that to happen," says Pickard, because a worker with a mask might indicate to customers that they haven't been vaccinated or may be COVID-positive.
Do incentives make sense?
Despite working hard to combat the spread of COVID-19 by implementing several sanitary measures and cooperating with health services in Quebec, Ontario and Alberta, food processing company Olymel has faced several outbreaks at its plants, with three worker deaths linked to the virus.
Recently, the company decided to encourage workers to get vaccinated against COVID by offering $25 per shot for a total of $50. But the actual amount is not important, says Richard Vigneault, head of corporate communications at Olymel in Saint-Hyacinthe, Que.
"A vaccine has no price tag because it's so important to get rid of the pandemic and to return to a normal life. [So] that was just a supplementary benefit to help people get vaccinated."
But McNeill-Keller says employers should be careful with these types of incentives to ensure they don't create stigma in the workplace for those who can't or aren't willing to be vaccinated.
"[They should consider]: Does it create an adverse working environment for that individual, and how do we mitigate against any unintended or indirect negative impacts of an otherwise well-meaning incentive program?" she says.
If, for example, an employee cannot get vaccinated and therefore won't get the $200 vaccination bonus, is that an adverse impact that would create a human rights-related challenge?
"The devil's in the details on how [these programs are] executed and what the criteria are, and what the disclosure requirements will be and what the policy is, and making sure that those policies are clearly communicated and that employees understand the parameters of them," says McNeill-Keller.
Employers should be very careful when offering an individual incentive, says Tiwari, but group incentives that encourage a workplace to achieve an 80-per-cent vaccinated rate, for example, are "a great way to encourage everybody."
Privacy concerns
Of course, in confirming that staff have been inoculated against COVID-19, employers must ask for proof. But does this raise privacy issues?
EACOM has gotten around the issue by asking people to provide proof only if they want the bonus payment, says Larouche.
"We're not forcing it, if people don't want us to know that [they've] got vaccinated... It's up to them."
The privacy issue will depend on a variety of factors, including the location and type of employer, as there are different privacy statutes at both the provincial and federal level, says McNeill-Keller.
"There are certainly employers who will view the benefit of disclosure... from a public health perspective as outweighing possible privacy-related concerns," she says. "But I do think that employers need to do the analysis tailored to their own environment and the jurisdiction in which they operate."
Even though people historically have been fine with providing a doctor's note or proof of vaccination to travel to certain countries, concerns about privacy have grown of late, says Tiwari.
"Due to the increased sensitivity, it's important for employers to limit the questions or information they ask when it comes to the vaccine to 'Have you had it?' It's a yes or no question. The only additional question that might be relevant is the brand of the vaccine because some of them may or may not last the same amount of time," he says.
But at this point, there's no way an employer could override a vaccination because of the type of shot given to a worker, says Pickard, "given what the politicians and medical officers have said across the country from the podium."
And when the data on vaccinated employees is no longer needed, all of it should be destroyed, says Tiwari.
"There's no reason to keep it long term, beyond the pandemic."
The passport question
Since the pandemic started, the notion of "vaccine passports" — which certify that a person has received an appropriate inoculation — has been floated to combat the potential spread of COVID-19. But could employers require such a passport from employees?
While it's not at all an unusual requirement for travel to different countries or even to attend schools in Canada, Pickard says he isn't so sure it makes sense on the employment side and whether it would be enforceable.
"Section 6 of the Charter of Rights guarantees each Canadian citizen mobility rights — [the] right to work in and travel to each province. The question is whether the requirement by a province to impose a vaccine passport for entry to the province by a Canadian would withstand a Charter challenge."
It remains to be seen whether the government will play a role in the creation of vaccine passports for border control or travel, for example, says McNeill-Keller.
"From that perspective, the vaccination passport construct may very much be government-driven, as opposed to employer-driven."
There's a chance that a lot of employers might require proof of vaccination before hiring new employees down the line, says Tiwari.
"[But] in terms of carrying around a book of documents that shows you got your tetanus shot, your hepatitis shot and COVID vaccination? I don't see that happening here."