Any employers with workers still on leave 'have to make some tough choices'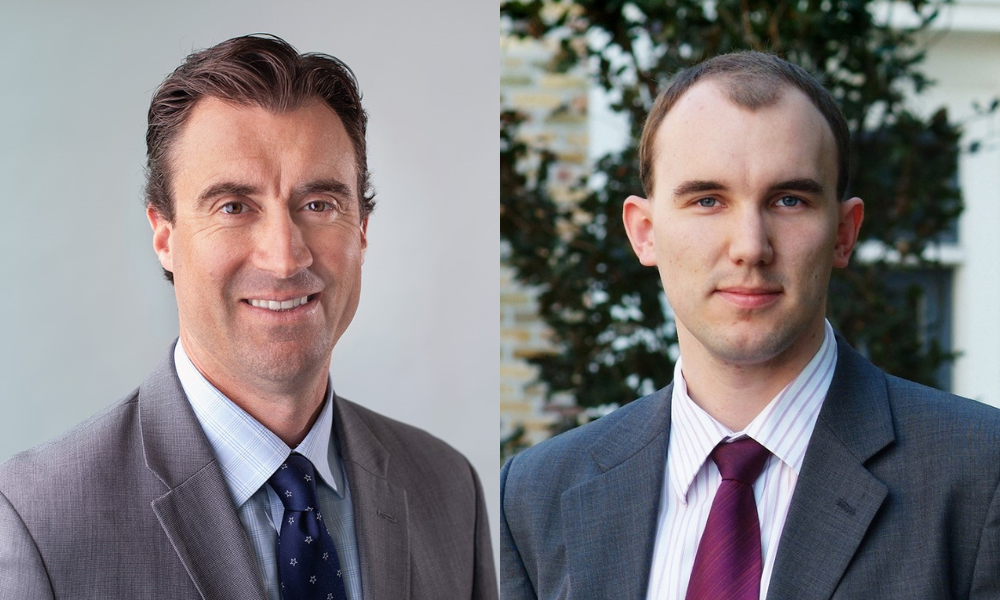 Brought in during the tumultuous first days of the pandemic, and extended several times, the "deemed IDEL" or deemed Infectious Disease Emergency Leave has officially ended in Ontario.
And while many employers no longer have workers on the leave, there's still the risk of constructive dismissal claims, along with the challenges of recalling workers.
For those employers who have not touched base over the months or years, and haven't followed up in advance of deemed IDEL coming to an end, "now they're in a bit of a pickle," says Andrew Vey, founding partner of Vey Willetts in Ottawa.
"Do they offer severance packages off the bat? In which case, they risk paying people more than they're potentially entitled to. Do they go through the contortions of recalling everybody — knowing that not everybody is going to come back and they don't want everybody in the same circumstance — to try to see who's actually serious about this?"
Most employers have "cleaned this up" at this point because it's been more than two years, says Chris Foulon, founding partner and managing partner at Israel Foulon in Toronto.
"If they haven't been, they're in a position now of having to make some tough choices about what to do with the employees that are still out there on the IDEL."
Shelter from the storm of COVID
Deemed IDEL was a temporary relief measure brought in by the government in the spring of 2020 to exempt employers from the termination and severance provisions of the Employment Standards Act (ESA).
"Employers were scrambling about what to do, and a lot of employers put in layoffs, and a lot of employers put in a reduction in hours and reduction of pay," says Foulon.
The government "was providing some shelter to employers at that time, who had been put in an impossible position about having to change the terms and conditions of employment that, under the existing legislation, would have resulted in employees being able to take the position that they've been constructively dismissed under the ESA and 'Pay me termination pay, pay me my severance pay.'"
In essence, if an employer cut hours or wages or made temporary layoffs, these "would not be deemed to be constructive dismissal under the ESA, during the COVID. Period," he says.
And many employers took advantage of the regulation, having been hard hit by the pandemic, says Foulon.
"Anybody who was involved in hospitality or transportation… retail, anything that had a sizable debt as a result of a shutdown, most of those businesses had no alternative but to either lay off or substantially cut employees' hours and wages. So most employers were taking advantage of [the IDEL] in some way or form."
In some ways, Ontario was an outlier, says Vey.
"Pretty much every other province and the federal government went the route of simply extending the length of temporary layoff provisions and employment standards legislation."
End to exemption after two long years
As the pandemic dragged on, deemed IDEL was extended several times — but now that it has officially ended, what does that mean for employers?
There are two categories of employees who may still have people on the leave, says Vey.
"One, where the employee in question is somebody that employers are not particularly fond of, and they've kind of left them out as a laggard… almost as a punitive fashion," he says.
"Second, for employers who are truly in very deep, dire economic straits… for those employers who are in precarious fiscal situations, very much this deemed IDEL has been a lifeline for them. And they're going to struggle once it comes to an end."
Those employers that still have staff on IDEL have relatively few choices about what to do at this stage, says Foulon.
"They could roll these people into proper temporary layoffs under the ESA, that would be one option to try to do," he says.
"But those employers run the risks at that point in time of employees taking a position that they've been constructively dismissed."
Constructive dismissal considerations
The basic rule in common law is that the central covenant of an employment relationship is an employer provides work and pay, and the employee does that work receives the pay, says Vey.
Traditionally, if an employer breaks that relationship and unilaterally withholds work and pay, that's deemed to be a constructive dismissal if the employee follows up on it.
"That can happen by way of a temporary layoff, it can happen by way of an unpaid suspension — regardless of how it manifests traditionally, that's how the law has viewed it," he says.
And many employees have "attacked" the IDEL for that reason, says Vey, claiming they never agreed to this: "You're now putting me off work without pay for potentially up to two-and-a-half years. That's outrageous, I'm not going to accept that."
And that's the big question, he says: "What has been the functional impact of this new addition to the Employment Standards Act towards the [IDEL] regulation when dealing with a global pandemic? How much leeway should the courts give to employers in that extraordinary type of situation?"
Two decisions by the Ontario Superior Court have held that deemed IDEL provisions in the ESA do not stop employees from asserting common law constructive dismissal, says Foulon.
And while another decision (Taylor v Hanley Hospitality Inc) went the other way, this was overturned at the Ontario Court of Appeal — not really on the merits of the decision, but on the basis of procedural and evidentiary issues, he says.
"So I think the weight of the case law there is saying employees could pursue constructive dismissal claims as a result of being placed on the IDEL."
But the court in Taylor also stressed that each of these cases is going to be decided on their particular facts, says Foulon.
"[They said] 'Look, you can't make these decisions in a vacuum, you can't just talk about this in a theoretical way, you have to have a factual foundation to make the analysis about whether, in fact, this amounts to constructive dismissal in these particular circumstances.'"
That's what the courts have been trying to grapple with is: How do we read that traditional part of the Employment Standards Act with this new regulation in the context of a global pandemic? And should we be taking a slightly different approach here? says Vey.
"That's the tension. Really, how do you balance these types of things in a relatively novel, factual situation where we haven't had a major pandemic in this country since the Spanish flu?... So we don't know the true answer yet."
Too late for workers?
One big concern is that with the end of the IDEL, more people come out of the woodwork and make a claim for constructive dismissal.
But they may be too late, says Foulon, referring to the concept in law known as condonation.
"If you don't take that position in a timely way, a court can say, 'Too bad, you've condoned the change'… [and] I think most employers will be saying, 'No, too late, you condoned the change,'" he says.
"So it's far from certain at this point in time what rights an employee may have to take that position, if they haven't taken it already."
Read more: The limits of limitation periods
When the world was "crumbling" under the pandemic, a lot of employees gave employers the benefit of the doubt, says Vey.
"But now that that deemed IDEL provision is finally coming to an end, and their employer does not call them back to work, or they are offered something that's dramatically different, they may claim constructive dismissal.
"[Employees are] going to need to keep in mind the traditional limitation periods in this province, which are normally, absent a few exceptions, it'd be two years from the date of contractual breach," he says.
The first question is: Can you challenge having been placed on deemed Infectious Disease Emergence Leave in the first place?
"And one of the central issues there will be: Did you object at the time that had happened? Or did you just go off quietly into the night?" says Vey.
"Because if you did not object, and months or even years have gone by, the first thing an employer is going to do is argue, 'Alright, well, you condoned this change to the relationship by not saying anything or objecting or registering a protest.' That's the first line of defence there."
Recalling workers
As for employers that are bringing back workers who have been placed on IDEL, there are a few considerations.
For one, many employees may have found work elsewhere, "so that's a good outcome from an employer because they are avoiding termination and severance of liability as a result," says Foulon.
It's possible that some employees would be considered to have resigned if they found alternate employment, according to Vey.
"Ideally, from a best practices standpoint, you would have been touching base with employees when they've been off, just to communicate, see what their circumstances are. And in that fashion, you may have learned that people take temporary work, or they found a new job, or they're not interested in coming back."
In that situation, you can get that fact down in writing, indicate that they've resigned, and then clean up the books, he says.
Read more: Recalling laid-off workers is no easy task
But in recalling workers, employers should be mindful of any significant changes that have taken place while they were away.
"Go back and look to see where things left off: What did this person's job look like? What was their compensation like? What was there in terms of employment looking like, and how does that fit within the new structure of your organization now?" says Vey.
And if the person is not brought back to their previous job, "that is obviously going to raise some eyebrows on the employee's end [so come] equipped for that conversation," he says.
"If you have an alternative job, be ready to explain what that looks like, what it's going to entail, how compensation terms will be treated, and be prepared with an off ramp — if you're offering something that is dramatically different, you may want to also come in and say, 'OK, we realize this may not be what you want or what you expect, so we're prepared to also discuss the severance package with you, if that's the option you want to go.'"