OLRB determines couriers are dependent contractors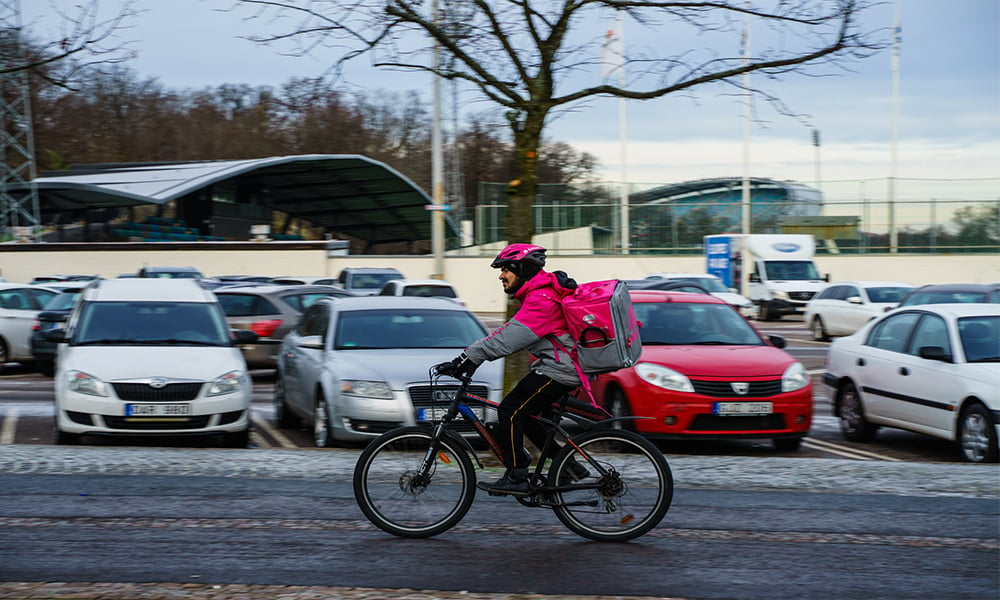 Foodora workers are not independent contractors and are entitled to collective bargaining, the Ontario Labour Relations Board has ruled.
The Canadian Union of Postal Workers (CUPW) filed an application for certification for couriers of Foodora, a company that provides an online food ordering and delivery. The company charges restaurants and customers directly and contracts couriers to deliver food orders.
Foodora argued that its couriers can't unionize as they aren't employees — they have written agreements outlining the terms and conditions of their work and stating that they are independent contractors. Couriers use their own forms of transportation — usually bicycles or cars — their own smartphones to run the Foodora app and communicate with dispatch, and a food delivery bag required by Foodora.
The company has delivery policies and trains couriers on the app, though there is no training on how to make deliveries. Shifts are assigned to couriers who are available and are prioritized based on factors such as amount worked and dependability.
The couriers' contracts require them to "provide services in an efficient, effective, competent and professional manner." If Foodora deems a courier to not meet those obligations, it can deactivate them at its discretion.
It also maintains a "strike log" in which couriers can accumulate "strikes" for issues such as refusal to accept an order, repeated failure to confirm a delivery is complete, tardiness, or inappropriate communications, that can affect priority for shifts.
Foodora pays couriers rates specified in their contracts, makes no deductions, and doesn't provide benefits. Couriers are free to work for other companies and many work for other delivery services at the same time as they're working Foodora shifts — referred to as "dual apping."
The board noted that individuals who aren't necessarily employees could be entitled to collective bargaining if they are "dependent contractors" — defined in the Ontario Employment Standards Act, 2000 as someone "in a position of economic dependence upon, and under an obligation to perform duties for, that person more closely resembling the relationship of an employee than that of an independent contractor."
In addition, the act states that an employee for its purposes includes a dependent contractor.
The board found that Foodora controls and monitors who delivers food and couriers are not free to use substitutes of their own choice. This is like an employment relationship, said the board.
The board also found that couriers provide most of their own tools, but Foodora supplies and controls the most important tool: the app, which is the "lynchpin in the process to deliver food."
The board noted that the company's revenue depends entirely on the service of the couriers and the couriers relay entirely on the Foodora app for relationships and payment with customers and restaurants.
This setup "more closely resembles an employee who is permitted to use the company's software than an independent contractor," the board said.
In addition, the board noted that couriers are paid by the order and distance travelled — with a guaranteed base hourly rate — so the risk of loss is minimal if there are problems with deliveries.
Their contracts require them to give priority to Foodora — even if dual apping — and they can't repeatedly refuse deliveries during a shift.
Even if couriers have other sources of income, they are on-call for work through the Foodora app.
"The courier is a mere cog in the wheel that is powered by Foodora" that leans toward an employment relationship, said the board.
The board found that couriers are "selected by Foodora and required to deliver food on the terms and conditions determined by Foodora in accordance with Foodora's standards."
Therefore, the couriers are dependent contractors and more closely resemble employees than independent contractors — leaving them open to the possibility of unionization.
Reference: Canadian Union of Postal Workers v. Foodora. Matthew R. Wilson — alternate chair. Craig Lawrence, Karina Plyypczuk, David Albert, Sadie Weinstein for employer. Ryan White, Amelia Philpott, Aaron Spires for employee. Feb. 25, 2020. OLRB Case No: 1346-19-R.