Welland, Ont. (60 school bus drivers) and the United Food and Commercial Workers Canada (UFCW), Local 175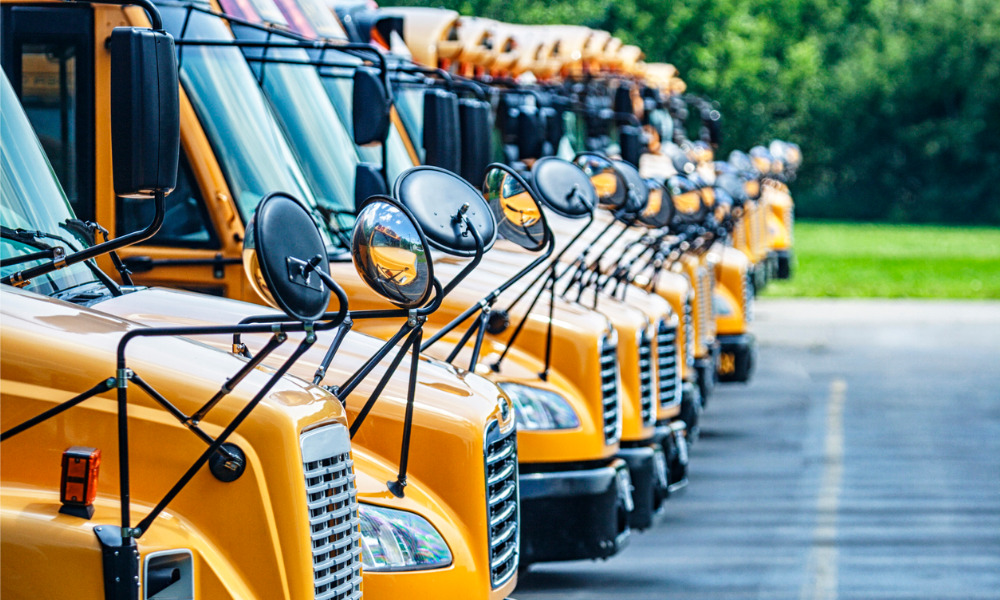 Click here
to view the original collective agreement.
Renewal agreement: Effective Sept. 1, 2018 to Aug. 31, 2021. Signed on June 25, 2018.
Wage adjustments:
Effective Sept. 1, 2018: 2%
Effective Sept. 1, 2019: 2%
Effective Sept. 1, 2020: 2%
Shift premium: $4 per day (previously $2 per day) for wheelchair drivers. $9 for drivers who assist with another driver's run.
Paid holidays: 10 days
Vacations with pay: 4% to start, 6% after 5 years, 8% after 10 years. All vacation pays will be paid on first payday in December.
Overtime: For being 1 hour over recorded normal finish time due to inclement weather, hourly driving rate for each hour, or portion of, over initial hour at start.
Shift premium: $9 when required to assist with another driver's run.
Meal allowance: For charters: $10 after 5 hours, $18 after 8 hours, $30 after 12 hours (previously $30 per day).
Sick leave: Unpaid. Absence because of bona fide sickness or accident will not constitute break in service.
Bereavement leave: 3 days with pay for death of parent, child, spouse, sibling, parent-in-law, sibling-in-law, stepchildren, grandchildren, grandparents, immediately prior to and including day of funeral. 1 day with pay for death of stepparent, stepsibling. 1 day may be held in lieu to attend memorial service or interment at later date. Additional days off, without pay, may be given for above allowances and for other family members not listed.
Seniority – recall rights: All employees will be on layoff during school Christmas break, spring break, and summer vacation. In event of other layoffs, 12 months.
Call-in pay: At least 1 hour at hourly non-driver rate to attend meeting with school principal. Minimum of two hours at hourly driving rate to be on call/standby if not required to drive.
Probationary period: 6 months including all school-break periods.
Discipline: Sunset clause is 18 months for all disciplinary items except in case of serious accident or incident.
Uniforms/clothing: Employer will supply 1 coat to each regular wheelchair driver every 3 years.
Sample rates of pay (current, after 4% increase):
Combined a.m./p.m. run rates
HTS/spare: $17 rising 2 steps to $17.69
Noon independent shuttles, noon runs, late runs, kindergarten (categories based on increasing route time)
Category 1: $19 rising 2 steps to $19.77
Category 2: $19.42 rising 2 steps to $20.61
Category 3: $20.21 rising 2 steps to $21.44
Category 4: $21 rising 2 steps to $22.29
Category 5: $24.50 rising 2 steps to $26.01
Category 6: $28 rising 2 steps to $29.71
Category 7: $33.50 rising 2 steps to $35.55
Non-driving/driving/monitor rate: $14.28 rising 2 steps to $14.86
Going rate: $3.57 rising 2 steps to $3.71
Charters: $17.90 to $44.77 (depending on start and destination region) rising 2 steps to $18.62 to 46.58
Editor's notes: Seniority date: When 2 or more employees have same starting date, seniority will be calculated by time and date of passed MTO road test. Drivers who fail to work minimum of 15 runs in any 3-month period will not retain seniority. During designated sign-up periods, employees will be given opportunity to exercise seniority in selecting work assignments. Cancellations: During school cancellation, employees will be paid 1.5 hours of applicable rate. If school is cancelled during run, employees will be paid 100% of a.m. rate. Minimum rate for charter/cancellation/show-up is 1 hour at driving rate for in-region trip, 2 hours at driving rate for out-of-region trip. Medical examinations: Employer will reimburse 100% of cost, maximum $150 (previously maximum $130), for medical examinations related to renewal of any applicable licence. Employer must administer initial required eye examination of employee. If initial test is unsuccessful, employer will reimburse 100%, maximum $60, for another eye examination. Bus supplies: Employer will supply out-of-town buses with containers of oil, windshield washer fluid, anti-freeze coolant, heavy-duty scraper, broom at employer's discretion. Plug-ins: Extension cords, timers will be given to drivers required to plug in their buses during cold weather. Upon return of extension cords and timers, driver will be compensated $100 for cost of hydro. Education, training fund: Employer will make $200 lump-sum contribution to United Food and Commercial Workers Training and Education Fund within 15 days of Sept. 1 in each year of agreement.