Polls show majority of population backing SNCF reform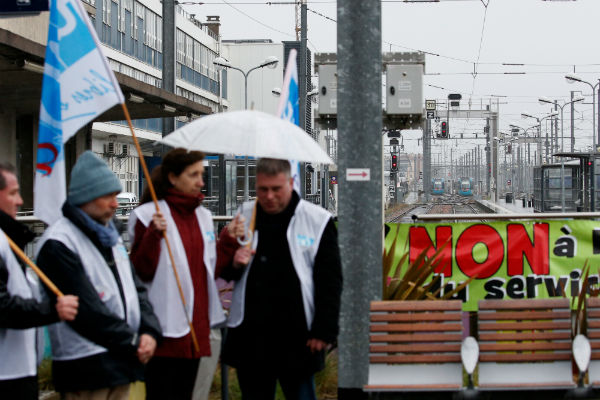 PARIS, April 3 (Reuters) — French railway services were thrown into chaos on Tuesday, the first day of rolling nationwide strikes that are set to run for months in the toughest test yet of President Emmanuel Macron's determination to modernize the French economy.
Just one in four trains were running in the Paris region, national rail company SNCF said, as people made their way back to work after an extended Easter holiday weekend on what French media dubbed "Black Tuesday."
Platforms at Gare du Nord, Paris's busiest railway station, were so crowded with commuters that some tumbled onto the tracks and had to be helped back up, television footage showed.
"I do understand why they're striking," said Marie Charles, a Paris commuter. "But today is my first day in a new job so I have to admit I could have done without the strike."
The four main rail unions plan to strike for two days out of every five for the next three months — a total of 36 days of disruption — to fight a shake-up of the SNCF before its monopoly is ended in line with European Union rules.
The last French president to square off against rail unions over workers' benefits came off worst. The strikes of 1995 paralyzed France and forced Prime Minister Alain Juppe to pull the reforms — a defeat that ultimately prompted Juppe to quit and then-president Jacques Chirac to dissolve the government.
The unions appear weaker now, however, and are divided over their responses to Macron's many social and economic reforms.
If Macron triumphs — and this is by far the biggest test the 40-year-old former investment banker has faced so far — it will set the tone for other proposed changes, including revamping the education system and overhauling pensions. Macron has already faced down the unions over easing labour laws.
Transport Minister Elisabeth Borne urged labour unions to negotiate, telling BFM TV in an interview on Tuesday that "some of them are clearly trying to turn this into a political issue."
"The government will stand firm," Borne said.
In a battle for public support, union leaders, who also took to the airwaves first thing, hit back.
"The railway workers are not doing this for the fun of it," said Philippe Martinez, head of the hardline CGT union, the biggest among railway workers.
On the strike, he told public radio station France Inter: "It's going to be huge. It's the government that has brought things to where they are now."
A majority of French people view the strikes as unjustified, according to an Ifop poll published on Sunday.
While that echoes earlier polls, such surveys also suggest voters are worried that Macron's reform plans will hit their spending power more broadly. His popularity rating is near the lowest seen since he took office in May 2017.
As the industrial action began, nearly one in two SNCF staff stayed off work. Only one in eight high-speed TGV trains ran and international services were severely affected too.
No trains were set to run between France, Switzerland, Italy and Spain. One in every three trains to Germany was to operate, while the Eurostar service connecting London, Paris and Brussels was down to three out of every four trains, the SNCF said.
Macron wants to transform SNCF — which adds 3 billion euros of debt a year to a pile now running at 47 billion euros — into a profit-maker. The unions say the debt was caused by excessive investment in TGV trains at the expense of everyday connections and accuse Macron of paving the way for privatization.
SNCF workers fear they could lose job-for-life guarantees, automatic annual pay rises and early retirement rights.
The government has sought to ease tensions with assurances that the arrival of foreign competition on French rail tracks, penciled in for gradual rollout from 2020 onwards, can be delayed until as late as 2033 in some cases.
What remains unclear is whether Macron might offer further concessions to get the unions to back down before the strikes bite. It is also uncertain how long their members' resolve will last and whether the strikes will spread beyond the rail sector as the Communist-rooted CGT wants.
Energy sector workers already plan to join the strike action from April 3 to June 28, to protest against the planned liberalization of the power sector.
Air France unions have called for a strike over pay on Tuesday, although the company said it expected 75 per cent of flights to operate as usual. Further Air France action is planned for April 7, 10 and 11.
The CGT has called for public and private sector workers nationwide to strike on April 19, but in a sign of union division, private sector unions have so far declined.