Baker Lake, Nunavut (33 municipal employees) and the Public Service Alliance of Canada (PSAC), as represented by its agent Nunavut Employees Union (NEU)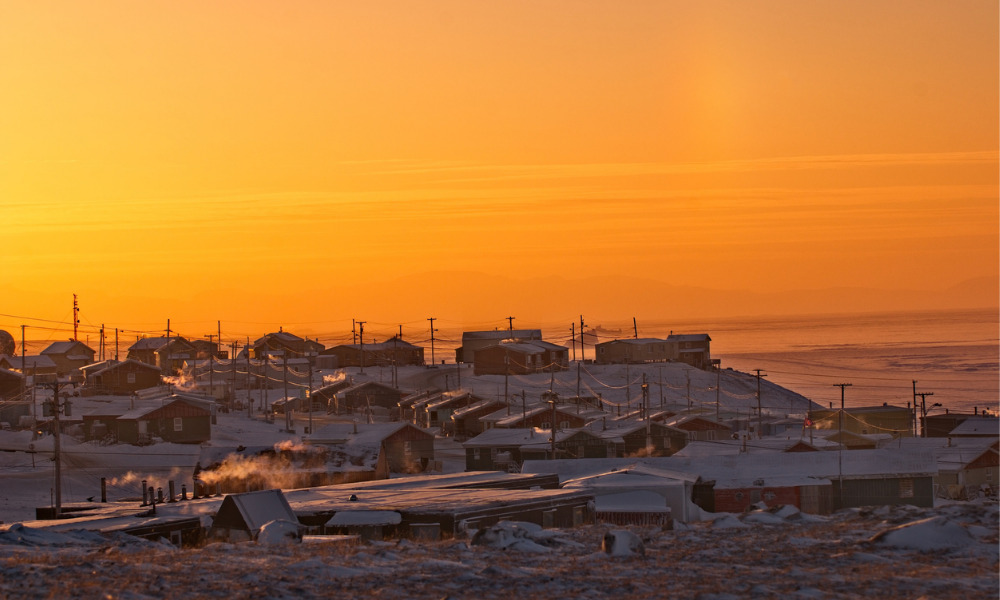 Click here
to view the original collective agreement.
Renewal agreement: Effective April 1, 2019 to March 31, 2023. Signed on April 30, 2021.
Wage adjustments:
Effective April 1, 2019: 2%
Effective April 1, 2020: 1.5%
Effective April 1, 2021: 1.5%
Effective April 1, 2022: 1.25%
Shift premium: 15% commencing first scheduled work day employee is required to report in acting position, for position not covered by agreement; 12% for position covered by agreement.
Paid holidays: 12 days plus employees will be off duty at noon on Christmas Eve and New Year's Eve days. At request of employee and where operational requirements permit it, employee will not be scheduled to work both Christmas and New Year's Day (employee will not have request denied in 2 consecutive years).
Vacations with pay: 1 1/4 days per month to start, 1 2/3 days per month after 2 years, 2 1/12 days per month after 6 years, 2 1/4 days per month after 12 years, 2 1/2 days per month after 15 years, 2 3/4 days per month after 20 years. Employees are not permitted to carry over more vacation leave credits than can be earned in 1 year (credits exceeding 1-year entitlement will be liquidated in cash in May).
Overtime: Time and one-half for work after regular hours; double time for all hours worked on second or subsequent day of rest or designated holiday. May be taken as time off in lieu of compensation, maximum 10 days banked. Dollar value of lieu time will be accumulated at applicable overtime rate and will be paid out at end of each fiscal year.
Meal allowance: $25 reimbursement, except where meals are being provided by employer, for employee who works for 3 or more hours of previously unscheduled or emergency overtime immediately prior to or immediately after, employee's regularly scheduled hours of work. 1 additional meal reimbursement of $25 for each 4-hour period of overtime work thereafter.
Medical benefits: Northern Employee Benefits Services (NEBS) group benefit plan.
Sick leave: 1 1/4 days for each month for which they receive pay for at least 10 days, maximum 85 days.
Pension: Northern Employee Benefits Services (NEBS) pension plan.
Bereavement leave: 5 days for death in immediate family (father, mother, brother, sister, spouse, common-law spouse, child, father-in-law, mother-in-law, son-in-law, daughter-in-law brother-in-law, sister-in-law, grandparent, grandchild, any relative residing in employee's household). 1 day for death of aunt, uncle, niece, nephew.
Seniority – recall rights: 12 months for layoffs.
Call-in pay: Greater of compensation at overtime rate for all hours worked or 4 hour's pay at straight-time rate.
Probationary period: 1 year from day upon which employee is first hired by employer or 6 months after employee has been transferred or promoted.
Discipline: Sunset clause is 18 months for document or written statement related to disciplinary action which may have been placed on personnel file of employee.
Safety shoes: Maximum $200 per year.
Uniforms/clothing: Employer will provide parka, wind pants (or thermal coveralls) to employee whose job requires prolonged or frequent exposure to extreme temperature and dirty working conditions; specifically labourers, arena workers, dog catchers, mechanics. Employer will provide winter waterproof insulated gloves to labourers, dog catchers; winter insulated gloves to arena staff, mechanics; summer gloves to all labourers (less frequent number of pairs to operators mechanics); rain suits to labourers.
Tool allowance: Maximum $200 when employee wishes to purchase hand tools to perform duties.
Sample rates of hourly pay (current):
Step 1
Trades and labour
Heavy equipment mechanic: $36.64
HEO airport maintainer: $30.31
Municipal truck driver: $27.70
Municipal worker: $22.07
Custodial worker: $17.48
Arena manager/maintainer: $27.67
Asst. arena manager/maintainer $22.18
Maintenance: $35.32
Trades helper: $17.32
Office and clerical
Clerk 1: $28.20
Clerk 2: $32.04
Bylaw officer: $22.08
Lands officer: $26.71
Economic development officer: $32.78
Community liaison officer: $25.97
Recreation coordinator: $29.42
Alcohol and drug coordinator: $24.39
Alcohol and drug worker: $16.93
Sample rates of pay (current):
Apprentice journey-level rates
4-year training programs
Year 1: 55%
Year 2: 65%
Year 3: 75%
Year 4: 85%
3-year training programs
Year 1: 60%
Year 2: 70%
Year 3: 80%
2-year training programs
Year 1: 65%
Year 2: 80%
1-year training programs
Year 1: 70%
Editor's notes: Vacation travel assistance: All employees and dependants older than 2 years old on vacation leave will be entitled to cash payment of $2,500 (previously $2,250), maximum of $10,000 (previously $9,000) per employee, once each fiscal year. Special leave: Employee will earn leave credits, maximum 20 days at rate of 1 day for each month in which they received pay for at least 10 days. Wellness reward: Employee who does not use any sick leave credits for any period of 6 months will be entitled to 1 day of leave with pay (benefit cannot be taken in cash). Hunting, fishing, harvesting leave: In order to meet traditional hunting, fishing, harvesting pursuits, 4 days leave, without pay, may be given and not unreasonably denied with at least 1 day of notice; employees with sufficient special leave credits may elect to receive all or part of 4 days of hunting, fishing, harvesting leave without pay, as special leave with pay. Plug-in allowance: $10 per week for employees residing in privately owned housing or renting dwelling for which utilities are not subsidized; $5 per week for all other employees, when employee is required to bring vehicle of employer at residence between November and April inclusively. Standby: $25 for each 8 consecutive hours or portion thereof on standby; $30 for each 8 consecutive hours or portion thereof on days of rest and designated paid holidays. Housing allowance: $7,229.61 per year (previously $7,122.77 per year). Effective April 1, 2022: $7,319.98.