Brandon, Man. (1,900 pork processing employees) and the United Food and Commercial Workers Union (UFCW), Local 832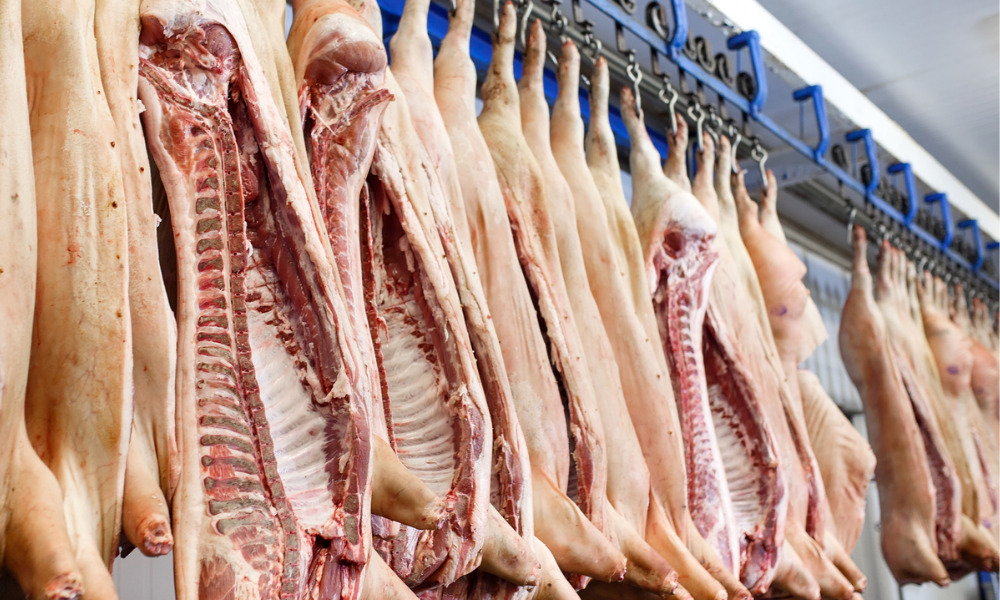 Click here
to view the original collective agreement.
Renewal agreement: Effective Jan. 12, 2020 to Dec. 31, 2024. Signed on Jan. 12, 2020.
Shift premium: Time and one-half for each full minute past scheduled end of shift for allotted clean-up time that extends beyond normal shift end due to employees being required to work. Time and one-half for time worked prior to regular scheduled start time if employee voluntarily agrees to come in early — with less than 48 hours' notice — prior to scheduled start time. $0.75 per hour for all hours worked as lead-hand. $0.50 per hour for all hours worked as corporate trainer. $0.60 per hour (previously $0.55 per hour) for off-shift work (defined as shift where majority of employee's scheduled hours fall between 3 p.m. and 7 a.m.). Effective Jan. 1, 2022: $0.65 per hour. Employee who is temporarily assigned to work in higher paying classification will receive higher rate of pay for all time employed, unless employee works 4 hours or more in which event employee will be paid for entire shift.
Paid holidays: 11 days.
Vacations with pay: 2 consecutive weeks outside April 1 and Sept. 30 inclusive or 4% to start, 2 weeks after 1 year, 3 weeks after 5 years, 4 weeks after 10 years, 5 weeks after 19 years. Employees will be allowed to carry over up to 2 weeks of unused time from year to year.
Overtime: Time and one-half for workers after 8 hours per day or 40 hours per week for employees working 5-day workweek. Time and one-half for workers after 10 hours per day or 40 hours per week for employees working 4-day workweek. Double time for all hours worked on overtime shift for employee who works double shift of 16 hours or more. Time may be banked, maximum 32 hours for those regularly working 8-hour shifts or 40 hours for those regularly working 10-hour shifts from Jan. 1 to Dec. 25 (unused banked overtime will be paid out by Dec. 31 of same year).
Medical benefits: Employer will contribute $0.40 per hour worked into UFCW/Maple Leaf Foods Inc. Benefit Trust Plan.
Dental: Employer will contribute $0.38 per hour worked into Manitoba Food and Commercial Workers Dental Plan.
Pension: Employee may contribute 2.5% of regular earnings into Maple Leaf Foods pension plan.
Bereavement leave: 3 days for death in immediate family (spouse, common-law spouse, parent, stepparent, child, stepchild, brother, sister, mother-in-law, father-in-law, sister-in-law, brother-in-law, grandparent, grandchild). 2 additional working days, without pay, may be given to travel to attend funeral, when funeral is more than 500 kilometres (1-way) from employee's residence. 1 day for death of grandparent-in-law, aunt, uncle, niece, nephew.
Seniority – recall rights: 12 months after layoffs. 2 years for employee who has not worked due to illness or injury.
Call-in pay: Minimum of 3 hours at time and one-half for each call-in (time worked on call-in is not used for calculating overtime for hours worked in excess of 40 hours per week).
Probationary period: 22 weeks for full-time employees; 980 hours for part-time employees. All probationary employees will be required to wear blue helmet containing sticker with their name on it for duration of probationary period.
Discipline: Sunset clause is 24 months for all disciplinary references.
Safety shoes: Employer will provide each employee with 1 pair of quality safety boots or safety rubber boots free of charge each year and each year thereafter on anniversary date; earlier due to wear and tear. Probationary employees who are issued company-supplied footwear will not be eligible for reimbursement for 6 months. Employees working in freezer in cooler, will be provided with winter boots and replacement liners as needed. Employees will, at their option, be entitled to purchase own CSA-approved safety boots or safety rubber boots and employer will reimburse cost maximum $200 (previously $175) once every year.
Uniforms/clothing: Laundered cooler coats, pants (shirts as required), aprons, rubber footwear, wet wear, "mousetraps", knives, steels, scabbards, safety head gear, coveralls, mesh gloves, rubber gloves, hair nets, balaclavas, beard nets, cotton gloves, winter bib coveralls, winter mitts, freezer/winter jackets will be provided by employer.
Tool allowance: Trades employees must supply own tools. Employer will provide each employee required to use own tools $300 every 6 months, based on date of hire.
Sample rates of hourly pay (current, after increase):
For employees hired on or before Dec. 8, 2014:
General 1
Start: $15.70 rising 3 steps to $16.70
520 hrs: $15.70 rising 3 steps to $16.70
2080 hrs: $15.70 rising 3 steps to $16.70
General 2
Start: $16.10 rising 3 steps to $16.80
520 hrs: $16.40 rising 3 steps to $17.10
2080 hrs: $16.80 rising 3 steps to $17.50
Semi 1
Start: $17.35 rising 3 steps to $18.70
520 hrs: $17.85 rising 3 steps to $19.20
2080 hrs: $17.95 rising 3 steps to $19.70
Semi 2
Start: $18.45 rising 3 steps to $19.90
520 hrs: $18.90 rising 3 steps to $20.35
2080 hrs: $19.50 rising 3 steps to $20.95
Skilled 1
Start: $20.10 rising 3 steps to $21.65
520 hrs: $20.60 rising 3 steps to $22.15
2080 hrs: $21.15 rising 3 steps to $22.70
Skilled 2
Start: $20.65 rising 3 steps to $22.70
520 hrs: $21.15 rising 3 steps to $23.20
2080 hrs: $21.70 rising 3 steps to $23.75
Maintenance
Helper: $23.10 rising 3 steps to $24.65
Editor's notes: Education, training trust fund: Employer will contributions $0.15 per hour into Manitoba Food and Commercial Workers Local 832, Education and Training Trust Fund: