Correctional officer initially claimed $17,000 for lost wages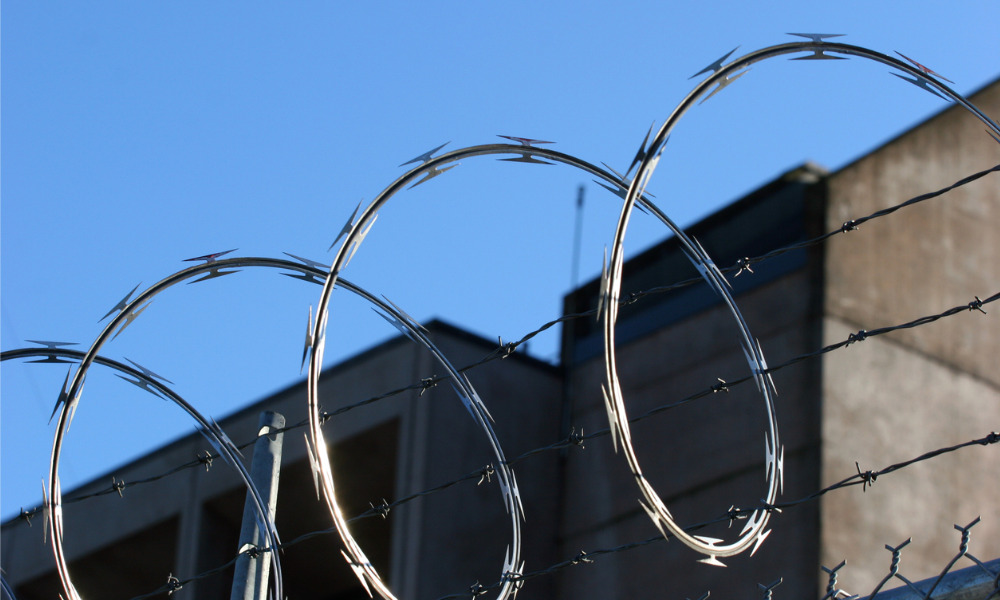 An Alberta arbitrator has denied an injured worker's claim for general damages for mental distress after his employer refused to return him to work.
Ryan Sibbald, 43, was a correctional officer at the Fort Saskatchewan Correctional Centre (FSCC) in Alberta. On Feb. 8, 2015, he was involved in an altercation with an inmate. The inmate was seriously injured and Sibbald sustained a concussion and a wrist injury. Sibbald had to go off work and received workers' compensation benefits.
During the inmate's trial, a member of FSCC management testified that Sibbald had lied in his formal report of the incident, which fueled rumours that Sibbald had "maliciously beaten the inmate." Sibbald said that the false testimony and rumours made him become a recluse and contributed to post-traumatic stress disorder (PTSD), depression and anxiety.
Sibbald believed he was medically fit to return to work on Nov. 30, 2016, but the FSCC didn't allow him to return as there was disagreement over his medical status, his accommodations, and positions that were available with his restrictions. The union filed a grievance seeking his return along with lost wages of "approximately $17,000."
In August 2017, the FSCC proposed an agreement with Sibbald that would end his employment with a long-term disability (LTD) severance package but preserve his right to pursue the grievance. After two months of consideration, he accepted.
Shortly before the grievance hearing in July 2019, the union changed the loss-of-wages claim to $35,000 and Sibbald claimed an additional $35,000 in general damages for harm to his mental health and credit rating. The FSCC offered to pay the original claim amount of $17,000 to resolve the grievance, but the union rejected it.
At the grievance hearing, Sibbald once again altered his damage claim, saying that FSCC's failure to return him to work cost him his truck, his home, various loans, past and future income, counselling sessions, tuition for re-education, and lost benefits and pension. He claimed $568,330.54 in damages, saying that he had advised the union he wanted $35,000 because "at that time I was not in my right mind" due to depression, lack of sleep, and he had been "desperate for a fast resolution thinking they would gladly accept such a small amount."
The arbitrator noted that the FSCC's offer of $17,000 resolved the issue of back wages from the initial claim. He also found that "general damages" are not readily quantifiable, as they are usually for things such as pain and suffering and mental distress.
As a result, Sibbald's specific calculations in his damage claim didn't fall within the scope of general damages and the claim was ultimately for "mental distress and punitive damages based upon Sibbald's perception of bad faith and misconduct on the part of the employer in calling him a 'liar' in court proceedings, refusing him the opportunity to continue to pursue his career and alienating him from his friends and colleagues," said the arbitrator.
The arbitrator also said that it had been established that punitive damages were restricted to "advertent wrongful acts that are so malicious and outrageous that they are deserving of punishment on their own" as they were considered "an extraordinary remedy."
The arbitrator found that there was no evidence that depicted the FSCC's refusal to return Sibbald to work in 2016 as malicious, outrageous, harsh, or extreme. Since there was some disagreement as to Sibbald's status and what accommodations he needed, it made sense that it wasn't ready to return him to work at that time.
The arbitrator also found no evidence supporting a connection between Sibbald's mental health issues and the refusal to return him to work and keep him on LTD benefits. It dismissed the claim for general damages.
Reference: AUPE and Alberta (Justice and Solicitor General). Lyle Kanee — arbitrator. Peggy Kemp, Shelina Mohamed-Rawji, Andrea van Velzen for employer. Larry Dawson for employee. Oct. 29, 2020. 2020 CarswellAlta 2164