Calgary (35 welders, journeymen, pipefitters, maintenance, production personnel, machine operators, truck drivers, store-keepers) and the International Brotherhood of Boilermakers, Iron Ship Builders, Blacksmiths, Forgers and Helpers, Local 146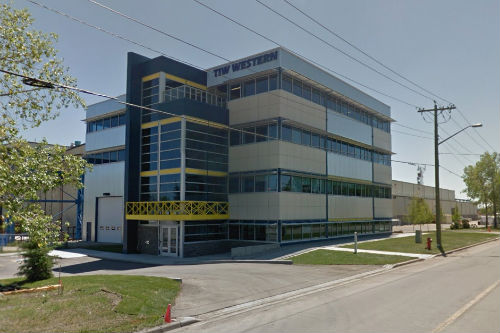 Click here
to view the original collective agreement.
Renewal agreement: Effective April 1, 2018, to March 31, 2020. Ratified on March 28, 2018. Signed on April 26, 2018.
Shift premium: $1.50 per hour for lead-hand. $1 per hour for TIG welder 2-hand position capable of doing return-bend TIG welding. $1.75 per hour for second shift. $2.25 per hour for third shift. $60 per week for apprentices while attending school upon successful completion of current training year.
Paid holidays: 11 days.
Vacations with pay: 1 day per month, maximum 2 weeks (if working 5-day, 8-hours shifts) or 8 days (if working 4-day, 10-hour shifts) or 4% to start, 2 weeks or 5% after 1 years, 3 weeks or 6% after 3 years, 4 weeks or 8% after 6 years, 4 weeks or 9% after 11 years, 5 weeks or 10% after 18 years.
Overtime: Time and one-half for first 2 hours of overtime, Monday to Friday. Time and one-half for first 4 hours of work on Saturday. Double time for all other overtime.
Meal allowance: Hot meal will be provided after 2 hours of overtime or $12 at option of majority of employees working overtime.
Medical benefits: Employer pays 75% of premiums, employee pays 25% of premiums into International Brotherhood of Boilermakers' (Canada) Plan. Maximum employer contribution $292.50 per month.
Pension: Employer will provide $3.50 per hour contributions to Boilermakers National Pension Plan.
Bereavement leave: 3 days for death of spouse, child, mother, father, brother, sister, stepparent. 2 days for death of grandmother, grandfather, mother-in-law, father-in-law, grandchild, or 1 day if not attending funeral.
Seniority – recall rights: 6 months to start, 12 months after 5 years of seniority.
Call-in pay: Minimum of 2 hours' pay at double time.
Probationary period: 480hours.
Discipline: Sunset clause is 6 months for warnings, 12 months for suspensions.
Safety shoes: $250 per year for CSA-approved safety boots, insoles, after 6 months of service.
Uniforms/clothing: Employer will supply each employee with gloves as often as required. Employer will provide coverall program that includes 2 washed pair of coveralls per week and accompanying locker system. Employer will provide each employee set of custom-fit, molded hearing protection, which will be replaced every 2 years.
Tool allowance: Employer will supply tools required by each employee for normal performance of duties, including tapes, tape refills, chipping hammers on a sign-out basis.
Sample rates of hourly pay (current, after 2% increase):
Classification
Pressure welder B: $43.29 rising 1 step to $44.15
Pressure welder C: $37.32 rising 1 step to $38.07
Welder first-class journeyman (ticketed): $35.57 rising 1 step to $36.28
Ticketed pipefitter: $42.29 rising 1 step to $43.13
Journeyman fitter (ticketed): $41.30 rising 1 step to $42.12
Fitter first-class (non-ticketed): $37.46 rising 1 step to $38.21
Fitter second-class (non-ticketed): $34.81 rising 1 step to $35.51
Maintenance person (ticketed): $39.98 rising 1 step to $40.78
Maintenance person (non-ticketed): $34.81 rising 1step to $35.51
CNC machine operator 1 (as per machine operator 1 with programming capability): $37.46 rising 1 step to $38.21
Machine operator 1 (as per machine operator 2 plus boring mill, lathe, 15-ton mobile crane operator, qualified sandblaster/painter, multi-torch lead operator, CNC machines): $34.81 rising 1 step to $35.51
Machine operator 2 (drill, iron worker, saw, threader, bull-moose operator, tube expanding/bending): $31.98 rising 1step to $32.62
Truck driver and store-keeper: $32.22 rising 1 step to $32.86
Production worker 1 (as per production worker 2 plus operates power hand tools, other semi-skilled work with and under direction of other classifications above): $27.21 rising 1step to $27.75
Production worker 2 (as per production worker 3 plus operates overhead crane and forklift for material handling, scissor lift, swamper, operates grinder): $24.20 rising 1 step to $24.68
Production worker 3 (general cleaning, sweeping, garbage handling, and other manual labour, pipeyard/stores, helper and operates forklift-overhead crane associated with duties of classification): $19.50 rising 1step to $19.89
Editor's notes: Doctor's notes: Employer will pay for cost of doctor's note, statement or forms, maximum $80.