Calling for higher wages, increase in investment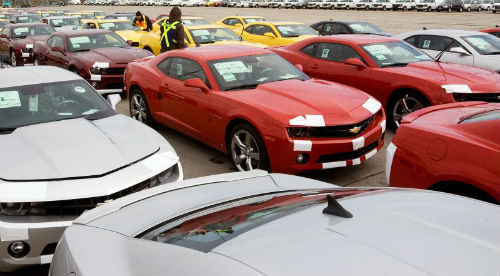 TORONTO (Reuters) — The union representing most Canadian autoworkers has voted to strike if it cannot reach favorable terms in talks with the Big Three U.S. carmakers, it said late on Sunday.

Unifor, which represents more than 20,000 autoworkers, is pushing General Motors Co, Fiat Chrysler Automobiles and Ford Motor Co to invest further in the province of Ontario, home to nearly all of Canada's auto industry, in talks that began this month.

Workers at General Motors, Ford and Fiat Chrysler voted on Sunday 97.1 percent, 98.9 percent and 99.0 percent, respectively, in favor of striking, according to a statement from the union.

They would be in a position to walk off the job if the parties cannot come to terms by Sept. 19, when the union's current four-year contract with automakers expires, Unifor said.

The union has asked for terms including higher wages for GM to build new vehicles in Oshawa, and for Ford to keep its engine plant operating in Windsor.

"The bargaining committee will not accept a deal without a commitment to investment in Canada's auto sector," said Unifor President Jerry Dias, who is leading the talks. "The push for new investments in Canada got a lot stronger today."

Between 2001 and 2013, some 14,300 jobs were lost in vehicle manufacturing in Canada, according to Hamilton's Automotive Policy Research Centre. Some automakers have found cheaper labour in places such as the southern United States and Mexico.

GM's Oshawa plant could shut one of its two assembly lines, with several vehicles already produced elsewhere or expected to move in 2017.

GM Canada has said the negotiations are separate from the carmaker's future investments because labour is not the only cost it considers when deciding where to make new products.

GM said it will make future product decisions for Oshawa only after a labour agreement.

Automakers, however, had agreed to make investments during bargaining with the United Auto Workers in the United States. GM's 2015 deal with the UAW generated $1.9 billion in additional investment in U.S. plants.

GM, Fiat Chrysler and Ford did not immediately respond to requests for comment.