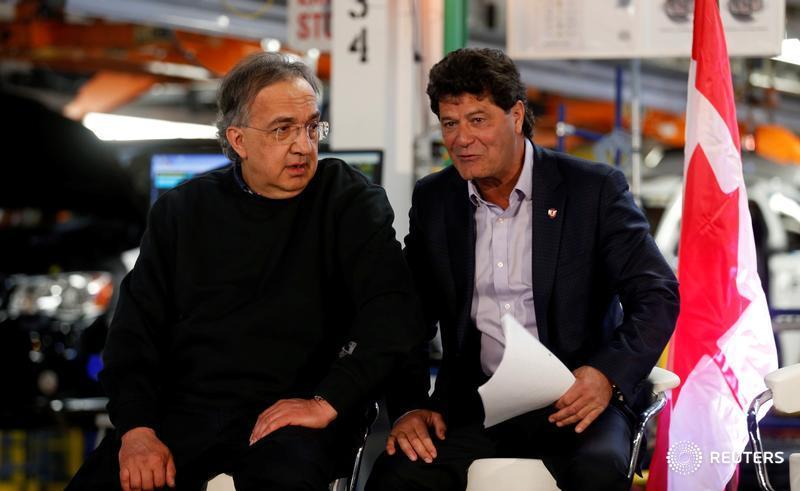 TORONTO/MONTREAL (Reuters) - The union representing most Canadian autoworkers is seeking higher pay for members as it starts contract negotiations with three major automakers this week for a deal that its president said would make or break the country's auto industry.
"We are expecting some increases for our members who absolutely deserve it," Unifor President Jerry Dias told reporters in Toronto following his first meeting with General Motors Co on Wednesday.
Unifor, the country's largest private-sector union, will not make specific demands on salaries and pensions this week.
The talks will cover 20,350 Canadian autoworkers at GM, Fiat Chrysler Automobiles and Ford Motor Co. The union's four-year contract expires Sept. 19, putting the two sides in a position to strike or lock out workers.
Dias said the union won't agree to a deal unless GM commits to building new vehicles in Oshawa and Ford decides to keep its engine plant operating in Windsor.
GM's Oshawa plant could shut one of its two assembly lines, with several vehicles already produced elsewhere or expected to move in 2017.
Between 2001 and 2013, some 14,300 jobs were lost in vehicle manufacturing in Canada, according to Hamilton's Automotive Policy Research Centre. Some automakers have found cheaper labor in places such as the southern United States and Mexico.
"We are looking at the death of the auto industry in Canada," Dias said. "Our message will be: invest in Canada."
GM Canada has said the negotiations are separate from the carmaker's future investments because labor is not the only cost it considers when deciding where to make new products.
GM said it will make future product decisions for Oshawa only after a labor agreement.
Automakers, however, agreed to make investments during bargaining with the United Auto Workers in the United States. GM's 2015 deal with the UAW generated $1.9 billion in additional investment in U.S. plants.
One challenge for Unifor in securing new vehicles for Oshawa is that GM already "locked up product" with the UAW, said Arthur Schwartz, president of Labor and Economics Associates, a consultancy.
Schwartz, a former GM negotiator, said the automaker could ask Unifor for similar terms reached with the union during a 2013 contract for its CAMI automotive plant in Ingersoll, Ontario. That deal gives GM more flexibility, including the ability to hire new employees with a defined contribution pension, which is less costly than the defined benefit package for workers in Oshawa.