Bill C-81 meant to ensure barrier-free Canada, employers should assess workplaces: Experts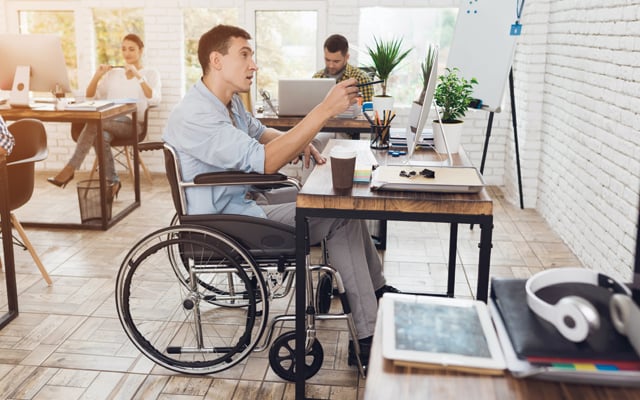 New rules surrounding workplace accessibility have been approved by the federal government — with implications for employers.
Bill C-81, the Accessible Canada Act, passed third reading in the House of Commons and awaits royal assent. The legislation aims to ensure Canada is barrier-free by 2040. A total of $290 million over six years has been pledged for its implementation.
"The time to propose a new system that would help address the barriers to inclusion faced every single day by Canadians with disabilities has come," said Minister of Public Services and Procurement and Accessibility Carla Qualtrough in the House of Commons.
"This legislation would send a clear signal to Canadians that persons with disabilities will no longer be treated as an afterthought."
The act will create the framework to transform how the Canadian government and federally regulated sector address barriers to accessibility, said Marielle Hossack, press secretary for Qualtrough.
Too many people continue to face barriers in terms of inclusion and access — an issue the act aims to address, she said.
"There are thousands of Canadians with disabilities — a vast and largely untapped pool of talent — who are available to work and want to join the workforce," said Hossack. "All Canadians deserve the same opportunities and chances at success."
"It is undeniably the most significant piece of legislation on disability rights in Canada since the Charter of Rights and Freedoms."
The act requires accessibility and barrier removal in employment, built environments, information and communication technologies, procurement of goods and services, delivery of programs and services, as well as transportation.
While the legislation sets regulations only for the federally regulated sector, all employers would be wise to become as accessible as possible, said David Lepofsky, a lawyer and accessibility advocate in Toronto.
"Employers need to look at this and realize a) status quo is no good. That's not to say everything is bad, but there's just too many barriers, and b) the old way of thinking is wrong," he said.
National model standards
The legislation will create three new bodies: a chief accessibility officer to oversee implementation; an accessibility commissioner responsible for enforcement and compliance; and a Canadian Accessibility Standards Development Organization (CASDO) that will develop and revise standards.
Led by a board of directors comprised of mostly persons with disabilities, CASDO will be responsible for developing accessibility standards in priority areas such as employment, built environments, and the design and delivery of programs and services, said Hossack.
In an effort to establish Canada as a national and global accessibility leader, the body will provide opportunities for the disability community and industry to collaborate on standards development, she said.
"(These) will be made available as national model standards that could be adopted by other jurisdictions," said Hossack. "Provincial and territorial governments will be encouraged to participate as standards are being developed."
But the work surrounding accessibility in Canada is far from complete, according to Lepofsky.
"We certainly don't think it's the best law it could possibly be, but there are helpful features in it," he said. "There is a long way to go — it's uneven."
Advocates will continue to lobby federal government parties for their commitment to implement and amend the bill, said Lepofsky.
Effect on employers
The act requires employers under federal jurisdiction to comply with the accessibility regulations — including the development of multi-year plans that must be made public for feedback.
It also legislates monetary penalties for employers that fail to comply — the maximum penalty is $250,000 — and establishes a complaint process, said Simmy Sahdra, employment lawyer at McCarthy Tétrault in Toronto.
"I would advise employers to be proactive in assessing their workplaces and determining how they can better identify and address barriers impacting people with disabilities," she said.
"Accessibility legislation is being implemented across the country and employers should consider how to better address accessibility and accommodation issues within the workplace."
Ontario, Manitoba and Nova Scotia have implemented accessibility legislation, while others look to follow suit, said Sahdra.
As a result, employers can no longer conduct business as usual until requests for accommodation are filed, said Lepofsky.
"You've got to take a far more creative look."
Planning for accessible workplaces could make a difference in the eventual retention of workers, helping employers keep valuable "accumulated expertise" and "institutional memory," he said.
"Every employee now working in a workplace is bound to get a disability later in life," said Lepofsky. "If you want to hold on to them later, you don't want to have to replace them sooner. You've got to have an accessible workplace; you've got to start planning for that now. Otherwise, you're going to subject yourself to the higher costs of having to replace them sooner and lose their expertise."
Federally regulated organizations should immediately develop a plan to eliminate and prevent barriers, he said, adding the regulations may one day trickle down to the provincial level well.
"Any employer could ensure that their workplace is fully accessible in the next five to seven years, because workplaces are changing anyway. The technology we use, the procedures we use, the job descriptions… everything is in flux."
Telecommuting options and accessible technologies have altered expectations, he said.
Senior leadership should also encourage HR to ensure future job descriptions have proper accessibility requirements, employment procedures, workspaces and hiring practices, said Lepofsky.
"With such a fluid workplace, if an employer said right now, 'forget 2040, I want my workplace fully accessible in the next five to seven years, let's get a plan together'… They could get there... and they could be way ahead of this act."
Accessibility is good for the bottom line, said Hossack.
"By making workplaces and employment practices inclusive, employers open the door to talent, innovation and creativity," she said. "Canadians know that making their products, services and facilities more inclusive results in more customers and more revenue."