Employers adapting to new labour market reality: Experts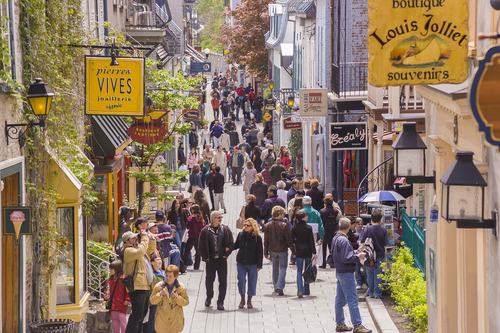 Quebec's labour shortage was the focus of major attention last month, as the federal government confirmed a $5.4-billion investment directed towards provincial workers and businesses.
The funds announced through Budget 2017 and issued through the Workforce Development Agreement and Labour Market Development Agreement are intended to aid Quebec workers through skills training programs and labour market transitions, according to Employment Minister Patty Hajdu.
"We're ensuring our people can continue to be competitive, resilient and responsive as jobs evolve and our economy grows."
The funding, committed until 2022–23, means that an estimated 240,000 more Quebec workers will benefit from employment and skills training programs and measures to transition into the job market, maintain employment or gain access to new career opportunities, according to the government.
The investments will provide more support towards the recruitment and training efforts of employers to increase productivity in response to the labour shortage the province will experience in the coming years.
The government also hopes to help more people benefit from employment and skills training programs, especially those from groups typically under‑represented in the workforce, such as persons with disabilities, youth and Indigenous people.
"As innovation and technology continue to change how people live and work, Quebec's workers face new challenges and opportunities. That is why it is more important than ever before to ensure that everyone benefits from an innovation-driven economy — and it means ensuring both employed and unemployed people have the chance to learn the skills they will need for the jobs of today, as well as the jobs of tomorrow," said the government.
Worker shortages
The province's unemployment rate was 4.9 per cent in June, matching a 43-year low.
At the same time, Quebec held the highest job vacancies rate in Canada through the first quarter of 2019, at 4.1 per cent — a total of 120,800 positions, according to a Canadian Federation of Independent Business (CFIB) report.
A shortage of workers is a problem affecting all provincial employers, says Manon Poirier, general manager of the Ordre des conseillers en ressources humaines agréés (CRHA) in Montreal.
"It's a major issue. It's really big," she says. "We know a lot of organizations that cannot find staff, so they're refusing contracts… We knew it was coming, but I think, as a society, we didn't get too ready for it."
"Different industries are touched in different ways, but I don't think any organization today could say that it's totally fine and has no issue."
An aging population is the single, largest driver of the current labour market woes, though a lack of technological skills is exacerbating the issue, says Poirier.
"The main reason is the aging population," she says. "But I think the combination with the changes in organizations, the technology… makes it a big deal."
Another factor in the labour market shortage is generally low salaries compared to most of Canada, says Damba Lkhagvasuren, economics professor at Concordia University in Montreal.
Prime-age workers are leaving the province behind to make more money elsewhere, he says.
"That's been at work for many years," says Lkhagvasuren. "A lot of people under age 45… we are known to lose lots of people to other provinces."
And while worker demographics may differ, the problem of an acute labour shortage will eventually seep across the rest of the country, according to Poirier.
"The pipeline of talent is not there," she says. "It's the tech; it's the engineers. But it's also the non-skilled workers. For some reason, we don't seem to be able to find those non-skilled workers."
The worker shortage is especially problematic in Quebec City, says Poirier.
"Quebec City suffers a lot from the skills shortage — more than Montreal," she says. "Quebec City has had the hardest time to attract immigrants. It's a very large city but, for some reason, there's less people that go (there)."
Finding solutions
Quebec employers are leaving no stone unturned in their efforts to find workers, says Poirier.
Previously untapped labour pools are being explored and work schedules and offers are being adapted to entice older staffers to remain in the labour pool, she says.
"It requires organizations to reorganize work," says Poirier. "Can one full-time position be filled by two part-time? Can we organize work differently?"
Immigration is also a hot topic in the province, as previously reluctant employers are being forced to open their doors to foreign workers, she says.
"In some ways, we wish it would have been by conviction, not by necessity, but I guess by necessity, it just kind of opens that new pool of talent," says Poirier. "That's a good thing. I think humans only change when there's a crisis."
The provincial government is attempting to shift immigration policy to alleviate the strain on employers, says Lkhagvasuren.
"The government is trying to step in and change the immigration policy to attract workers that are directly suitable to these unfilled jobs," he says. "I expect it will have some impact."
The federal government's investment in reskilling efforts is critical, according to Sonny Scarfone, economist at the Institut du Québec in Montreal.
"I believe skill building is the way to go," he says. "Automation will take out a lot of jobs — the estimates go from 10 per cent to 45, 50 per cent. If people can at least be more adaptable, we might protect ourselves better against the populist tides."
But subsidizing positions that could be automated is counterproductive, says Scarfone.
"When you're at full employment, that would be like choosing winners and losers."
Advice for HR
As the labour shortage continues, human resources professionals in Quebec will be forced to alter their recruitment methods, says Poirier.
"We need to look at jobs and really question ourselves or challenge ourselves," she says. "Is this really the profile that we need?"
Too often, job postings include "crazy criteria," says Poirier. "We always want the perfect person that has a similar experience, that has been doing (similar work) for years."
HR would be wise to consider key competencies and find recruits with transferable skills, she says.
"It's relooking at job descriptions and giving it more flexibility and agility, challenging the requirements, opening ourselves more and more to this diversity, hiring for competencies and attitudes, and training for 'savoir-faire' — how people do things."
Roles need to be deconstructed to identify possible automatable tasks as well as potential growth areas, says Poirier.
"We've always done that," she says. "But now, we need to accelerate it a bit more."
"It requires organizations to change their ways in terms of recruitment, integration, and be more proactive about talking about diversity."