'There is a great amount of burnout; there's a very high level of PTSD'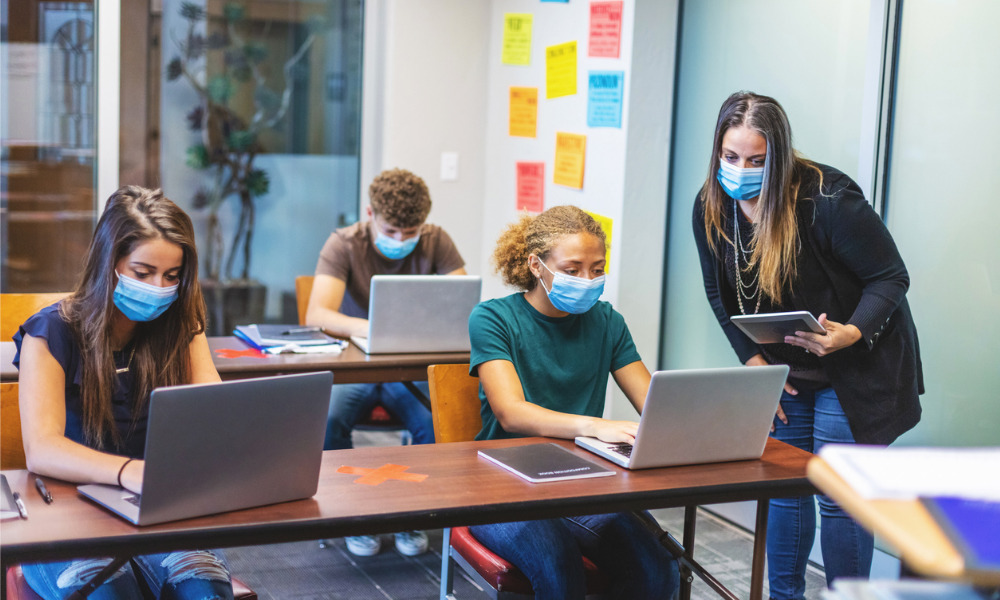 In looking at the levels of abuse, harassment and violence facing Ontario education workers, the numbers are alarming.
Nearly nine in 10 (89 per cent of) experienced a threat, attempt or act of physical violence during the 2018-19 school year, according to a report from the University of Ottawa.
Seventy per cent experienced some type of physical force (such as hitting, kicking, biting or being hit by a thrown object), and almost 60 per cent experienced threats to use physical force.
Over 80 per cent indicated that the levels of harassment and violence had increased "a lot" or "somewhat", according to the survey of 3,854 CUPE education workers, who are not teachers, including education assistants (EAs), early childhood educators (ECEs), child and youth workers (CYWs) and school support staff.
Respondents reported experiencing an average of 8.64 acts, 9.14 attempts and 6.52 threats of physical force from students in the year, and roughly 8.5 instances of insults, put-downs and gestures from students.
Looking to gauge the severity of violence and harassment in Canada's workplaces – and what kind of response is being given – researchers have launched a national survey. The Canadian Labour Congress (CLC) will be working in partnership with the Centre for Research and Education on Violence Against Women and Children (CREVAWC) at Western University and a researcher at the University of Toronto to collect and analyze information on sexual harassment and violence in the workplace.
'Chronic underfunding
This all boils down to chronic underfunding, says Laura Walton, president of CUPE's Ontario School Board Council of Unions (OSBCU).
"For years, there has been a continuous reduction of funds into the school system at a time when there have been increasing needs in the school system. And so the funding and the support levels that are [provided] have not kept up with the needs in the schools," she says.
"Many people say to me: 'Well, it never used to happen like this'. And a lot of that is because, prior to this, we weren't looking at schools as a business model. We were looking at it as the public service that it is. And now what we have is less staff, more needs, less funding, less training, more go, go, go — and here's where we are now".
While many workers are dealing with mental health challenges with the pandemic, hospital staff are suffering from an uptick in violence, according to a survey.
Mental health toll
All these experiences are taking a toll on education workers, which can affect them for a long time, says Walton.
"There is a great amount of burnout; there's a very high level of post-traumatic stress disorder that is happening among education workers. In Ontario, education workers are not recognized for PTSD the same way other employee groups are, such as first responders, but our levels are similar."
Men and women have experienced concussions and not been able to return to the workplace as a result of the injuries sustained at work, she says.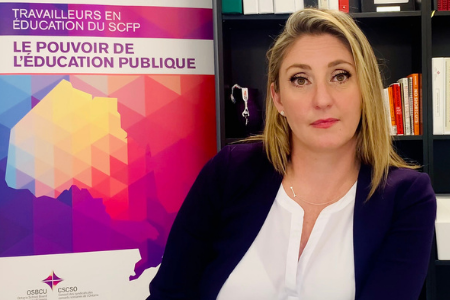 Laura Walton
"But what we also heard, loud and clear, and what I have been hearing and my lived experience, is there's a mental toll that is taking place."
And even though in-person schooling ceased during the heat of the pandemic, things have not necessarily improved, says Walton.
"What I can tell you anecdotally is that [the problem] doesn't just go away just because the pandemic is in place. If anything, there's been more concerns added on to an already stressed system in the sense that we have children... not being able to see doctors, not being able to attend daycare, not being able to attend childcare. That has been confounded by the fact that every student has two years of education [that's] really disrupted."
Worker shortages
A shortage of workers is also a factor, says Walton, and offering better salaries can help.
"There are a number of people who exited the education system because we are the lowest paid workers in the education sector. On average, our members make $38,000 a year. They only work 10 months of the year, so for two months of the year they are on unemployment. We know just from doing other studies that over half of our members work multiple jobs. So many people choose to leave when you're confronted with a world where 70 per cent of you are experiencing violence in the workplace, and you're trying to cover multiple jobs," she says.
"People will come back to the workforce if we pay them properly, if we value them properly, if we support them properly. And that's all the things that have not been happening in 20 years in the province of Ontario."
Now is the time to address the issue, says Walton.
"What we're seeing in our communities is a real recognition of the value that public services play in our lives, and I do think that this is the time… Proper funding for education should become an election issue… If people want to be elected into place in our government, they better be prepared to deal with these issues."