Staff-assist pendant helps with threats of violence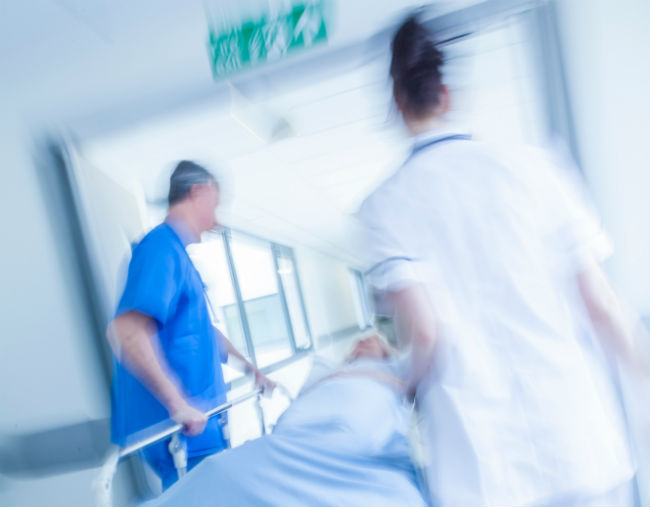 Southlake Regional Health Centre in Newmarket, Ont., is committed to creating a safe place for everyone who enters its doors. One of six hospitals in Ontario that make up the Joint Centres for Transformative Healthcare Innovation, Southlake has collaborated with its counterparts to share best practices around workplace violence prevention.
That was evident recently when the health centre introduced a device that's proven invaluable for employees in keeping them safe — a staff-assist pendant for triggering code whites when threats of violence arise.
To maintain a "safe care environment" and "healthy work environment," Southlake requires all employees to complete a mandatory core curriculum annually to comply with legislative requirements, Ministry of Health directives and accreditation standards. It also provides an employee and family assistance program (EFAP) to support staff and physicians in all aspects of their personal and work lives.
But following an incident of workplace violence in its emergency department in 2013, Southlake began a quality improvement journey to infuse a culture of safety throughout the organization.
A corporate workplace violence prevention committee was created — made up of representatives from interprofessional clinical teams, the joint occupational health and safety committee, unions and the hospital's senior leadership — to address ongoing concerns around people safety and to reduce the risk of workplace violence. From this committee, the staff-assist pendant solution was realized.
This wearable device, made readily accessible to all staff anywhere in the hospital, was developed by leveraging the hospital's existing real-time locating system to immediately transmit the location of the person initiating the request.
Depressing the button on the pendant sends a message to the hospital's telecommunications department and security showing the last location of the pendant and the person wearing it, or the last sensor passed.
This allows for swift response to a code white. Not only is security immediately en route, but telecommunications staff will announce an accurate location through the intercom system, prompting a response from the code white team.
While the tool was successful in helping to locate and track staff, with an average 20-second response rate, the early versions had design flaws that led to the buttons being inadvertently pushed, resulting in false alarms. So Southlake and Versus Technology worked together to redesign the pendant to reduce the number of times the buttons was unintentionally pushed.
The button on the pendant went from being convex to concave with a ring around it to protect it from being hit when people leaned over or bumped into objects, and was reprogrammed so it had be held for one second to signal a code white.
Throughout the improvements, the overall number of inadvertent pushes decreased from a monthly average of 5.4 per cent to 0.3 per cent.
The pendant has become a tool for not only increasing safety but providing staff with a greater sense of security.
Through the collaborative efforts of stakeholders across the organization, and by leveraging a common tracking tool used in health-care facilities, Southlake Regional Health Centre was able to rapidly implement the staff-assist pendant without the time and expense of rolling out a new enterprise-wide system.
In gaining commitment and creating a governance structure to enable transformational change across the organization, persevering through challenges with the implementation, holding firm to goals, and ensuring the solution worked seamlessly, collaboration and a culture of safety was made possible.
Both at Southlake Regional Health Centre in Newmarket, Ont., Michelle Lee Hoy is a strategic communications consultant and Danae Theakston is a corporate communications associate. For more information, visit www.southlakeregional.org.