With its immersive technology and realistic simulations, VR can replicate real-world situations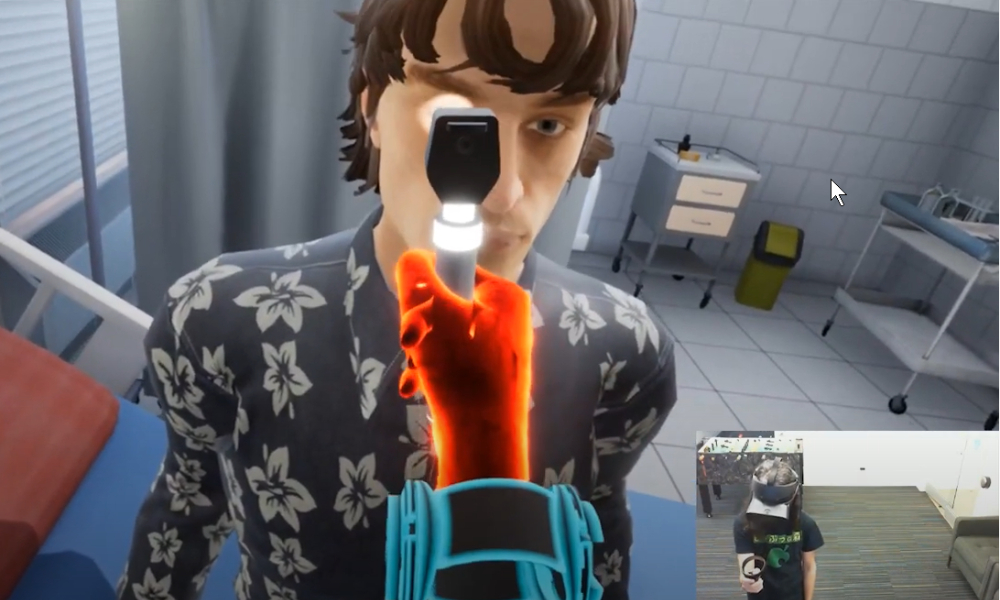 Just recently, Bhushan Sethi had a very immersive experience for work. The joint global leader of people and organization at PwC in New York took part in a two-hour session with a global leadership team using virtual reality (VR).
The group went walking on mountains and underneath holiday trees, along with doing yoga stretches and holding breakout sessions.
"We actually cracked a very important business challenge for us and came out with a high-level design for it. And it was very engaging, and I think we built a sense of trust," he says. "There were points when I was going through that virtual reality experience that actually felt like I was in the room with people who were in Germany and in California and in London and in Hong Kong."
Throughout this pandemic, a lot of businesses have learned to use technology in different ways "that I think we're only just opening our eyes to now," says Sethi.
Immersed in soft skills
As workforces become more spread out, even before the COVID-19 crisis, many organizations have been using new tools to keep workers better connected and engaged.
Take, for example, Bow Valley College in Calgary. The school has about 1,000 practical nursing students in its program on a regular basis. About 18 months ago, it partnered with a VR production company to produce training modules.
"We thought we would develop VR tools with patients that you can't make happen in the real world... We developed a respiratory VR scenario with a number of different avatars and different experiences: pneumonia, asthma, COPD [chronic obstructive pulmonary disease], anaphylaxis," says Nora MacLachlan, dean of health and community studies at Bow Valley College.
"It's very realistic and it was just a great way to bring that learning from the hospital and health-care environment into the lab space."
Nursing students can interact virtually with a patient who may have one of the listed conditions, and they are judged on their techniques, such as identifying the sounds from the lungs and where they placed the stethoscope.
The immersive experience of VR provides students with the opportunity to practise in near-real world scenarios while eliminating the sometimes high-stress situation of being judged by instructors while operating on real people, says MacLachlan.
"The assessment process can be quite daunting: You're sitting in front of an instructor who's physically there watching you and so we thought we could remove that because, when the learner is in that VR experience, they are embedded deeply [and] really immersed with the patient. We were hoping they would forget about the instructor and be able to just think about the assessment."
As well, the system provides realism for the students, she says.
"You can't hear the sounds of a lung with pneumonia unless you're immersed in that. There are recordings that you can hear but without the added value of a patient. That immersive experience also allows them to build up some confidence in working with patients."
Machinery operations
Bow Valley's VR system was created by ICOM Productions in Calgary, which also provides VR walkarounds for large equipment operators that are looking to train new hires without taking expensive machinery (such as massive dump trucks in mining) offline for those purposes.
One 35-year veteran of a company who teaches machinery walkarounds said VR is "a leap forward, not a step forward in learning," says Greg Surbey, founder and managing partner at ICOM Productions.
"His point is that now my students actually understand the parts and the processes prior to going into their practicum."
For companies looking to hire new workers operating complex machinery, VR provides an experience that "absolutely catapults the learning from zero to proficient in a VR world," says Surbey.
"VR is phenomenal for doing a walk-around, identifying elements and then pointing out hazards and saying, 'What's wrong with this picture? What would you do here?'"
VR can also be deployed for certain mini-training or refresher courses, according to Surbey.
"We [covered] fatigue in the workplace and this was a very emotional piece because it's a bus crash. The character in this scenario is a bus driver in an industrial facility who had a long, hard day, made a bad choice on the road and ended up in a crash. We're able to build a lot of the emotion that goes around with that in the airspace."
Career explorations
Discovering whether a candidate is well suited for a particular career and fully aware of what is required is an example of how VR is being employed at the hiring stage.
The Employment and Education Centre in Brockville, Ont., for example, uses VR to assist clients and students who are looking for extra guidance with career exploration, such as pipefitting, says Elisabeth Meyer, manager at CareerLabsVR, which is part of the centre.
"We start with industry leaders and we talk to them and say, 'What are some of the most common tasks or skills that someone who's a pipefitter may do?' and we build our simulations around that," she says.
To date, CareerLabsVR has employed 15 different work scenarios that provide a jobseeker with a virtual look at various careers. In one case, it prevented a candidate from making a bad choice, says Meyer.
"We have a residential electrician simulation and we had someone who realized, 'I can't tell my red from my yellow wires.' If this was something that you were looking to do as a career, [it's important to know] what is your capacity for colour differentiation?" she says.
"You're able to have those moments prior to being on a jobsite or prior to spending money on training that you realize [this job] is not what you thought it was going to be."
Soft skills assessments
On the soft skills side, AlignVR in Edmonton has developed a VR assess-ment tool where job candidates move through a series of tasks, challenges and tests that evaluate their potential fit within an organization. It also prevents the candidate from engaging in impression management, which is when a potential hire "caters the answers so what you say is what you think the assessor wants to see," says cofounder and CEO Alex Rossol.
"It's a way of finding out who someone really is or how they interact with others in team environments and also just interpersonally as well."
By its nature, VR blocks out the outside world, he says, giving the hiring manager a peek into how the candidate might react when nobody is watching.
"It's very immersive and all participants in the VR exercises entirely focus on the environment; they forget any assessors that are watching them and then entirely focus on the puzzles and not the evaluation," says Rossol.
"They don't have all these social scripts to work off of impression management, which is managing the impression you have with someone so that you always try to have your best foot forward."
VR not only benefits the company that is making the decision, he says, it can also smooth the process for the jobseeker.
"An employee's first interaction with the company is almost always through the hiring manager, and that's a bit of a pressure cooker where you need to be on your best behaviour. By using VR, it's a positive interaction; candidates genuinely enjoy the exercises. It also reflects on [job candidates] that this is a very exciting company to work for," he says.
In the future, VR could become a valuable onboarding tool as well, says MacLachlan.
"You could have people walk around your building and you could have them engaging in a team meeting with supervisors. With COVID, it's become even more apparent that we need that interaction. I hired an associate dean of nursing this last year and she's only been to the college once, and that's because I very purposely took her there. To have someone even walk around the building and become attached to their place of work, I think that's really important."