Providing workers with access to virtual healthcare helps with retention, engagement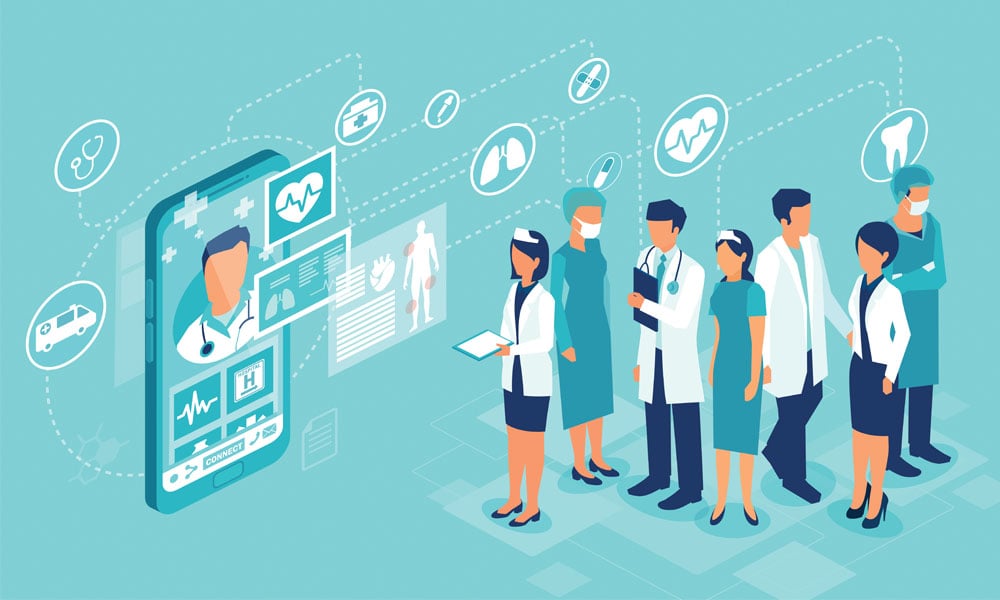 The coronavirus pandemic has undeniably changed the future of the Canadian workforce as we know it. And with many employers supporting the shift toward more flexible working arrangements, companies are seeking new ways to respond to the changing needs of employees.
On that note, interest in virtual care services exploded in March as the COVID-19 outbreak spread dramatically and employers scrambled to ensure safe, reliable access to health care for employees.
However, in speaking with early adopters of virtual care technologies, a common theme begins to emerge: The advantages of making health-care services available to employees 24-7 are powerful not only for people's well-being and addressing the challenges of the pandemic but also as they relate to retention, employee engagement and a reduction of absenteeism.
Gore Mutual makes employees' lives easier
Early adopters of virtual care include Gore Mutual, one of Canada's leading property and casualty insurers. Following a comprehensive analysis on employee well-being, the company identified a need to better align its employee value proposition and benefit program with the company mission. Virtual care not only provided an opportunity to deliver an enhanced level of care and convenience to employees — demonstrating the value placed on employee well-being — but it also offered the opportunity to differentiate from others.
"Many employers in our industry had never explored virtual care and we wanted to be an early adopter," says Catherine Leclair, CHRO at Gore Mutual in Kitchener, Ont. "As an insurance company, we provide peace of mind for our policyholders. To be able to provide peace of mind to employees, many of them parents, was and still is very rewarding,"
The company chose virtual health-care provider Maple for the service. And in return for providing 24-7 access to health care for the team, Gore Mutual has seen a deeper emotional investment from employees.
"We were able to eliminate a daily worry from our employees' lives, and that matters," says Leclair. "The number of staff who have stopped me in the hall or sent me emails with stories about how virtual care made their lives easier is unbelievable."
The value employees have placed on the service is evident from the program's annual utilization rate, which sits at more than 80 per cent. With only about half of those doctor visits happening during office hours, the benefit has helped the company to provide peace of mind to employees around the clock — demonstrating both differentiation and how deeply the company cares for employees' health and well-being. They're not just talking the talk when it comes to workplace wellness, they're walking it, too.
Gore Mutual also credits the strong results to finding the right partner for the business.
"We don't like the word 'vendor,'" says Leclair. "The needs of our employees are going to change over time, so we wanted a solution that was going to allow flexibility and adaptability — a partnership with a company that could evolve and pivot quickly to suit our needs, which has been an incredibly strong asset in our partnership with Maple."
ADP Canada sees high signup rate
This same adaptability was essential to ADP Canada when the company looked to enhance and modernize its benefits package in 2020. Setting out with the goal of building a more flexible and holistic health plan for employees, and recognizing that company divisions in other countries had been using virtual care for some time, the company decided to explore the same solution for Canada.
In evaluating providers for virtual care in Canada, Jill Doucette, senior total rewards consultant at ADP in Toronto, found a wide variety of models and decided to narrow the selection process by focusing on connection time to the physician as a guiding principle.
If the goal was to make accessing a physician as easy as possible for employees, why have employees go through multiple steps, lengthy triage processes and layers of interactions before getting to the medical provider they needed? Other important decision criteria for ADP included bilingual access, multiple ways to speak to a physician (phone, text and video) and full family coverage.
Implemented in January 2020 for its eligible Canadian workforce, the new virtual care program was already showing encouraging results prior to COVID-19 and social distancing measures.
"I am talking to everyone who will listen about my experience," says one employee. "I just can't get over it. I picked up my prescriptions last night and the whole process took 20 minutes. It is still blowing my mind how effective, fast and simple it was — and all without having to call to make an appointment or wait for hours to be seen."
Employees at ADP's company's offices in Eastern Canada were particularly grateful for the service since ongoing physician shortages in the region had prevented many of them from having reliable access to health care. They often had no choice but to either take time off work and sit in an emergency waiting room or, worse yet, avoid taking care of their health needs — an option that can lead to longer-term absences and disability claims.
With the virtual care option launching in early 2020, ADP Canada has already seen a signup rate of nearly 60 per cent and an annualized utilization rate forecast to hit 106 per cent. The average employee satisfaction rate of 4.8 out of five stars is a testament to the platform's seamless patient experience, low wait times and impressive resolution rates.
"Associates' engagement and feedback has been very positive so far. Our associates are especially pleased with how quickly they can connect with a Maple physician (24-7) for routine health issues and to renew prescriptions," says Doucette.
The new normal
For both ADP Canada and Gore Mutual, finding an intuitive platform that fit employees' schedules has been critical, along with a turnkey setup coupled with a customizable communications plan that explained the process in easy and accessible language. Both companies saw strong interest and enrolment in the early days of their programs, which not only helped their respective teams see almost immediate benefits, it also let word of mouth do part of the job.
In looking at the use cases for virtual health care, the top 10 across the employer and insurer business are:
prescriptions
sexual health concerns
cough, cold, flu
ear, eye, throat or urinary tract infections
headache
skin concerns
physician note
vomiting, diarrhea, constipation
fever
mental health
As today's workforce begins to find its new normal, virtual care will continue to add value as a tool for key areas such as employee wellness, retention, engagement and absenteeism management. As we turn our minds to the lasting impacts of the COVID-19 pandemic, a greater understanding of the impact telemedicine services can deliver for employers should be at the top of our list.


Christy Prada is vice president of business development at virtual health-care provider Maple in Toronto. For more information, visit www.getmaple.ca.
---
VIRTUAL CARE BENEFITS POPULAR WITH CANADIANS
85%
Number of workers with benefits who believe benefit plans should offer virtual care for both mental and physical health needs
62%
Number of Canadians who would be comfortable using virtual care for mental health support
72%
Number of workers who would perceive their employer more positively if virtual care was part of the benefits package
78%
Number of workers aged 18 to 34 who say that offering virtual care would improve their opinions of their employer
60%
Number of workers 55 and older who say that offering virtual care would improve their opinions of their employer
67%
Number of people who would be willing to buy medication from an online pharmacy
Sources: Teladoc Health, RBC Insurance, Green Shield Canada