Discrimination, racism, bullying and harassment are migrating from shared workplaces to work from home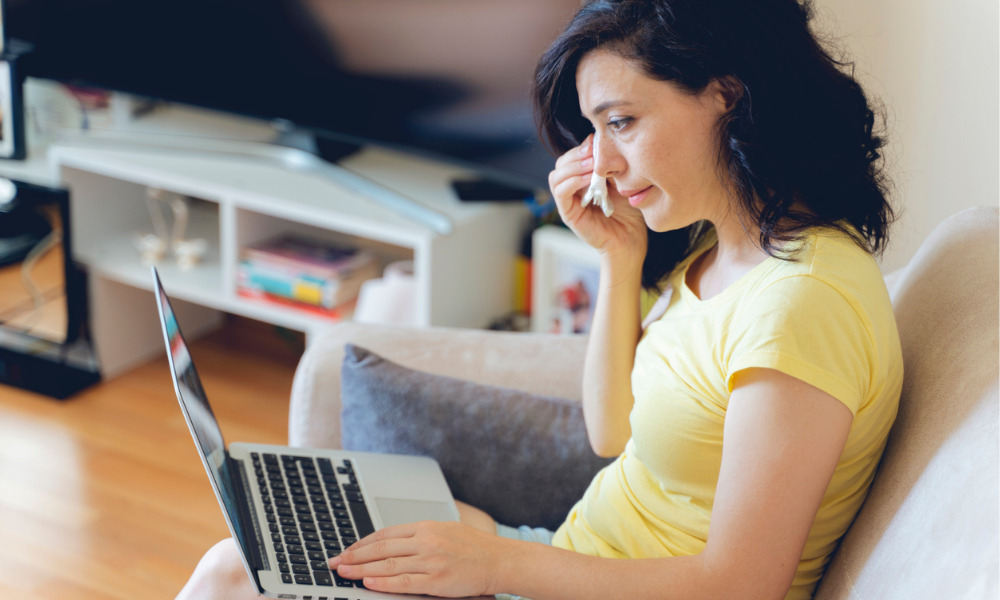 Bad behaviour has always been a reality at many workplaces, but with the major spike in video meetings since the beginning of the pandemic that forced many employees home, it has now manifested itself virtually.
Thirty-eight per cent of respondents to a survey conducted by Writer, a San Francisco-based producer of writing assistant software, said they had experienced toxic communication in the virtual workplace — such as discrimination, racism or generally harassing comments — and 27 per cent said it happened over video conferencing or messaging such as Slack, while 28 per cent said it happened by email.
Why the bad behaviour?
This behaviour tends to exacerbate dynamics that existed pre-pandemic, says Kiljon Shukullari, team lead of the advice team at Peninsula Canada in Toronto.
"[It's about] individuals interacting with each other by conference calling where two individuals — one that's probably more imposing — using their position maybe to exert extra pressure on the employee [and] the employee feeling alone [and] not feeling that support of the team or someone they can reach out to based on the fear that 'Somebody might be listening if I use conference calling.'"
The inability to perceive social signals through in-person conversations is also behind some of the toxic messaging, says Ramona Pringle, associate professor at the RTA School of Media at Ryerson University in Toronto.
"A day at the office is being replaced by a day of Zoom meetings and people were thrown into it without really thinking about the social practices or social norms," she says.
With many workers confined to their homes, the feeling of sharing a space no longer exists at work and it brings on unpleasant actions, she says. There's a "lack of social cues or gestures and body language that we normally have, and our brains have to work so much harder to fill in those gaps… That was part of what was exhausting everyone when we started talking about Zoom fatigue and burnout."
Being fed up with the seemingly endless series of video meetings could also be another reason why a lot of people are behaving badly, says Pringle.
"It's not uncommon that people are on Zoom calls from nine o'clock until five o'clock and maybe aren't even thinking about lunch breaks or natural relief breaks throughout the day. All of this factors in in terms of how people end up feeling and then how they end up engaging with each other."
Employees' general communication is also becoming more unpleasant, such as passive-aggressive tones, says Habib.
"Some of the stresses of our personal lives are seeping into how we communicate at work, and that certainly presents itself as microaggressive chats and emails."
Discriminatory comments
For some workers, the news is even worse, finds the survey of 1,036 Americans in October 2020.
"Workplace communication is much more toxic for people of colour than for white people," says May Habib, co-founder and CEO of Writer.
Workers of colour received unpleasant messages more often than white workers, with 28 per cent coming via email and 27 per cent via video and messaging tools.
"That really didn't surprise me, [but] the magnitude of it definitely surprised us," she says.
Fifty-two per cent of people of colour had received some form of toxic communication since the pandemic began, compared to 32 per cent of white people.
Family status is another way people are being discriminated against, according to the survey. One in five workers was criticized for family interruptions while working remotely, and that number jumps to 29 per cent for people of colour.
"It's things like: 'Quiet your children; don't join the call unless you can keep them quiet,'" says Habib. "[It involves] people being told they need to be available 24-7; people being told to 'Just get it done'; people being told to manage their kids. Those feel like very imposing kinds of things to hear from your colleagues and your managers, especially around something that so few people have got control over: Schools are closed and people are really struggling to do both jobs well."
This is also a gender problem, as seen in terms of unemployment numbers, she says.
"This pandemic definitely disproportionately impacted women."
HR policies need to be enforced
The health of the workforce can be affected negatively if the behaviour is allowed to persist, says Pringle.
"People are going to become less engaged. There's a correlation to mental health; it's tied into burnout and general well-being in the workplace, the ability to contribute to a team. When they become hostile or when they become toxic, it can have a real dampening effect on an entire team because it's not just the individual but then it reverberates across the whole team when there's microaggressions that go on between coworkers or between someone who's more senior and an employee, and that can be really damaging," she says.
"There does have to be a zero-tolerance policy for microaggression because it's always important to make sure that there isn't toxicity in a workplace."
For HR departments, the rules need to be clarified so that there is no distinction between the physical workplace and home environment, says Shukullari.
"All your company policies will extend, so the expectation of a certain type of behaviour does not differ if you're in a remote working setting."
This shouldn't be surprising considering many organizations regularly hold company events offsite and have policies around that, he says.
"Yes, it's outside of work and maybe in an uncontrolled setting, but it still requires you to behave professionally."
In not managing the abusive behaviour, it could lead to toxic communications with customers, according to Habib.
"For HR leaders, the biggest thing they can do is be really explicit about the fact that the culture is shaped by the words and being explicit around the fact that passive-aggressive tones are not part of our culture."
This could affect a company in the real world, she says.
"Any company could be put on full blast on Twitter or on social media for communication that is not above board, and it could result in a real compliance and legal risk for employers who aren't training on healthy communication."
And once something has been reported, swift action is key to solving the dispute, says Shukullari.
"Promptly investigate, even if the individual did not directly come to you but you are made aware of something going on; you need to approach the individual, you need to specifically ask about what has happened, who was involved and then get details as much as possible… A lot of HR issues and concerns that are left unattended for a while and time in HR… do not heal. It actually makes things worse."