A blended office is becoming the norm but leaders should ensure all staff feel equally valued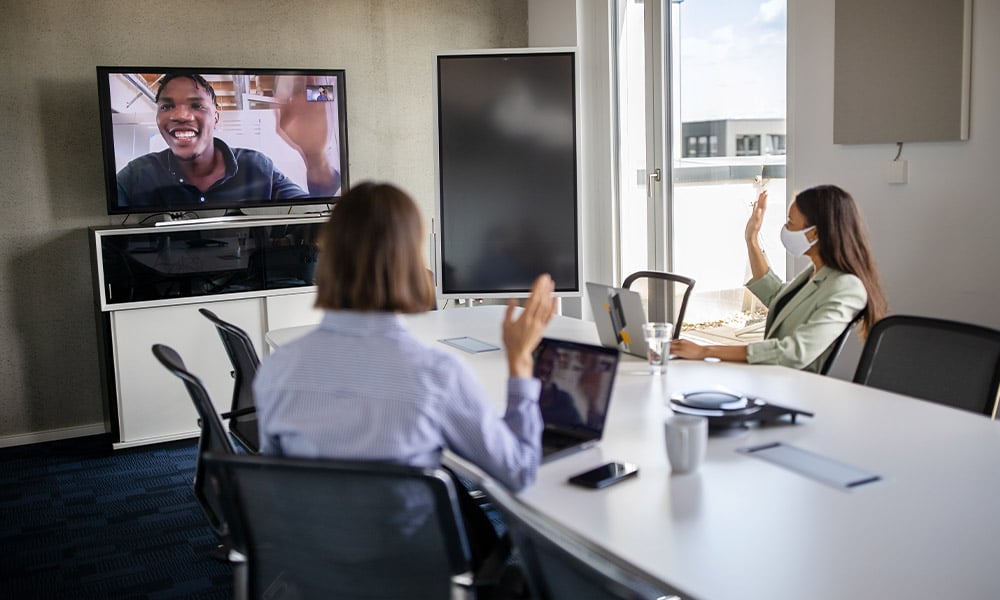 With a massive return to the office imminent — barring an unforeseen COVID-19 outbreak requiring major lockdowns again — the hybrid model is set to transform many a workplace.
This will mean employees are putting in their hours both at home and at the office. But it won't be an easy transition, and there are a few tips that HR may want to keep in mind to navigate rocky waters, say experts.
"Businesses really need to take a step back and re-examine their practices — not just running them the way they've always run them — because how your people are going to connect with you and with their teams is going to be different," says Sharon Bunce, chief of staff at HRdownloads in London, Ont.
"Hybrid work for a lot of organizations is brand new; we all went remote because we had to, and when we start looking at the future of the world of work, and we have some hybrid and some in-person, how you create internal consistency is going to be key."
Onboarding concerns
A wide range of employee experiences will have to be rejigged to maintain a sense of fairness among the different groups of employees, and it all begins with onboarding. For one, new employees may have more questions.
"[Try] being a bit more deliberate in setting up additional opportunities for people that are working from home to ask questions," says Erica Pimentel, assistant professor at the Smith School of Business at Queen's University in Kingston, Ont. "We have to dedicate time for people that are working from home to ask questions. If we set up half an hour on Friday for you to ask your questions, you will come prepared with questions."
Newcomers to the office may get more attention simply because they are meeting people face-to-face, says Pimentel, which could be perceived as an unfair advantage.
"There's a lot of informal training that's going to happen for folks that are in-person that will not be available to people that are working from home; the people at home become invisible. We know they're there; we see them on Zoom but, other than that, no one really tends to them."
It's incumbent upon managers to take into account the remote worker who doesn't have the face-time advantage, according to Hailey Fugman, principal at Mercer in Vancouver.
"[They] can still have a great remote onboarding experience, however, interactions need to be more purposeful. That casual water cooler chat doesn't necessarily happen when you're onboarding remotely."
One of the ways HRdownloads has helped new employees stay connected is to establish a buddy program or peer-based program, says Bunce.
"The goal of that program is to enable current staff to build connections with our new workers that are onboarding remotely. You don't want to always call your manager [because] 'I forgot to do something,' or [to ask] 'How do I do this again?' We really wanted to ensure that there would be an opportunity to build those connections," she says. "[It's about] knowing that a new hire has someone they could quickly go to."
When you see people in a hybrid event, how often do the people that are on the screen actually participate? Very rarely.
To help encourage the buddy system to fully work, it's a good idea to allocate a budget for the buddy and new employee to have coffee together remotely and learn more about each other, "and also about the workplace and the culture," says Bunch.
Performance considerations
As for the issue of career progression, including promotions and raises, remote workers should be encouraged to show up at the workplace — at least sometimes, says Pimentel.
"That will allow them to foster those networks that are so important to be even considered for promotion."
But making the rules suit both remote workers and on-site people is key, she says.
"It would be very difficult to have a separate set of performance objectives or evaluation schema for people working from home and in the office."
Helping employees succeed by having a regular connection is one of the best ways to justify any rewards, says Bunce.
"Once you establish that, that secondary question about promotions becomes relatively easy because as a manager [it's about] how your team's performing, how they're working together, making sure that everyone is connected — and even if they're remote, they still feel local, meaning they still feel part of that culture and community."
Leadership requirements
To help leaders deal with these and others issues in the new reality, it's important to keep them up to date on how to supervise effectively, says Fugman.
"The other part of performance management is manager enablement: it's the capability to manage people. It's harder to do in a remote environment than in-person, so spending time investing in your managers to make sure they're equipped with the competencies, tools and skills to manage in a remote environment is critical as well," she says.
"There needs to be an investment from organizations to recognize that there could be potential skill gaps, and upskilling your managers to address them is critical."
One of the unintended negative outcomes might be a bias against remote workers who aren't in plain view every day — but there are ways to mitigate against this, according to Fugman.
"It's important to recognize that there could be recency bias: 'If I see you, I'm more likely to remember you were there, what you're doing.' [So] making sure you're doing those check-ins with all of your employees... this is a skill."
Bridging the gaps
During team events or town halls in the hybrid world, the disconnect between in-person and remote workers becomes even more palpable, says Pimentel.
"When you see people in a hybrid event, how often do the people that are on the screen actually participate? Very rarely. It's the folks that are in-person that are dominating the discussion, and maybe some very bold person online will raise their hand, but it doesn't feel natural."
Solving this isn't easy but it must be done to eliminate any feelings of disengagement, she says.
"The same way that managers have to be more deliberate about the check-ins they do, facilitators for hybrid events also have to be more deliberate about dedicating time to say, 'OK, now we're going to turn to the people onscreen and let them ask questions.' Or, if they don't want to ask them, solicit them: 'Do you have a thought on that?' Which maybe doesn't feel fair to the people that are in-person, but people when they're on Zoom — they're just going to sit there, and it's not easy for them to participate."
By moving some employee experiences online, that naturally engenders equality because all workers must access it the same way, says Bunce.
"I would encourage organizations to look at their recognition program and move it virtual. Have a Teams chat related to recognition; give out virtual cards recognizing people; you can email gift cards and you can send flowers," she says.
"If you have that virtual program, it won't matter if someone's in-house or external because everyone's getting the same updates and seeing the same kudos and recognition going out."
Growing pains
While many employers seem to be ready for some change, a completely successful hybrid model should have a few growing pains before it becomes truly successful, says Pimentel.
Hybrid work for a lot of organizations is brand new; how you create internal consistency is going to be key.
"It's not impossible, but it's going to require another full-year cycle of performance evaluations for people to really get a handle on 'How can we be equitable across the organization?'" she says.
"Companies are going to experiment with different models and find one that works. We're going to see success stories in the news and then we're going to see the horror stories of employees that went unsupervised for six months and did nothing."