Halifax employee who wasn't recalled after temporary layoff deserved maximum notice period: court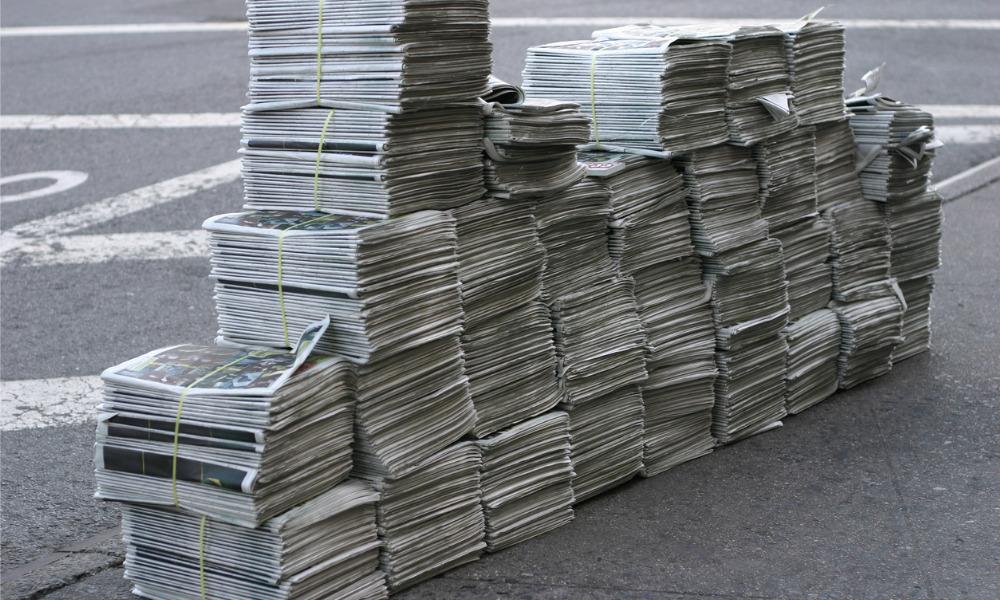 A Nova Scotia newspaper must pay a former long-term employee 22 months' salary and benefits after a temporary layoff became a permanent one without notice.
Jerry Slater, 62, was hired by the Halifax Herald newspaper in 1981. Over the course of nearly four decades, he reached the position of distribution co-ordinator, which included the duties of a district manager. His responsibilities included managing the delivery of flyers with his assigned area, supervising the carriers in the area and occasionally performing deliveries.
He also processed invoices for contractors and distributors, oversaw the maintenance of newspaper vending machines in mainland Nova Scotia, managed the delivery of two side publications and assisted other departments with deliveries. Slater's role involved a combination of physical work and administrative tasks along with some management of employees.
By 2020, the Herald faced challenges that came with the declining revenues in the newspaper industry due to the shift in news media consumption. Sales, subscriptions, and advertising were all down. As a result, it decided to lay off hundreds of employees and terminate the employment of 142, due to "permanent changes to its product mix."
The global pandemic also hit in early 2020, further muddying the economic waters. On March 24, 2020, the Herald informed Slater that he would be temporarily laid off for about three months because of the drop in revenue caused by the pandemic.
Layoff became permanent
However, after three months, Slater wasn't recalled to work. In fact, on June 23, the Herald told him that his employment would be terminated on Sept. 1, 2020, after 39 years of employment with the paper — nearly all of Slater's working life. The termination letter stated that the impact of COVID-19 on the newspaper business was significant and it had to take "drastic steps of restructuring, layoffs, and eliminating positions."
The Herald said Slater's employment contract was frustrated because of state of the industry, so he wasn't entitled to further notice of termination. However, it said it would pay him until Sept. 1 if he signed a full release.
Slater refused to sign the lease and sued for wrongful dismissal.
Nearly one year later, on March 19, 2021, the Herald offered Slater the position of administrative services clerk. Slater had hernia surgery in June and the position involved lifting that was outside of Slater's physical restrictions along with a salary that was 11 per cent less than what he had been earning. Slater declined.
On April 9, the Herald offered Slater a security guard position. It was a mostly sedentary position but involved a pay cut of 19 per cent. Slater declined this job as well.
The paper maintained that Slater's employment contract was frustrated by the economic circumstances and its offer to pay him for an additional two months until Sept. 1 was "a favour or a gift." However, shortly before the court hearing began, the paper abandoned its defence of frustration and acknowledged Slater was entitled to some amount of notice. However, it argued that Slater failed to mitigate the damages from his dismissal by not accepting one of the jobs it offered him.
The court found that Slater's position wasn't upper management, but he had a "broad range of responsibilities." He was also in the newspaper industry — and had the same employer — for 39 years, which gave him a "moral claim which has matured into a legal entitlement to a longer notice period."
Difficult to find similar employment
The court also found there were multiple factors that would make it difficult for Slater to find similar employment — his combination of duties and experience that were "in some ways tailored to the needs of the Herald"; his age of 61 at the time of dismissal; and the industry factors that contributed to his dismissal would also make it more difficult to find a similar position.
Even though the decision to terminate Slater's employment was for legitimate business reasons, the court found that Slater was entitled to a lengthy period of notice equal to the accepted maximum — 24 months.
The court disagreed with the Herald's argument that Slater failed to mitigate his losses. Slater couldn't be expected to look for work during the temporary layoff, and his hernia surgery and recovery took him to October 2020. At that point, he applied for some jobs but was unsuccessful.
As for the two positions offered by the paper, the court found that "it is not unreasonable for an employee with 39 years of seniority to question why he should be asked to take a pay cut of between 11 per cent and 19 per cent" as well as a reduction in status, the court said. In addition, Slater had commenced his legal action against the Herald and taking either of the jobs "would have had the effect of ending the litigation."
The court noted that because the notice period extended past the trial date, it was possible that Slater could find work before the end of the 24 months, even if it was unlikely. As a result, it discounted the award by two months for that contingency. The employer was ordered to pay Slater 22 months' salary and benefits. See Slater v. Halifax Herald Limited, 2021 NSSC 210.