Plans to give shareholders more power to curb C-suite compensation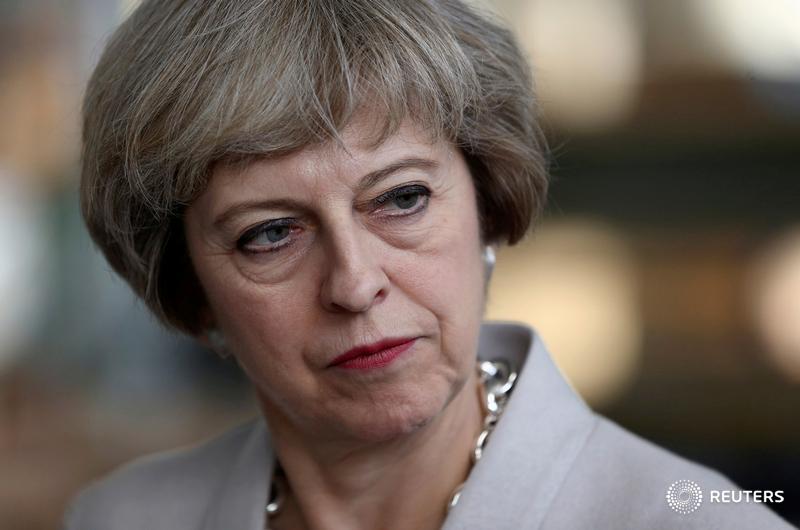 LONDON (Reuters) - Plans by British Prime Minister Theresa May to give shareholders more powers to curb top executives' pay could prove unpopular with some big investors, and some industry analysts say they may have little impact.
BP and WPP were among major companies to face high-profile revolts at shareholders' meetings this year, reflecting broader anger at inequality that helped persuade Britons to vote to leave the European Union in June.
As a result, May has promised to overhaul corporate governance to try and close a wealth gap that sees bosses being paid more than 140 times what their staff receive.
She has pledged to force companies to publish figures showing the difference between the average worker's salary and that of the chief executive. She also wants employees to sit on the committee that oversees how much bosses are paid.
But her key proposal - giving shareholders the annual power of veto over boardroom pay - is not considered certain by all in the industry to have the desired effect.
"Fund managers will be too afraid that the transparency torch they shine on boardroom pay would then be shone on their excessive pay packages," said Gina Miller, a partner at boutique investment manager SCM Direct, and a long-time campaigner for better value for money in UK fund management.
Investors already have the right to block longer-term pay policies, typically put to a vote every three years, but experience shows that having the power to act does not necessarily lead more votes against a company.
London-based ISS Corporate Solutions, a unit of Institutional Shareholder Services, which tracks the votes, said that of the 134 binding votes put to shareholders in FTSE 100 firms over the last five years, all went in favor of the company's pay policies.
Of those votes, ISS had recommended investors oppose the company on eight occasions and abstain on three. Across the FTSE All-Share index over the same period, 766 votes were completed, with just one failing to gain approval - suggesting fund managers were broadly untroubled by the issue of executive pay.
TIME TO BE AMBITIOUS
But for Stefan Stern, head of the High Pay Centre, an independent think-tank which reported a 10 percent rise in chief executives' pay to 5.5 million pounds last year, an annual vote would nevertheless keep the issue on the agenda.
"We're still in the realm of symbolism, in a sense, but it's a much more meaningful one because it's happening every year ... it is a propitious moment to try something ambitious."
Among the highest paid bosses in 2015 were WPP's Martin Sorrell, with 70.4 million pounds, Berkeley Group's Tony Pidgeley, with 23.3 million pounds, and Reckitt Benckiser's Rakesh Kapoor, with 23.2 million pounds, the report said.
Part of the problem is that many asset managers do not have big enough governance teams to vote on pay at all the companies they invest in.
Many managers outsource the duty, preferring to focus on their largest holdings or other environmental and social issues they feel more directly affect investment returns.
World leader BlackRock <BLK.N> has a relatively large team of just over 20 corporate governance and stewardship staff globally, but most rivals have far fewer.
And if fund managers are required to assess pay policies every year instead of every three, they could be forced to invest in bigger governance teams at a time when costs are soaring and investors want lower fund fees.
"The thing I hear time and time again is 'we're stretched'," said Oliver Parry, head of corporate governance at the Institute of Directors. Asset managers would need to add more resources to make a success of any changes brought in by May, he said.
LEGAL DANGER
Lawyers say giving fund managers a binding vote on pay could lead to possible infringement of contract or employment law, making it tough for a company to renege on salaries and bonuses already promised or paid.
"If a bonus or salary is set out in a contract, and the employer for whatever reason doesn't honor that, they are in breach of contract and that could lead to a number of claims - the most serious being constructive dismissal," Paula Rome, an employment partner at law firm Shoosmiths, told Reuters.
May's plans to disclose the pay ratio between bosses and their employees and bring staff on board mirror actions elsewhere.
U.S. authorities say firms based there must disclose the gap from next year, while employee representation rules borrow heavily from Germany, where works councils can wield real power over a company's strategic direction.
May has yet to flesh out her plans to give employees or consumers representation on the board, but the IoD's Parry said it was not clear how effective it would be.
"There isn't any evidence to suggest workers actually have that direct impact," he said, adding that it might make non-executive directors "think twice" about the amounts they were putting forward.