Opposition says rise would hurt ordinary workers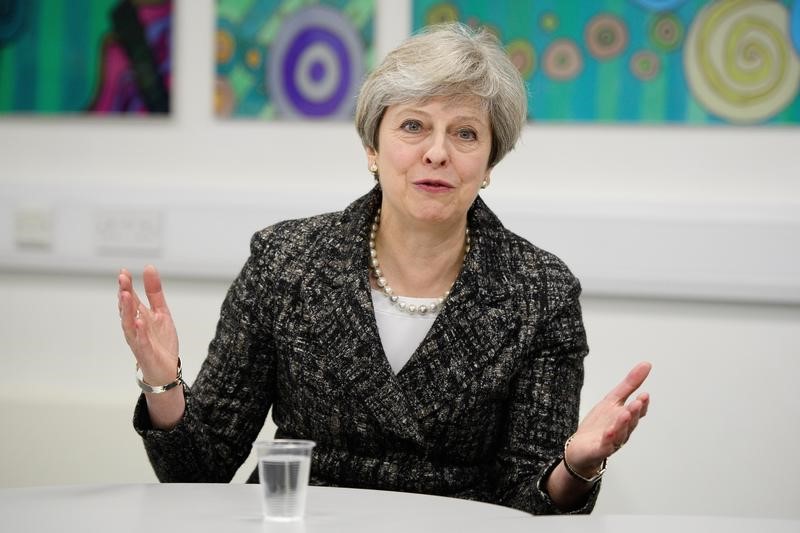 LONDON (Reuters) — British Prime Minister Theresa May refused on Saturday to rule out an increase in personal taxes if she wins a June election, riling supporters at the start of a campaign designed to strengthen her hand ahead of Brexit talks.
Polls put May's Conservatives on course for a landslide victory but the surprise decision to call an election has forced the prime minister to confront a string of hot-button topics for her party such as taxes, pensions and foreign aid.
The top-selling Sun newspaper splashed "No, No, No Prime Minister" on its front page while the Daily Telegraph said the prime minister risked a backlash, as the normally supportive newspapers attacked May's early campaign steps.
Finance minister Philip Hammond raised the prospect of higher taxes on Friday when he said that fiscal pledges made in the run up to the 2015 election had limited his ability to manage the economy.
Appearing at a campaign event in central England, May refused to say whether she would rule out higher taxes when asked three times by reporters.
"At this election people are going to have a very clear choice, between a Conservative Party which always has been, is and will continue to be a party that believes in lower taxes," she said.
"Or the choice is a Labour Party whose natural instinct is to always raise taxes. That is the choice, lower taxes under the Conservatives or higher taxes under Labour."
The opposition Labour party accused the Conservatives of planning a "tax bombshell" while the smaller Liberal Democrats said the plans would hit ordinary workers.
May won the prime minister's job in the turmoil that followed Britain's vote to leave the European Union last June.
She suffered a blow in March this year when a plan by finance minister Hammond to increase an employment levy was scrapped following outrage from party lawmakers and newspapers who said it breached the 2015 party election promises.
The episode served to underline how slim May's majority was in parliament. She called the election on Tuesday in a bid to increase her majority and strengthen her hand ahead of the mammoth task of steering Britain out of the EU.
On Friday, May also reaffirmed a commitment to spend 0.7 per cent of national income on foreign aid -- a pillar of predecessor David Cameron's attempts to soften the image of the party -- and failed to commit to uphold pension protections.
Media reports had said the aid commitment would be scrapped amid opposition from some lawmakers who said it should be spent at home instead.