'Recovery means much more than getting back to normal sales and staffing'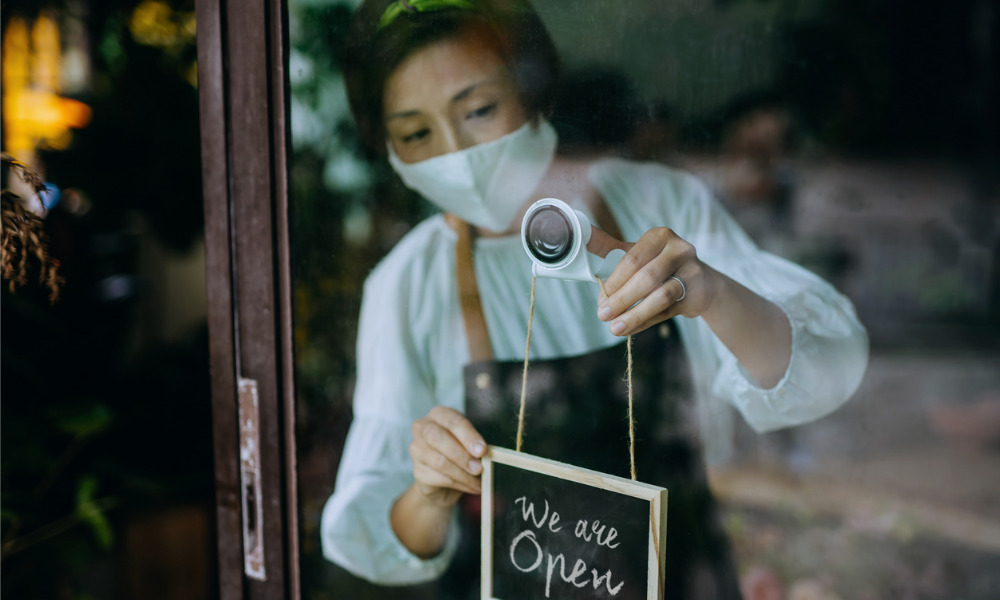 Despite the easing of restrictions and rising vaccination rates, small employers across Canada say it will take an average of 23 months to fully recover from the pandemic.
Recovery will take longer for employers in hospitality (29 months) and retails (24 months) but be shorter than the average for those in personal/miscellaneous services (22 months); arts, recreation and information (21 months); and social services (20 months), finds a survey by the Canadian Federation of Independent Business (CFIB).
"While we are starting to put the worst of the COVID storm behind us, for small businesses, clean-up and recovery is its own daunting task," says Laura Jones, executive vice-president at CFIB.
The group previously called on the federal government to extend supports for employers as they continue to struggle amid the pandemic.
What recovery means
But what does full recovery truly mean for small employers? While 46 per cent say it's being back to pre-pandemic sales, nearly half feel recovery means no longer experiencing high stress and anxiety levels due to COVID-19 (45 per cent) and no longer experiencing pandemic-related delays in supplies and shipping (44 per cent).
Others say that full recovery means:
being allowed to be fully open without restrictions (40 per cent)
having paid off any debt incurred due to COVID-19 (39 per cent)
being back to pre-pandemic staffing (27 per cent)
no longer worrying about having to close their business permanently (24 per cent)
having established a set of "new normal" practices for employees and customers (23 per cent)
Nearly a third of businesses across Canada were fully open back in May.
"Recovery means much more than getting back to normal sales and staffing – it's also about paying down debt and processing the shock to our collective systems," says Simon Gaudreault, vice-president of national research at CFIB. "Things are starting to look much more normal on the surface but there is still a long road ahead for many business owners who remain stressed out about the future."
Sectors, provinces
Most employers say they have not fully recovered, particularly those in hospitality (96 per cent), arts, creation and information (95 per cent) and to nearly the nine in 10 among those in social services (89 per cent), personal/miscellaneous services (86 per cent) and retail (83 per cent).
Among provinces, a lot of small businesses in Prince Edward Island (26 per cent), British Columbia, Saskatchewan (both 25 per cent), New Brunswick (22 per cent), Manitoba (21 per cent) and Nova Scotia (20 per cent) have not yet recovered.
Meanwhile, the number of small businesses still affected is smaller in Quebec (18 per cent), Alberta (16 per cent), Ontario (15 per cent) and Newfoundland and Labrador (11 per cent).
Recently, Ottawa announced the extension of the eligibility period for the Canada Emergency Wage Subsidy (CEWS) and Canada Emergency Rent Subsidy (CERS) until Oct. 23, 2021.