How employees perceive their managers is fundamental to workplace wellness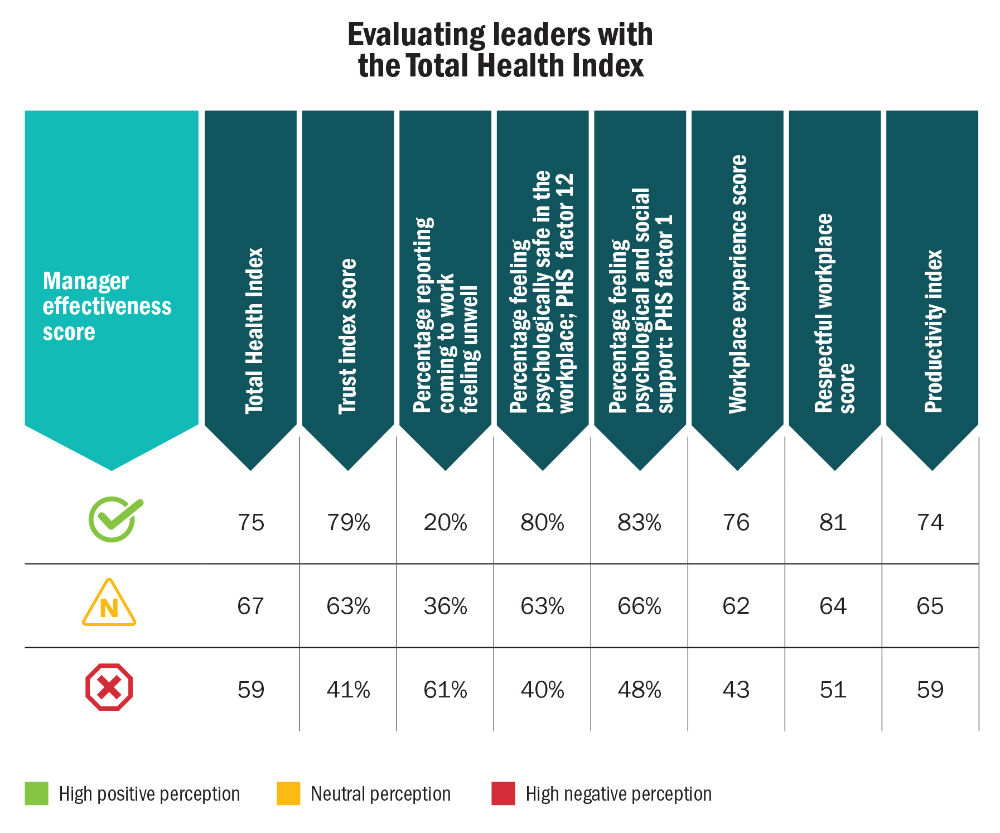 Besides employee engagement scores, how can human resources assess employees' workplace experience?
The first step is to consider what factors most influence the experience.
Here are five factors that have an impact on how employees think and feel in the workplace:
Job fit: The degree to which they feel they're suited for their individual role.
Job satisfaction: The degree to which they enjoy and find their role fulfilling and meaningful.
Culture: The degree to which they like the people they work with, and how they perceive the behaviour and treatment of each other.
HR policies, procedures and programs: The degree to which they feel things are fair and the feelings of value exuded by the organization (for example:
opportunities for learning and development).
Occupational health and safety: The degree to which they feel psychologically and physically safe in the workplace.
I recently published a white paper, The Next Human Capital Management Trend: De-Siloing HRM and OHS to Achieve Integrated Worker Health, with Glyn Jones on how HR and OHS can be better integrated to influence all the above factors. (See www.hrreporter.com/human-capital-management-trend.)
Though all the factors are important, perhaps one of the most influential is the employee-manager relationship.
With the Total Health Index (THI), we measure management effectiveness, meaning the degree to which employees perceive their direct managers' effectiveness and fairness in how they supervise, support and lead employees.
THI research shows there is a high relationship between the employee-manager relationship and employees' perception of their direct managers' effectiveness.
At face value, it makes sense that when employees trust their managers and think they're effective at what they do, it can affect employees' overall workplace experience.
What may not be so evident is the influence of the employee-manager relationship on employees' total health.
Mining the data
In looking at tens of thousands of THI individual assessment reports and cutting the data by way of a "management effectiveness scale," the findings provide evidence of the benefit to ensuring leaders have the knowledge and skills to work effectively with their employees so they can effectively build their trust and confidence.
The management effectiveness scale measures employee perceptions of their direct manager as either high, neutral or low.
In Canada, 59 per cent of employees believe their manager is effective; 41 per cent are neutral or have a negative perception of their direct manager.
In statistics, a Spearman rank correlation coefficient of 0.80 provides strong evidence that employees with higher scores in management effectiveness are more likely to also report more satisfaction with workplace experience.
Scorecard for managers
In addition, employees who reported high degrees of stress were more likely to report a lower score for their perception of their direct managers' effectiveness.
Employees with a higher score with respect to manager effectiveness also reported — on average — higher scores with respect to mental health, especially
when it came to having a lower risk for anxiety, depression and burnout.
The table above provides a summary of some of the findings in the THI research showing the differences between employees who fall in each of the three management effectiveness categories.
The metrics provide a snapshot of how employees in each category perceive their workplace experience and the impact on their health, engagement and productivity.
Educate, integrate
At a minimum, once a year, obtain a baseline of leaders' management effectiveness to determine the areas to improve and to identify managers who could benefit from coaching, training and development to improve

their management effectiveness.

Educate people leaders on the relationship between management effectiveness and employee health, engagement and productivity to provide context for why what a leader does with respect to their employees matters.

Explore the integration of OHS and HR programs to make it easier for managers to access knowledge, skills and tools to understand the importance of their role in creating a psychologically s

afe workplace, preventing mental injuries and promoting employees' mental health.
Bill Howatt, Ph.D., Ed.D., is the chief of research and development, workforce productivity, at Morneau Shepell in Toronto. For more information and education about the Total Health Index, visit www.morneaushepell.com.