'Business leaders should prioritize employee wellbeing, training and skills development, hiring new staff and adopting the latest technologies so employees work smarter, not harder'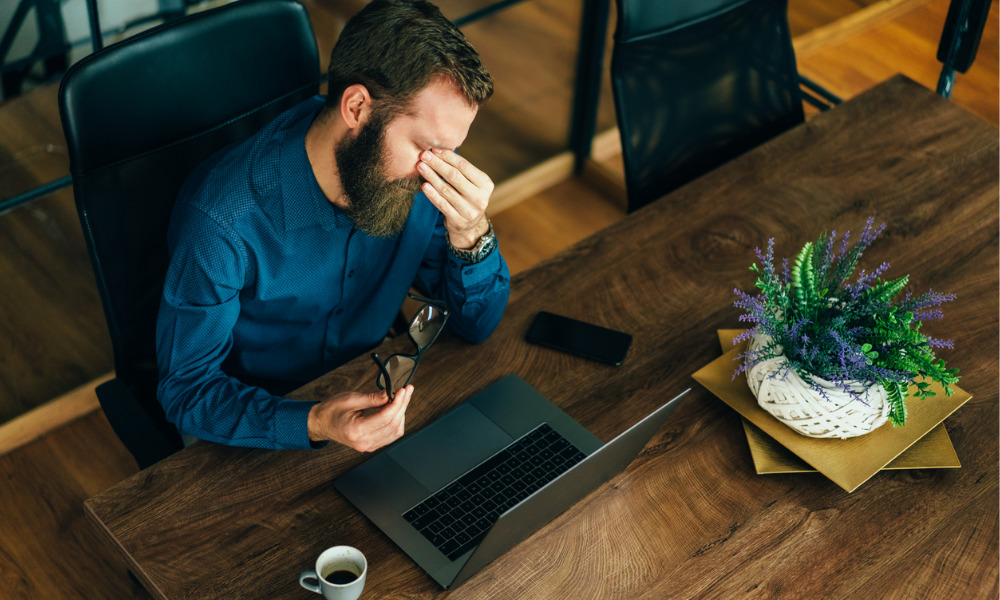 Employee burnout has emerged as a major issue for many workers during the pandemic. And while many employers are aware of the problem, they're not necessarily responding, according to a recent survey.
Nearly half (47 per cent) of Canadian employers say they are worried about employee burnout, and among businesses hurt by the pandemic, 42 per cent believe dampened employee morale and a potential increase of burnout will negatively impact their revenues for the remainder of 2021, according to a report from Sage.
However, nearly seven in 10 (68 per cent) of employers have not taken action to address this issue, finds the survey of 1,569 Canadian workers and 775 business decision-makers in organizations with 50 to 499 employees, conducted in March.
Meanwhile, one in three employees (32 per cent) are concerned about burnout affecting their ability to do their job. And half of working Canadians feel exhausted and stressed, according to another report.
"The past year has been a difficult time for many businesses across Canada to navigate, but we're starting to see a light at the end of the tunnel," says Nancy Tichbon, managing director at Sage Canada. "While there are some external factors outside of our control, business leaders should be focused on planning and prioritizing employee wellbeing, investing in training and skills development, hiring new staff and adopting the latest technologies to enable employees to work smarter, not harder."
But 34 per cent of business leaders believe the hybrid work arrangement will help with mitigating burnout.
Over three quarters (76 per cent) of Canadian employers will allow workers to work from home in various degrees within a hybrid model post-pandemic, according to Sage.
Helping employees
Aside from the pressure of work, other factors also contribute to employee burnout, say Laura Giurge, postdoctoral research fellow in the organizational behaviour department at London Business School, and Vanessa Bohns, associate professor of organizational behaviour at the ILR School at Cornell University.
"COVID-19 might amplify these pressures. Even for employees who have a natural preference to separate their work and personal lives, the current circumstances may not allow them to do so," they say.
"Many schools are closed and daycare may no longer be an option, placing additional burdens on working parents or low-income workers. Even companies that already encourage employees to work from home are likely to have some trouble supporting employees who face the many challenges of working at home in the presence of their families."
Nearly half of professionals working remotely (49 per cent) say that being on camera during meetings makes them more exhausted, according to a separate report.