Canadians show higher levels of exhaustion, stress, isolation in global survey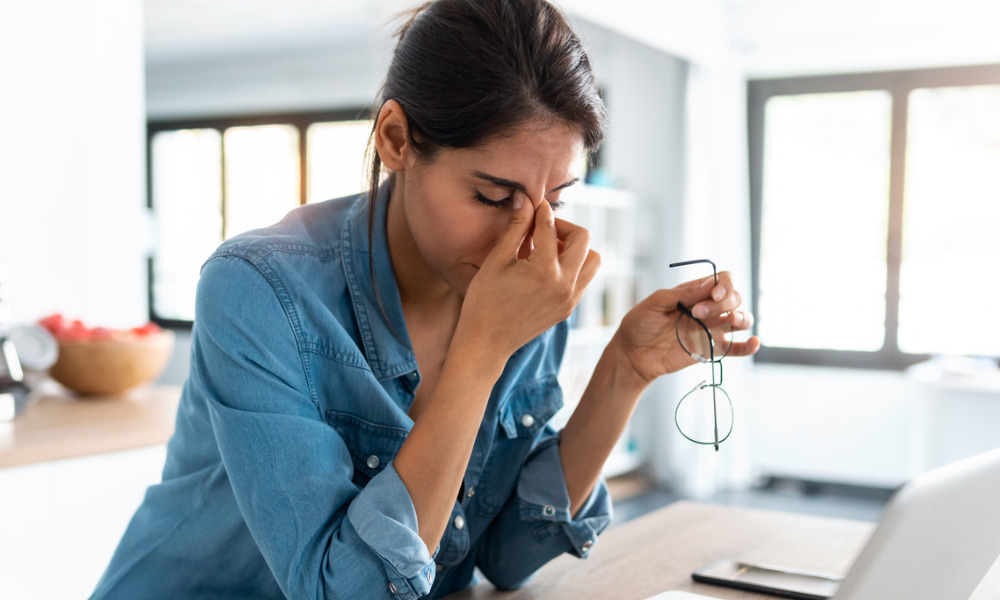 Canadian workers appear to be struggling more these days compared to the rest of the world.
Nearly half (47 per cent) feel exhausted and 51 per cent feel stressed, compared to the global average of 39 per cent and 42 per cent, respectively, according to a report from Microsoft.
In a typical workday, 36 per cent of workers in Canada feel isolated, versus 27 per cent for the rest of the world. Only 30 per cent of workers in the country say they are more likely to be their authentic selves at work compared to last year – considerably less than the 44 per cent global average.
"Those impromptu encounters at the office help keep leaders honest. With remote work, there are fewer chances to ask employees 'Hey, how are you?' and then pick up on important cues as they respond. But the data is clear: our people are struggling. And we need to find new ways to help them," says Jared Spataro, corporate vice president at Microsoft 365.
Still, only 35 per cent of Canadian workers are likely to consider changing their employers, versus the 41 per cent globally, finds the survey of more than 31,000 full-time or self-employed workers across 31 markets conducted in January.
Leaders versus frontline workers
Amid workers' struggles, business leaders seem to be doing well. Globally, 61 per cent say they are thriving at work while 39 per cent are either surviving or struggling.
In comparison, just 39 per cent of frontline workers are thriving while 61 per cent are either surviving or struggling. Also, 64 per cent of new employees are surviving or struggling and 36 per cent are thriving, finds Microsoft.
Two-thirds (66 per cent) of business leaders say their company is considering redesigning the office space for hybrid work.
And while 73 per cent of workers want flexible remote work options to stay, 67 per cent want more in-person work or collaboration post-pandemic.
Despite increasing workloads, employees and managers in the U.S. also feel that they've been more productive working from home, according to another report.
Digital intensity
The digital intensity of workers' days has increased substantially between February 2020 and February 2021. And high productivity is "masking an exhausted workforce," according to the Microsoft report.
Specifically:
Time spent in Microsoft Teams meetings has more than doubled (2.5X) globally and, aside from a holiday dip in December, continues to climb.
The average Teams meeting is 10 minutes longer, up from 35 to 45 minutes year-over-year.
The average Teams user is sending 45 per cent more chats per week and 42 per cent more chats per person after hours, with chats per week still on the rise.
"This barrage of communications is unstructured and mostly unplanned, with 62 per cent of Teams calls and meetings unscheduled or conducted ad hoc," according to the Microsoft report The Next Great Disruption Is Hybrid Work – Are We Ready?
"Workers are feeling the pressure to keep up: despite meeting and chat overload, 50 per cent of people respond to Teams chats within five minutes or less, a response time that has not changed year-over-year. This proves that the intensity of our workday, and what is expected of employees during this time, has increased significantly."
With many workers still working remotely, 61 per cent say that all their meetings are done by video, and 49 per cent find it exhausting, according to a separate report.
Addressing burnout
To help address the problem of burnout, managers can help workers set appropriate boundaries on their hours and workload when working remotely, according to Robin Madell on job search site FlexJobs.
Managers can do this by:
encouraging workers to sign off after work
letting people have some control over their workday
reducing or removing requirements for video conferences
encouraging time off
offering paid "volunteering time"
creating a buddy system
encouraging free mental health screening