Companies face new customs and excise rules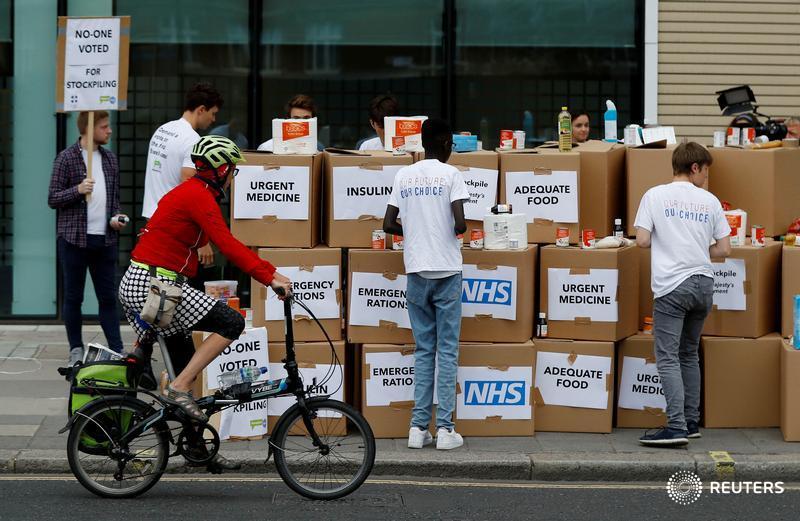 LONDON (Reuters) — Britain on Thursday told companies trading with the European Union they would face a tangle of red tape, possible border delays and more costly credit card payments if the government fails to negotiate an exit deal before Britain leaves the bloc.
Brexit minister Dominic Raab said he remained confident the two sides would reach a deal, but set out in a series of notes what could change without one.
With little more than seven months to go until it leaves the EU on March 29, Britain has yet to reach an agreement with the bloc on the terms of its departure. Prime Minister Theresa May's plan for a "business-friendly" deal has failed to impress negotiators in Brussels and has been heavily criticized at home.
"We have a duty, as a responsible government, to plan for every eventuality," Raab said. "To do this, we need to have a sensible, responsible and realistic conversation about what a no deal situation really means in practice."
Around 80 technical notices are expected over the coming weeks. The 25 published on Thursday cover everything from the movement of organs, blood and sperm to nuclear regulation.
The guidelines make it clear that companies trading with Europe would face new customs and excise rules and require paperwork covering customs and safety declarations.
If Britain left without a deal "the free circulation of goods between the U.K. and EU would cease," the guidance said.
"Leaving without a deal would create substantial burdens on business, which would be forced to bear the costs of adapting to and overcoming the inevitable disruption," said Paul Everitt, chief executive of the aerospace and defense trade body.
The government said it was working with industry to stockpile medicines for six weeks above normal operational supplies — a target the industry said would be challenging.
The drugs sector is one of the most vulnerable because of uncertainty as to how medicines oversight will function.
It welcomed plans to recognize EU tested and licensed products, but said the EU needed to show similar flexibility, echoing warnings from other industry bodies that government contingency plans could be blunted unless the EU cooperates.
"It is ... clear that the withdrawal of the U.K. is going to lead to disruptions regardless, with a deal or without a deal. And that's why everybody, in particular economic operators, needs to be prepared," a European Commission spokesman said.
Industry also welcomed the fact that import Value Added Tax on goods would not have to be paid upfront under a new "postponed accounting" rule, but UK recipients of expensive parcels from EU businesses will have to pay tax in line with current rules for non-EU countries.
Raab said the vast majority of consumers would not immediately be affected, but the government paper on banking said Britons will have to pay more to make card payments in the EU and businesses on the continent could be cut off from investment banks in London if there is a no-deal Brexit.
More than a million Britons living abroad may not be able to access their U.K. bank accounts to receive pensions and salaries, the document said.
POLITICAL FUROR
Plans to release the technical notes were first announced in July, bringing accusations of scaremongering to quell growing calls from pro-Brexit campaigners in May's Conservative Party to walk away from negotiations.
That was followed by a backlash from political opponents who said it depicted a government in chaos.
"These papers show that those who claim crashing out of the EU on World Trade Organisation rules is acceptable live in a world of fantasy, where facts are not allowed to challenge ideology," business lobby group the CBI said.
The furore underlines the fragility of May's position, heading into the final phase of negotiations without unity in her party, a clear consensus in parliament on what type of exit Britain should seek and persistent disagreements with Brussels.
One of the main outstanding issues is the Irish border, which the no deal papers failed to address, simply repeatedly saying the government would "take full account of the unique circumstances of Northern Ireland" in its no-deal planning.
They will be closely scrutinized by industry to see how well prepared Britain is for an outcome many employers have warned will be hugely disruptive.
The government has maintained throughout the negotiation process that it is preparing for all possible outcomes. Tackling some of the media reports that had preceded the release of the papers, Raab sought to reassure Britons that the army would not be called in to distribute food.
Several ministers have warned that the risk of leaving without an agreement has increased. Earlier this month trade minister Liam Fox put the chances at 60-40.
Many economists say failure to agree exit terms would seriously damage the world's fifth-largest economy as trade with the EU, Britain's largest market, would become subject to tariffs.
Supporters of Brexit say there may be some short-term pain for the economy but that long-term it will prosper when cut free from the EU.
The opposition Labour Party's Brexit spokesman Keir Starmer said Raab's address had been "thin on detail, thin on substance and provided no answers to how ministers intend to mitigate the serious consequences of leaving the EU without an agreement."