Women looking for flexibility, information, benefits and open conversations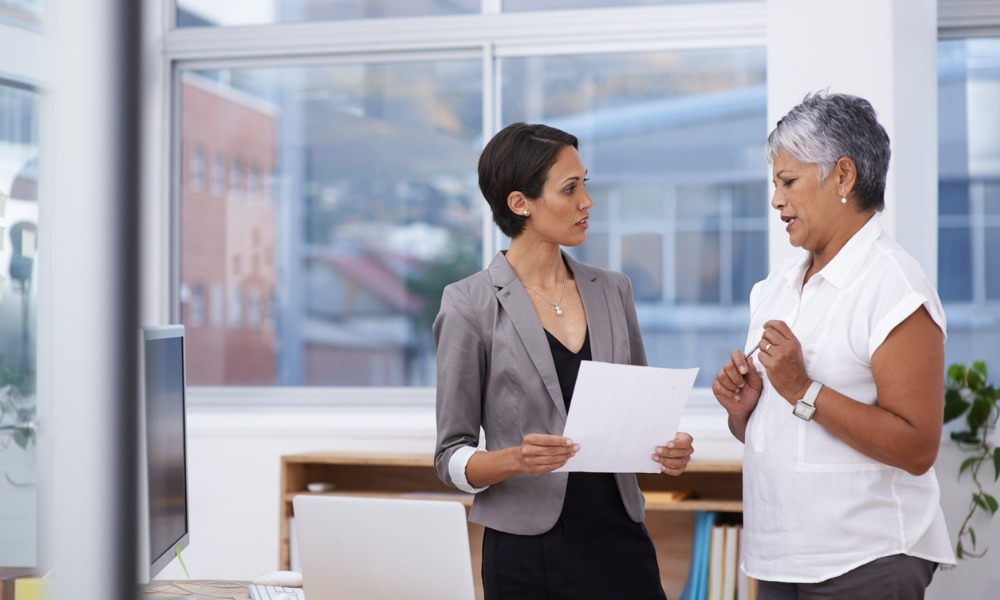 More than half (54 per cent) of women going through perimenopause and menopause believe menopause is still a taboo subject, according to a survey by the Menopause Foundation of Canada (MFC).
"Menopause is seen as something women must endure, like a woman's burden. This is unacceptable. Women deserve to feel healthy and they should not suffer in silence. There is preventative care, lifestyle choices, and safe and effective treatment options to help women thrive during their menopausal years," says Wendy Wolfman, president of the Canadian Menopause Society.
Three-quarters of working women also feel their employer is not supportive or do not know if they have support to help them manage this stage of life, finds the survey of 1,023 Canadian women aged 40-60.
And three in 10 fear that their colleagues may see them as weak, old or past their prime.
Read more: Many women endure symptoms in silence – and their careers suffer
More than two-thirds (66 per cent) of perimenopausal, menopausal and postmenopausal working adults believe there is still a taboo surrounding menopause, according to a separate survey by KPMG UK.
And 43 per cent say this has or could present a barrier in the workplace.
While 74 per cent of adults say they are aware of menopause being more openly discussed in recent years, only 38 per cent say their employer is helping to raise awareness, finds the survey of 2,000 perimenopausal, menopausal and postmenopausal U.K. women in October.
Only 18 per cent say they felt supported by their own employer when they developed symptoms. On the other hand, 48 per cent say their employer doesn't have a menopause policy in place, while 39 per cent are unsure.
Among the most popular support measures respondents want their employers to implement are adjustments to working patterns (38 per cent) and working environments (34 per cent), as well as more open conversations in the workplace and better education on the issue for managers (33 per cent respectively).
Demand for support rises
Employees are demanding more menopause support from their employers.
In fact, 55 per cent of employers say they have seen demand for menopause support increase in the past two years, and 63 per cent say the same thing for the past five, according to a survey by digital health company Peppy.
"We don't see this trend slowing anytime soon," says Kathy Abernethy, director of menopause services at Peppy, in IFA Magazine. "[Employers] now realize that they must prioritize this type of specialist support."
Read more: Awards plan to recognize employers supporting women at work
The most common types of menopause support offered include:
Mental well-being support targeted at midlife women (37 per cent)
Healthy lifestyle support for midlife women (such as fitness, nutrition) (35 per cent)
Information on company or employee benefits portal (31 per cent)
More general employee benefits that include some menopause support (31 per cent)
Training for line managers / board on menopause issues (31 per cent)
However, 17 per cent of employers think they are a "little" bit behind others in terms of the menopause support they offer and six per cent feel they are "way behind" others. Over one in 10 (13 pe cent) also say that menopause support is not on their radar or something they are particularly interested in offering at present, finds the survey of 504 HR decision-makers in September.
Taking action
How can employers plot effective organizational menopause support strategy? Non-profit Catalyst suggests three critical actions:
Integrate menopause into existing diversity, equity and inclusion (DEI) programs, offering accommodations like flexible leave, hours, and work location options.
Introduce a menopause policy focused on normalizing the conversation and eliminating stigma, including workshops, seminars, and employee training.
Provide physical and emotional support for employees experiencing symptoms, like added health care services, counselling, and mindfulness sessions.