But unions say proposals more about profit for employers than protecting vulnerable workers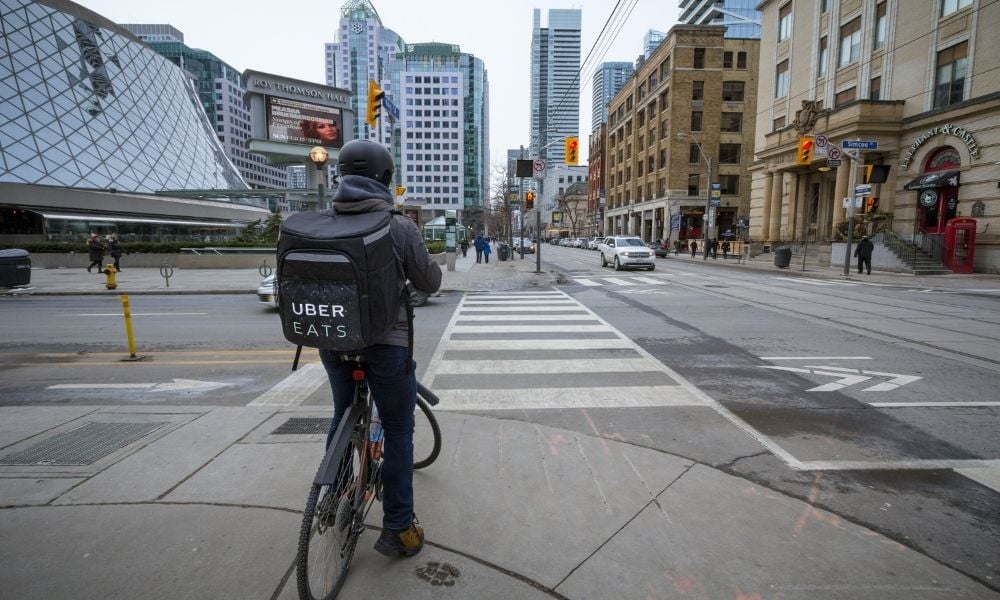 Several groups are unhappy with recommendations made in a report by the Ontario Workforce Recovery Advisory Committee (OWRAC) for gig workers.
The future of work in Ontario recommends the creation and recognition of the "dependent contractor" category for gig or platform workers in the app-based space.
Foodora couriers are dependent contractors and must be treated as such by their employer, according to a decision released by the Ontario Labour Relations Board (OLRB) in 2020.
The committee also wants to give this category of worker "basic employment rights," including termination pay, minimum wage, minimum or core benefits, regular payment of wages, pay stubs for pay accountability and notice of termination with severance entitlements.
It also recommended that gig platform companies operating in Ontario be required to provide basic, easy-to-understand, full disclosure and transparency on payment, work allocation and penalties, suspensions or pay deductions.
And it suggests the government appoint an expert to design and test a portable benefits program, where contributors could be employers, workers and the government.
In August, Uber released a blueprint or "industry approach" for its Flexible Benefits Fund. The fund would be enabled by provincial governments and managed by industry for delivery and rideshare app-based platforms, says Uber.
'Full and equal rights' wanted
But these recommendations do not improve rights for gig workers, says Patty Coates, Ontario Federation of Labour president.
"Gig workers are workers — full stop. They deserve nothing less than the full and equal rights and protections afforded to all workers under the Employment Standards Act."
These recommendations are a gift to Uber and other corporations "who care more about profit than protecting vulnerable workers," she says.
"Portable benefits, like EI and CPP, already exist and gig workers need the same access to them as everyone else. Not some subpar privatized health scheme."
This is what Uber and app-based companies wanted, says Jennifer Scott, president of Gig Workers United.
"They lobbied for the creation of a third category of worker and for portable benefits. If the committee and the Ontario government cared about workers in a just recovery, they wouldn't kneel to app-based employers lobbying for legislative change to enshrine worker precarity into law."
Uber also released a Flexible Work+ proposal which called on provincial governments to set up an alternative set of regulations to govern gig workers and offer them "self-directed benefits" and "enhanced worker protections".
Workers should feel threatened by the Ontario report and its recommendations, says Jan Simpson, national president of the Canadian Union of Postal Workers (CUPW).
"These recommendations will result in the gigification of more work," she says. "It isn't raising the bar for gig workers – it's lowering the bar for ALL workers. We have to fight back against greedy bosses and the governments who support them. We need to make sure workers' right are protected and expanded, not taken away."
When British Columbia's Passenger Transportation Board issued provincial licences for Uber and Lyft in January 2020, the British Columbia Federation of Labour reminded the app-based companies to ensure drivers have at least the minimum labour protections under the Employment Standards Act.