'This is just Uber's latest tactic to circumvent the labour laws'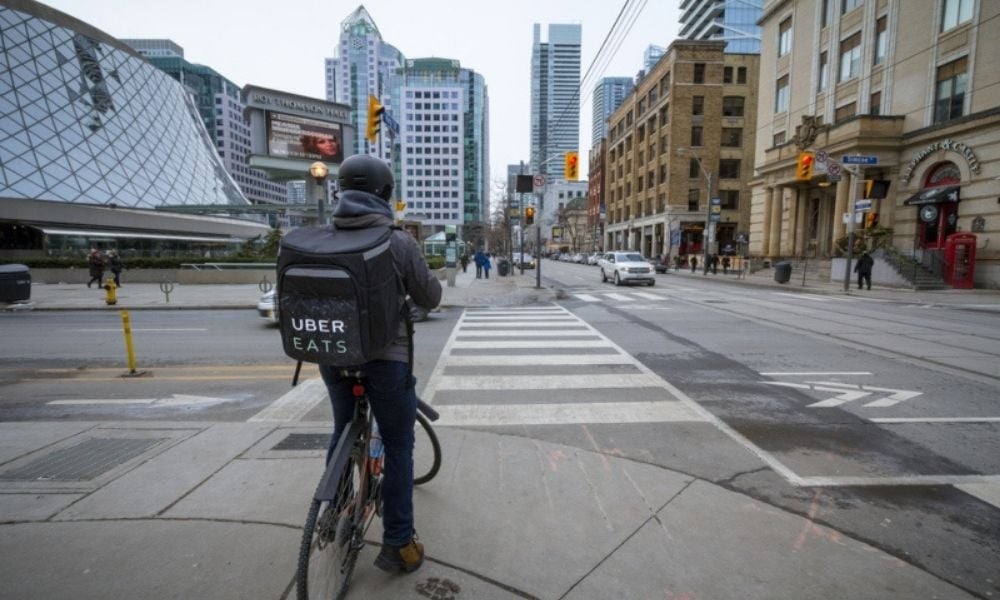 Uber Canada is urging provincial governments to set up an alternative set of regulations to govern gig workers and offer them "self-directed benefits" and "enhanced worker protections."
However, one union says this is just the app-based employer's way of circumventing labour laws.
Uber cited "Canada's outdated labour system" in asking the provinces to implement a new "Flexible Work+" model, and require the industry to provide benefits based on hours worked.
This will allow drivers and delivery people to withdraw cash for the benefits they want to fund, such as dental or vision care, RRSPs, or tuition and education expenses.
Uber also proposed that the gig industry be required to offer additional training and tools to help keep workers safe and protected while driving and delivering.
The plan is rooted in driver and delivery people's feedback, it says, as 81 per cent of those surveyed said they preferred this new Flexible Work+ model and the traditional independent contractor model over employment.
"Every person that signs up with a platform company should be able to get the same benefits and protections, no matter the company, and count on the same set of rules to hold these companies accountable. We invite policymakers, platform companies and social representatives across Canada to come together to set this new standard for app-based work."
However, nothing in Canadian labour law or any other law currently prevents Uber from providing benefits to its drivers, tweeted David Doorey, associate professor of work law at York University in Toronto.
"What Uber is saying is 'We won't provide these benefits unless you change labour laws to exempt us from minimum labour standards.'"
Jim Stanford, economist and director at the Centre for Future Work in Vancouver, also expressed concern on Twitter.
"[It's] pretty amazing that Uber Canada has the gall to launch a faux protest against [government] over Canada's unfair labour system in which some workers get benefits and protections while others do not."
'Cynical ploy'
The United Food and Commercial Workers (UFCW) Canada says the proposal is just Uber's way of avoiding the fact that it is an employer and the drivers are employees.
"This cynical ploy about so-called benefits shows how desperate Uber is to maintain control over its employees and avoid any meaningful conversations in regard to their employees' rights to collective bargaining," says Paul Meinema, national president at UFCW Canada.
The union also noted that a recent Supreme Court judgement in the U.K. ruled that Uber drivers are in fact employees. Similarly, in February 2020, the Ontario Labour Relations Board (OLRB) released a decision stating Foodora couriers are dependent contractors and must be treated as such by their employer.
This is just Uber's latest tactic to circumvent the labour laws and deny Uber workers the same rights as other workers, says Pablo Godoy, UFCW Canada's national coordinator for gig and platform employer initiatives.
"The idea that employers like Uber would like to unilaterally impose business models is not only a dangerous proposition. It also ignores decades of hard-fought legislation meant to protect workers."
Don't be fooled, tweeted Joshua Mandryk, an associate at Goldblatt Partners in Toronto.
"Uber is proposing to permanently exclude its workers from basic workplace protections and lock them in as a sub-minimum wage underclass, but is packaging it as a magnanimous offering of benefits."