Canada's HR associations have been busy supporting growing memberships as HR is thrust into the spotlight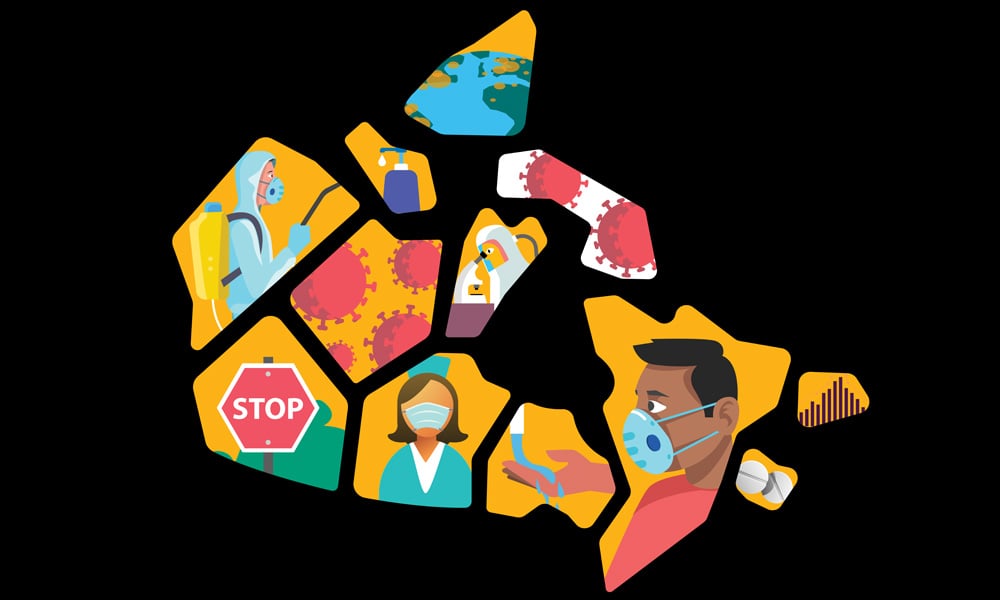 CPHR Canada focuses on collaboration, PROFESSIONAL DEVELOPMENT
Amid a challenging year, Chartered Professionals in Human Resources (CPHR) Canada has worked hard to collaborate with the provinces and regions.
"We're having a lot of dialogue, more than we've ever had… because, at the end of the day, it really is about supporting our members who are now the rallying point around this pandemic," says Anthony Ariganello, CEO of CPHR Canada in Vancouver.
"They have been called upon more than any profession to really respond to this and help employers and employees. They really are, I would call it, the conduit between all stakeholders, whether it's with government, employers, employees, WorkSafe[BC] in the various provinces and so on."
For years, HR has been talked about as an administrative role, but now it's evolving to a very pronounced, strategic role, he says.
"We've been called upon to really respond and help support both organizations that are into a transition, meaning cuts, layoffs, temporary closures, and then other businesses that are booming [such as] online businesses," says Ariganello.
"No more than the present has HR been in the limelight. And that's great; it's been good for members within our profession."
But it's also been very difficult, he says, because HR professionals are dealing with their own personal issues.
To best support members, CPHR Canada has worked on providing topical symposiums and webinars, particularly ones that look at the legal side of issues.
"One of the big things we've done this year has been on professional development, to really support our members so that they're equipped to deal with what they have to do every day now," says Ariganello.
CPHR Canada is also working with government, having submitted a brief at the federal level looking at modifying legislation around protecting the gig worker.
"[It's about] ensuring that there's protection for those who are now working remotely more and more, because this might become the way of the future. So, they're listening to that," he says.
"At the national level, we've really been able to make a mark and influence stakeholders who will support our members, ultimately, and the HR profession. So that's been really a positive thing for us."
CPHR Canada is also planning to do a research project in the fourth quarter of 2020 looking at the various stimulus programs that have been rolled out by the federal government and how that compares with other G20 countries, says Ariganello.
"Have we done too much… not enough? How have employers felt about it, employees, HR, etc.? And also by province, how has B.C., for example, fared versus Alberta, versus Ontario? Has it affected the GDP? Has it affected employment, unemployment? What's the situation? And then we can use this data to actually help government understand what have they been doing? And have they been doing it?"
The Canada-wide group is also continuing to work on upgrading its competency framework, which is six or seven years old, he says.
"It's time for a refresh, to look at… where are we and what do we need to do? So, we've been working very hard at that. And, in the new year, we'll be rolling out a new competency framework for CPHR."
B.C., Yukon enjoy rising membership numbers
Despite a very tough year for many HR professionals, Chartered Professionals in Human Resources of British Columbia & Yukon (CPHR BC & Yukon) has seen it membership grow seven per cent this year, according to Anthony Ariganello, president and CEO.
"We're almost at 7,000 members, which is a pleasant surprise. But what I attribute that to is the fact that HR has been the profession to go to, and people have seen that it's the place to be right now. It's very strategic, very much in demand and very much at the centre stage."
The demand is there with students, too, as CPHR BC & Yukon saw the most writers ever registered for the National Knowledge Exam (NKE) in the fall, he says.
"It speaks to the fact that the profession's in high demand."
The association is focusing most of its attention on supporting members and professional development. That's meant a lot of half-day hours-long sessions to help members, which have been well received, says Ariganello.
One of the biggest challenges right now is the rise of so many people working remotely, raising many questions for HR professionals, he says.
"How do you monitor performance? How do you professionally develop [people]? Because, of course, with people not coming into the office, the essence of the relationship has changed. Yes, you're seeing people on Zoom, but people are getting Zoomed out, people are getting tired, frustrated, and then you've got the health and wellness piece of it. Because staring at a screen all day, if you don't have the proper desk, the proper chair, it becomes an issue."
Plus, it's about understanding the law when it comes to issues such as people being reluctant to return to work amid the pandemic, says Ariganello.
"We've had a lot of legal webinars and symposiums on this subject… Members want to hear about it, because they want to understand their obligations as employers. And how do they protect the employees? [Plus, it's] how to continue to engage and motivate and ensure that you have a workforce that is stable and happy and content and safe at the same time," he says.
"There's this whole conversation around that. It just hasn't been something that's been easy to grapple with."
Also a challenge? The B.C. economy during the lockdown.
"It's recuperated a bit, but it's not doing great," says Ariganello, citing the province's heavy reliance on travel and tourism, which has basically ceased.
"We're trying to get the government to let things in a little bit or loosen up, but they're not, so that's a big problem... It's definitely tough."
Alberta focuses on rising membership, competency framework
Shortly after the pandemic lockdown hit in 2020, Chartered Professionals in Human Resources (CPHR) Alberta pivoted from in-person learning events to a webinar series that drew more than 8,000 visitors from around the world, says Rod Miller, president and CEO.
"It was incredible to see the engagement. We exist for members [who] live across the jurisdiction of Alberta, Northwest Territories and Nunavut. If we're not connecting with members in those rural places where they may not be able to come to an event or they may not be able to come to the conference face to face, we have to come to them."
The association also held its first virtual conference and that included more than 500 attendees and a trade show that was oversold by 100 per cent, says Miller.
"Whether or not this will continue into 2021, we're not sure, but we certainly have seen an uptick in our HR membership. Our members overall are really engaging with the association, which is something that is important for us."
The association saw membership grow by 300 this year to total 5,600, he says.
And work on the competency framework with CPHR Canada is progressing nicely, say Miller, who chairs the committee.
"We've gotten their feedback, we've had a small working group that has come together to help guide us into what that competency framework can look like, and we hope to be in a position later this year to launch the basis of the new framework that includes both general competencies as well as HR competencies for the profession," says Miller.
It aims to reflect the ever-changing reality of the profession of HR, he says, and it won't be a rigid document.
"We're going to be launching a framework that really achieved the fluidity of the profession, that allows individuals to define their own professional development and to incorporate that into a dynamic framework that's based off of fundamental, general competencies and competencies that we see are the future of the profession, like innovation and creativity, data analytics and machine-based learning. Those are now going to be incorporated into the HR competency framework."
The effort also brought Quebec's HR association into the fold, on the committee level as an advisor.
"We're so thankful that they did because they had experienced this a few years ago and they're helping to guide us," says Miller. "There is the possibility in the future that there'll be an alignment between Quebec and the rest of the CPHR Canada jurisdictions around the competency framework, and that's very exciting."
Saskatchewan 'optimistic' about self-regulation
Despite COVID-19 changing the plans of workers everywhere, Chartered Professionals in Human Resources (CPHR) Saskatchewan is keen to continue the celebration of its 15th anniversary into 2021.
"We've taken our 15 years and we're using that to also celebrate through video; people are sharing video, organizations are sharing [and] telling stories about what they're doing as people leading businesses with HR," says Nicole Norton Scott, executive director and registrar at CPHR Saskatchewan in Saskatoon.
"We're going to celebrate our anniversary for the whole year and we're going to celebrate into 2021; we're going to focus on understanding different markets, focusing on our marketing and membership growth and outreach. That'll always be at the forefront."
The association's finances weren't adversely affected by the pandemic, she says, and they are even planning for growth by hiring a marketing and communications coordinator.
"[It's about] how do we ensure our members are being taken care of and the heavy work that they're dealing with every day now? Because, of course, there's a lot of unknowns for the employees, which then impact the HR professionals and those doing day-to-day [work]."
As in previous years, self-regulation is a big focus for the 1,200-member association, and while it hasn't yet been achieved, things are looking promising, says Norton Scott.
"Let's say we're very optimistic. It's been a goal since 2014… We've had lots of positive interactions with the government of Saskatchewan. We're going into an election, so we will see."
The year 2020 will be "forever etched in the history of this organization, the profession as the year everything changed," she says, adding that it has also exposed the good side of HR.
"There has been the call for HR professionals, the HR profession, to truly be strategic leaders; people leading business in organizations has been paramount. You had to turn off the lights on March 14 and get everybody to work from home and then you had to work through all of that. What does that mean when people are working from home? Whether it was layoffs or furloughs or rehire subsidies, everything was going on so fast and the glue that held it all together is human resources," says Norton Scott.
"It's the year everything changed, but the HR profession has been elevated and truly had to be part of the pandemic planning."
Coming up in 2021 will be eight virtual events, culminating in the association's October annual convention, which hopefully will be in person, says Norton Scott.
New strategic plan unveiled in Manitoba
Unveiling a new, member-created, three-pronged strategic blueprint was a great accomplishment for Chartered Professional in Human Resources (CPHR) Manitoba in 2020, despite its challenges.
"The first [pillar] is promoting the CPHR, the second one is support for CPHR development and the third one is foster public confidence in CPHR. That's really the crux of where we're moving forward on that," says Ron Gauthier, CEO of CPHR Manitoba in Winnipeg, in describing the main areas of focus inside the plan. "We're just very excited about our new strategic plan fostering public confidence."
The association hopes the new policy document will help it focus better on moving forward, he says, and that will include a big pivot to online events.
"COVID has forced us to really get into the virtual game. We have a full year of virtual events that we're offering and we've had a couple already that would have been very well received," says Gauthier. "We had psychological safety where we had about 90 members attend; we did our annual legislative review virtually [and] we had over 150 members attend that."
As well, the group is offering a "professional development passport" that includes five events and it kicked off with a future-of-work conference in October, says Gauthier.
In addition, the 1,600-member CPHR Manitoba initiated a "good character attestation" that it hopes will help further boost public confidence in the HR profession in that province, says Gauthier, which is similar to efforts by HR associations in Alberta and Ontario.
The association also updated the method it employs to evaluate HR experience, according to Gauthier, with a foundational component followed by an applied piece.
"We realized that compared to other professions — and those are the HR associations around the world — they recommend people are recognizing the foundational [part] because, for the young people, they have to do the foundational before they get to the applied [part]," he says.
After the pandemic lockdown hit, the organization found that CPHR enrolments were increasing across the country, says Gauthier.
"Overall, from all the provinces, there was a significant increase in registrations that we're attributing… to COVID, possibly. The thought is that during these times, [HR professionals] start reflecting on their careers and then deciding whether they want to upgrade their skills."
As well, HR brand awareness, as viewed by Winnipeg chamber of commerce members, increased to as high as 72 per cent, and the "likelihood of hiring a CPHR went from 36 per cent to 46 per cent with the members," says Gauthier.
"That means that they're starting to see the value in hiring a designated HR professional versus an undesignated HR professional."
Virtual communities flourish in Ontario
All things considered, things have been going great for Ontario's Human Resources Professionals Association (HRPA), says Louise Taylor Green, president and CEO.
"From an internal perspective, we were able to adapt essentially overnight, redeploying all of our employees to work from home, and we had the technology infrastructure and the architecture in place that we could make that happen. So, we've managed to retain all of our staff and not had to suffer any reduction in hours or anything."
Instead, it's about being able to "chronically reprioritize" what's needed to deliver value to stakeholders and public protection.
"Having to pivot so many of our resources to things like COVID-19 resources for HR professionals or resources on anti-Black racism or systemic discrimination and equity, diversity and inclusion, we really doubled down on those efforts throughout the past year, because we could see, of course, that our community really needed the support and access to those resources."
They also created four new virtual communities of practice — for HR students, for total rewards, for COVID-19 and for diversity and inclusion — which have been lively with resource and information sharing as a hub for member-based dialogue, discussion, resource sharing and the expertise of people that have a common interest.
"It's amazing to see how willing HR professionals are to share their expertise and their experience and their resources," she says. "During COVID-19, where we haven't been able to host in-person, chapter-based events, this has provided folks some real-time resources to address issues that everyone has been facing."
COVID bulletins are also provided daily and posted on the resource page, plus HRPA brought in a labour lawyer to look at the discussion threads and provide reliable answers that a lot of members were struggling with.
"[We're] just trying to think, constantly, 'How do we bring more value and resource to a very active community of HR professionals?" says Taylor Green.
HRPA has also made the shift successfully to running events virtually.
"It's been a big experimentation period for us, obviously, just like everybody else, trying to figure out what technology platform will enable the greatest member or user experience," she says.
It's unlikely the in-person events will return any time soon, says Taylor Green, "not just because of public health concerns but because we also anticipate that consumer behaviour or learner behaviour has changed — people are much more comfortable now doing mentoring, networking and professional development on virtual or digital platforms. So, we'll continue to provide options of learning solutions that are really targeted at how the user wants to experience them."
And, of course, the annual conference in January will be fully virtual. There are roughly 75 speakers and more than 50 hours of learning offered over the four days, "so it's really quite robust," she says. "And the theme is 'HR rebooted,' and it's really looking at HR reinventing itself for a very disrupted world."
Finally, HRPA is looking to increase public awareness of the HR profession, culture and resources, says Taylor Green. "In the year ahead, you'll see HRPA be quite bold and ambitious and inspiring about how we are presenting the human resources profession publicly."
Quebec focuses on harassment training, reskilling
The Quebec HR association l'Ordre des conseillers en réssources humaines agréés (CRHA) started off 2020 by implementing a full program on harassment investigation for HR professionals and organizations, says CEO Manon Poirier.
The program features two parts open to the public and two parts open to the 11,500 CRHA members, with a certification of harassment investigation for those who complete the program.
"There were some very visible cases in Quebec of psychological harassment within organizations and people who lost their jobs because of complaints," says Poirier. "We believe that certified human resources professionals would support their organizations if they were the ones designated to do the investigations when there's a complaint."
While the harassment program remains a key professional development initiative, the CRHA had to pivot with the COVID-19 pandemic.
"As an organization, we were very reactive and quick to turn around," Poirier says, pointing to a guide it developed to answer questions related to the pandemic. The guide was available in March and has been updated every day since. At last count, it has been downloaded more than 400,000 times, according to Poirier.
The CRHA also recently conducted an exercise talking to HR professionals, non-HR professionals, business owners and employees to get a sense of the collective experience of the past several months and what has been learned. The most obvious finding is that remote work is changing the landscape of work and many organizations will be reviewing how they function, she says.
"HR professionals will be supporting organizations and employees in this new way of working, pandemic or not," says Poirier. "The HR profession is the focus now and will be in 2021 — how do we replicate from a distance everything that happens around the coffee machine and forms the culture of an organization?"
The association is also focused on initiatives to help with reskilling workers.
"The idea of reskilling was already there due to technology and artificial intelligence, but the pandemic acceler ated the need to reskill people," she says. "I'm not sure organizations are equipped to evaluate what skills are needed, what their current skill gaps are, and how to achieve training and development. We're way beyond formal training — we need to rethink the way we skill people."
Regardless of the challenges faced by the HR profession, Poirier is optimistic due to a continued interest from universities and young people that is contributing to increased membership.
"The impact HR has on an organization is becoming more recognized," she says. "The credibility of the profession is more recognized, so it attracts interest from the younger generation, which is good news for our profession."
Collaborative ventures a highlight for Nova Scotia
The COVID-19 pandemic significantly changed 2020's complexion for Chartered Professionals in Human Resources (CPHR) Nova Scotia, but the association's focus on members and hard work by its staff allowed it to follow through with a good chunk of its plan for the year, says Layla Khalil, chair of the board of directors for CPHR Nova Scotia.
The 852-member association quickly provided online resources for members related to the pandemic, including articles, best practices and webinars featuring experts. It also upped its social media game on platforms such as LinkedIn and Facebook, increasing engagement with members as they sought more online learning opportunities and virtual connections while they worked from home.
CPHR NS was also able to move forward with two initiatives that came about through collaborations with the other HR associations in Atlantic Canada — a new magazine called PROMPTU and an online career centre for HR professionals in the region, she says.
Launched in July, the magazine was mailed to members of the HR associations in Nova Scotia, New Brunswick, Prince Edward Island and Newfoundland and Labrador and is posted online twice per year — it focuses on a different topic in each issue and engages HR professionals to contribute. The magazine is a "great opportunity to enhance value proposition for members in Atlantic Canada," says Khalil.
The career centre has become very popular and offers HR professionals services such as resumé building tools, career coaching and interview preparation while allowing them to post anonymous resumés.
"Providing our members with opportunities for professional development and career growth are core to our mission to serve the HR profession," she says.
The focus on virtual services and remote work is likely to continue in the future, both as the pandemic continues and afterwards, and CPHR NS plans to support its membership in positioning HR as a key cog in the digital transformation of organizations, says Khalil.
"As the focus on digital and practical applications of artificial intelligence continues to grow, HR will continue to play a key role in supporting organizations in their digital transformation," she says. "The advancement of technology will change the way some work is done and will impact employees in various industries."
Change OF leadership in New Brunswick
The winds of change are coming to Chartered Professionals in Human Resources (CPHR) New Brunswick. President Jodi McMackin's term finishes in February and finding a replacement is a big challenge in the short term, says CEO Luc Page, adding that the association is also hunting for a new treasurer.
"These are two important positions we need to fill," says Page.
The CPHR Canada board has appointed a new representative, Lori Orchard, who will fill in at the national level until a new president is found.
The association held its first-ever virtual all general meeting (AGM) in November and is looking to do an online strategic planning session with its nearly 900 members to ensure the association's committees are aligned with its mission.
CPHRNB connected with its members mostly online rather than in person as the pandemic hit. While the association was able to shift from face-to-face professional development by individual chapters to online webinars — mostly run with partners and offered free to members — the big project was the CPHRNB biannual conference.
Originally scheduled for May 2020 as an in-person event, the association initially postponed it to December with the hope that they could still run it as is. After the extent of the pandemic became evident, the association decided to go fully virtual and the conference is now scheduled for February 2021.
Another move that helped the association weather the crisis in 2020 was amalgamating the finances of the various chapters into one operational account and streamlining the operational budget for professional development and administration.
"It was a good move for us because we decided to unite our forces and strengths to offer webinars throughout the province to our members, trying to find a common format," says Page. "Financial restructuring within the organization means less administrative work and more efficiency to do an operational budget, like a lot of provinces in our region and throughout Canada as well."
CPHRNB is also looking at stepping away from conventional professional development practices and changing the format so that members can acquire experience and a certificate in an HR area that applies to their workplace, while claiming professional development hours toward maintaining their designation. All of this depends on hard work within the association, says Page.
"We have a good team behind us and some good volunteers for committees," he says. "That's why we're fortunate here in New Brunswick to work with such great people who are so passionate and dedicated to their association."
First accredited CPHR program in Prince Edward Island
In 2020, Chartered Professionals in Human Resources (CPHR) Prince Edward Island remained focused on its objectives to support members with learning opportunities and to promote the HR profession in the province.
Despite challenges presented by the global pandemic, the association and its leadership were able to adjust quickly to COVID-19 protocols and use virtual means to stay connected with its membership — which grew slightly to 84 active members, says Kelly Drummond, chair of the board for CPHR PEI.
A key initiative toward both learning and promotion of the HR profession was the establishment of the first CPHR-accredited program designated in P.E.I. at Holland College, the provincial community college in Charlottetown.
"We are so pleased to have this partnership and are excited for island businesses to have access to a greater pool of qualified HR professionals," says Drummond.
The association remains focused on developing more initiatives that help members further their credentials with a variety of options that suit members' needs, whatever the landscape looks like in the near future, she says.
"We need to continue identifying creative ways to provide professional development and networking opportunities for membership," says Drummond. "Virtual options are great, but they don't meet the needs for all learners."
Flexibility will be a theme for the HR profession going forward, reflecting a similar outlook for the organizations where HR professionals work, she says. HR professionals will be supporting organizations through the change process that many will be ushering in, including the implementation of new protocols and flexible work opportunities.
In addition, the P.E.I. association will have to be ready to support members and provide training for mental health issues, which may be an issue HR professionals have to face not only at their place of work but personally, says Drummond, citing anxiety and "compassion fatigue" as top concerns.
Newfoundland and Labrador looking to regain momentum
After a year spent "spinning its wheels," Chartered Professionals in Human Resources (CPHR) Newfoundland & Labrador is looking to restart its momentum from 2019 and setting out on its own path, says president Leroy Murphy.
"As a small organization [of about 175 members], we don't have the man-power to initiate and create a lot of content, but our sister associations are very supportive and offer plenty of opportunities [for members] to get their recertification points," says Murphy. "By the same token, we've got to have something that is our own… we've got to have something that is labelled entirely 'CPHR NL' so we stand out on our own and [we're] not relying significantly on other provinces."
Murphy is grateful for the collaboration and support from other HR associations in sharing professional development content and is proud of a significant joint venture among the Atlantic associations that successfully launched in 2020 — a magazine for the Atlantic Canada region that debuted in July. He adds that, with the pandemic, it was an ideal time to launch the publication as it provided a connection to members who were more isolated than usual.
"For members, whether isolated at home or not, getting a hard copy of the magazine at their doorstep or in the mail was fantastic," says Murphy. "It's a physical thing, a much more personal touch, something tangible that we have with our association here."
Maintaining a connection with members was a challenge once things became locked down. The association had to cancel all face-to-face events, including a provincial HR symposium that was held for the first time in 2019.
"We were hoping to build on some of those successes, but suddenly the rug got pulled out from [under] us in March," says Murphy. "People carried on with a lot of their professional development online, but as an association, we didn't get to come together in many ways other than through email and some online things."
Despite the challenging circumstances, Murphy says he's cautiously optimistic about the direction in which CPHR NL is going.
"We started [2020] with a lot of optimism because we had a good year in 2019 in terms of some of the progress we made as a provincial association," he says. "We've got a solid organization here and we are feeling momentum moving forward as we build on things like the Atlantic magazine. Every little thing is a step forward in making us an organization that can offer more every year to members."