Court of Appeal delivers employee-friendly decision in overturning Rahman v. CannonDesign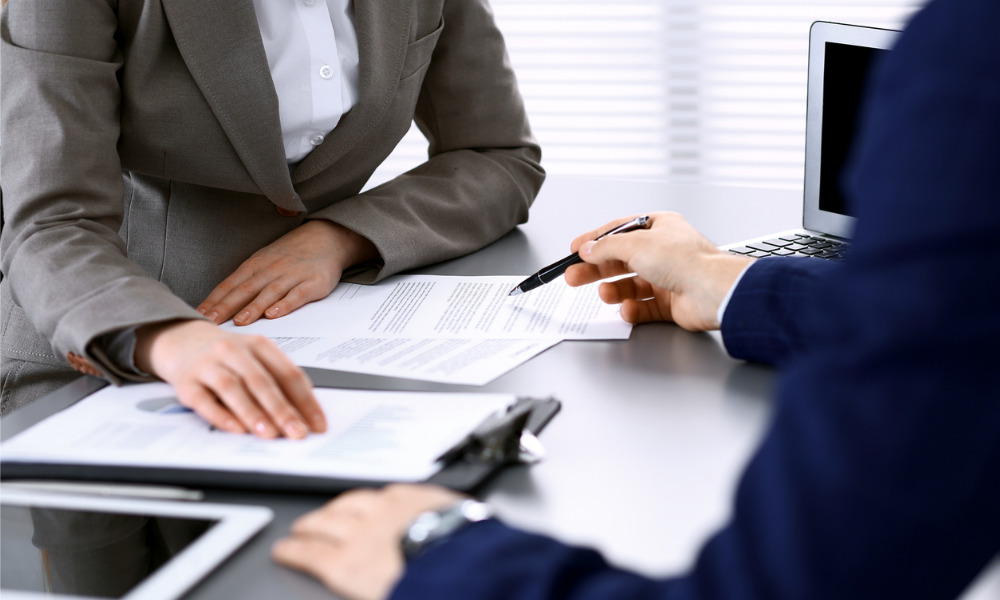 Employers were dealt somewhat of a setback recently — though not necessarily a surprising one — when the Ontario Court of Appeal ruled in favour of an employee who had agreed to a termination agreement that was later considered "offside" of employment standards.
"It is a bit disappointing because it doesn't feel like there's a lot for employers to hang their hats on right now in terms of 'Look, we're not trying to be the bad guy' — this feels just so excessive in the other direction," says Dasha Peregoudova, associate at Aird & Berlis in Toronto.
There will likely be some employers who are disappointed that the contextual approach or analysis that was undertaken was not followed or upheld by the recent decision, says Daniel Wong, partner and chair of the employment law group at WeirFoulds in Toronto.
"That disappointment aside, I can't say that I'm surprised by the Court of Appeal, who drew a pretty hard line and said, 'The words are the words.' And that is really what is going to be determinative on the enforceability of a contractual provision in this circumstance."
Four weeks' notice after four years
Farah Rahman was hired by CannonDesign Architecture on Feb. 16, 2016 as a principal. She worked there just over four years, earning $185,000 in her last year of employment at the age of 61 before she was let go on April 30, 2020 without cause.
Rahman was given four weeks' notice of base salary.
She put in a claim for wrongful dismissal and then moved to summary judgment. The "just cause" provision was one issue in particular, as Rahman felt that the termination provisions of her written employment agreement violated the minimum standards of the Employment Standards Act. She claimed she was entitled to a longer period of reasonable notice and damages for a failure to provide such notice.
The provision of the offer letter stated: "CannonDesign maintains the right to terminate your employment at any time and without notice or payment in lieu thereof, if you engage in conduct that constitutes just cause for summary dismissal."
In his Sept. 15, 2021 decision, Justice Sean Dunphy spoke extensively of Rahman's hiring and negotiations, including several interviews, independent legal advice, her "reasonably senior" role and her being "a woman of experience and sophistication."
Ultimately, he decided the termination provisions in the offer letter were valid.
But on June 6, 2022, a three-judge panel disagreed and allowed the appeal, saying that the "plain wording of the contractual termination provisions runs afoul of the ESA. Accordingly, the provisions are void and cannot govern the termination of Ms. Rahman's employment."
ESA notice and termination pay must be given for all terminations, even those for just cause, except for "prescribed employees," said Justice Eileen Gillese in the decision.
The motion judge erred in law, she said, "when he allowed considerations of Ms. Rahman's sophistication and access to independent legal advice, coupled with the parties' subjective intention to not contravene the ESA, to override the plain language in the termination provisions in the employment contracts. By allowing subjective considerations to distort and override the wording of those provisions, the motion judge committed an extricable error of law."
Balance of power
It's a result that most employment lawyers expected, says Danny Kastner, a partner at Kastner Lam in Toronto.
"The way we interpret employment contracts is employee-friendly. And the reason for that is usually based on a number of reasons, but one of those reasons is the courts will often have rhetoric about the relative powerlessness and lack of sophistication of the employee compared to the employer," he says.
"So I can understand why any judge might pick up on that and say, 'Well, those factors aren't present here; here we have a very sophisticated employee, I don't think there's much of power imbalance. And so I'm not going to interpret the contract in the same way.'"
Read more: What makes notice of termination reasonable?
Dunphy seems to have taken the position that it didn't seem fair for this employee to negotiate the terms of the agreement — including some improvements — and then later say she's not bound to the terms, says Wong.
"There was a lot of evidence that suggests that she knew — or ought to have known through having retained an employment lawyer — what the terms were and what she was entitled to as a result of that," he says.
"Courts have rendered termination provisions unenforceable due to the unreasonableness or the unconscionability of doing so, and using that analysis on applying that, they do look at things like: Was it a standard form contract? Did the employee have the opportunity to negotiate or was it really a take-it-or-leave-it [situation], which, in this case, based on the evidence in the motion decision, was quite different."
But the problem — as the Court of Appeal points out — is that this case involves an application of legislation, says Kastner.
"What this contract does is take away a right that is guaranteed to all employees by legislation. And for that kind of issue, the power imbalance, the sophistication, these types of things are all secondary considerations because you cannot, with a contract, override legislation."
'Hopeful outlier' for employers
If, however, this did not involve legislation and was an ambiguous benefit, such as an annual bonus, he says, then "that's where the relative power imbalance, or lack thereof, the relative sophistication of the employer, or lack thereof, could still matter as an interpretive guide for any ambiguity in a contract."
The 2021 Rahman decision was interesting, says Peregoudova, "because it really stood out as the sole case departing from all of the other foregoing authority which didn't necessarily state expressly that that power imbalance or bargaining power is unequal or doesn't exist, but it ... kind of evened the balance, so to speak, with the other cases which very clearly stood for the proposition that 'Look, we all accept that there is a presumption in favour of employees that governs the enforceability of termination provisions, and that is completely premised on the fact that we accept that there's an imbalance of power favouring employers.
"It did strike a slightly different balance because it effectively said, 'First of all, I don't see any evidence that this provision would be offside had it [been] interpreted in practice. But, furthermore, I see clear intention here between the parties. They knew what they were contracting, they knew what it meant, and there wasn't any intention in running afoul of the ESA.' In all cases, Cannon was going to be onside of the ESA. But the appellate judge said, 'Look, it doesn't really matter whether they were or they weren't, the language wasn't expressly onside the ESA and that's what mattered.'"
The 2021 Rahman decision was "a hopeful outlier" for employers, particularly because this didn't involve a low-level employee who was forced into a contract of adhesion without any ability to negotiate, ask questions or get legal advice, says Peregoudova.
"In those cases, you understand the power imbalance argument here… I can understand, especially as someone who does more management-side work, an employer having the frustration of 'OK, even if our language was deficient, clearly, we were never going to try to be offside of the ESA; in fact, we say over and over that we're going to be onside. And, what more could we possibly have done?'"
Does legal advice matter?
But that raises a concern shared by many, she says.
"It begs the question of: How does obtaining independent legal advice matter? What role does that play?
"It's an interesting question… knowing that a provision is potentially unenforceable and agreeing to it. In any event, I'm not sure that can be called bad faith. And there's no such thing really as bad faith in contractual negotiation. There's only bad faith in contractual performance, legally speaking," says Peregoudova.
But if one party agrees to language in an agreement knowing that it won't be held up, "it doesn't encourage, in my opinion, the most transparent, outward good-faith conversation and dialogue between the parties that are contracting," she says.
However, undoing that dilemma would require undoing a lot of very key principles, such as privilege of legal advice, says Peregoudova.
"I'm not sure that that concern ever, really, would really take shape. But [it is] something that I've definitely heard being discussed since this appellate decision came down."
In January, Canadian HR Reporter unveiled the 5-Star Employment Law Firms & Lawyers for 2022.
The Waksdale factor
In the June 8 decision, Gillese highlighted the 2020 Ontario decision Waksdale v. Swegon North America, which held that if a termination in an employment contract violates the ESA — such as a "no notice if just cause" provision — all the termination provisions in the contract are invalid.
It's a reminder for employers of the importance of having enforceable employment agreements, and especially termination provisions, says Wong.
"For employers who are using employment agreement templates or precedents that were prepared, pre-Waksdale, if you haven't done so yet, it's probably a good idea to take a look at those and have employment counsel review them to make sure that… that the termination provisions in those templates do meet the threshold based on the current case law."
Wong says he is still seeing dated templates for new hires: "I have to tell them, first and foremost, that there's a risk because of the Waksdale decision."
Peregoudova also sees agreements that are, by and large, unenforceable from that perspective, she says.
"Bear in mind that even if they've updated their general template for new people that they're hiring… they may have signed with an employee two years ago or three years ago, using their old language, and are only now having to interpret it. So one challenge is just creating new, enforceable templates on a go-forward basis."
But the second piece of the puzzle, which might be the bigger one, is the termination liabilities build, she says.
"The longer somebody is with an organization, or the older agreements [for] which there are not repeated opportunities to update — you need 'fresh consideration' in order to sign somebody onto a new employment agreement. And that doesn't present itself every day. Typically, that would be at a time somebody would get a raise or a bonus or something like that, but you can't just slap a new agreement in front of somebody on any given day."
Ultimately, it's recommended that employers have their agreements reviewed and refreshed as soon as possible, if they haven't done so already, says Peregoudova.