Ontario employers must now apply daily screening test to workers, visitors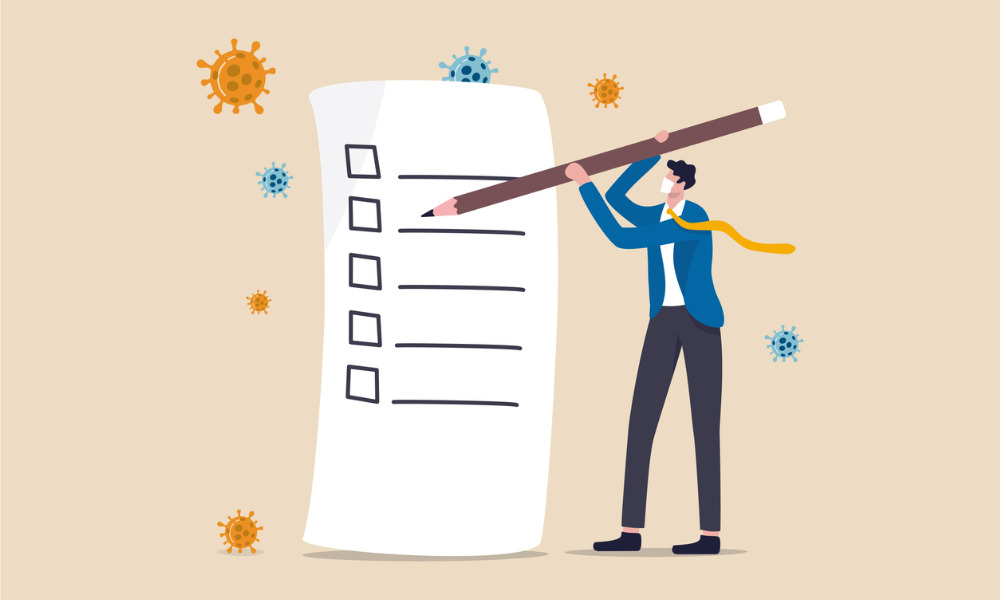 Employers in Ontario are now required to apply a daily COVID-19 screening test to employees and essential visitors before they enter the workplace.
Businesses or organizations must comply with any advice, recommendations and instructions issued by the Office of the Chief Medical Officer of Health on screening for COVID-19, says the government.
"We are moving forward with these measures to help keep Ontarians safe by limiting the potential for exposure in locations where the current risk of transmission is higher, and to avoid future lockdowns," says Christine Elliott, deputy premier and minister of health.
The government also released a screening tool for employers.
"Screening should occur before or when a worker enters the workplace at the beginning of their day or shift or when an essential visitor arrives," it says. "At a minimum, the following questions should be used to screen individuals for COVID-19 before they are permitted entry into the workplace (business or organization). This tool may be adapted based on need and the specific setting."
The questionnaire asks respondents three questions:
Do you have any of the following new or worsening symptoms or signs (for example, fever or chills, difficulty breathing or shortness of breath, or a cough)? Symptoms should not be chronic or related to other known causes or conditions.
Have you travelled outside of Canada in the past 14 days?
Have you had close contact with a confirmed or probable case of COVID-19?
If the individual answers 'No' to all questions, they have passed and can enter the workplace, says the government. If the individual answers 'Yes' to any questions, they have not passed and should be advised that they should not enter the workplace (including any outdoor, or partially outdoor, workplaces).
"They should go home to self-isolate immediately and contact their health care provider or Telehealth Ontario (1 866-797-0000) to find out if they need a COVID-19 test."
In an interview with Canadian HR Reporter, one lawyer notes that an employer may be liable if an employee becomes sick once they return to the workplace.
Responsibility
The Ontario government gives no additional guidance as to how the COVID-19 screening questions are to be administered, says Nadine Zacks, partner at Hicks Morley law firm, in a release. Still, employers must take proper care of documentation.
"Consistent with an employer's obligation under the Occupational Health and Safety Act to take all precautions reasonable in the circumstances to protect its workers, employers should now be requiring the COVID-19 questionnaire to be completed before an employee or essential visitor enters the workplace," says Zacks. "Employers should also ensure that appropriate records are kept so as to be able to demonstrate compliance if needed, with the necessary safeguards in place given the sensitivity of the information being collected."
Recently, Canadian law firm Cassels has teamed up with a Toronto-based disease management and testing company to offer some 600 employees COVID testing services.