Learners embrace interactive and practical online experience in short courses, conferences and webinars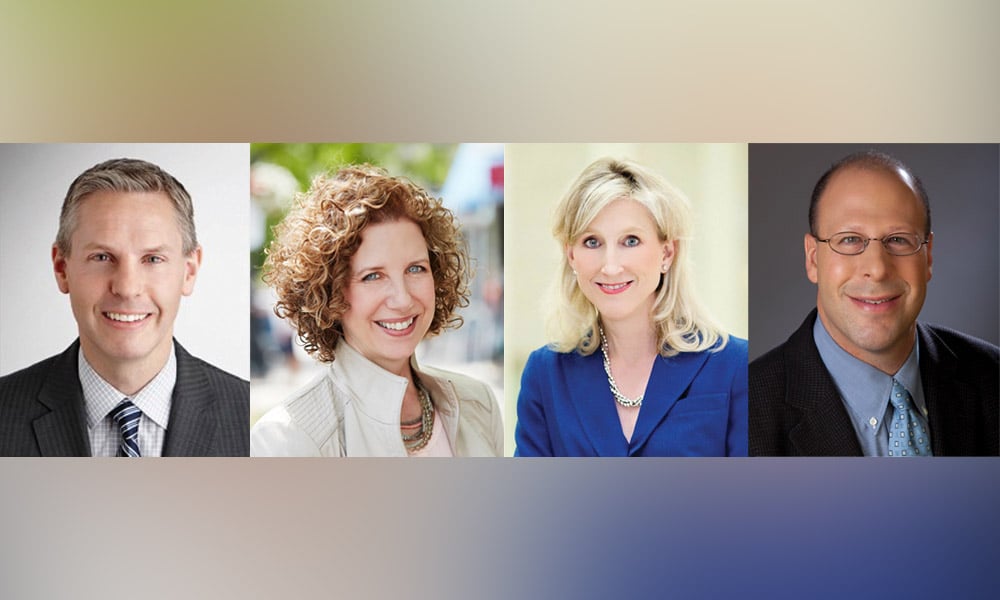 When Osgoode Professional Development (OsgoodePD) ― the professional development arm of Osgoode Hall Law School at York University ― launched its first five-day certificate in 2008, it was intended to provide a deep dive into key issues and give learners practical information that they could immediately put to use when they returned to their offices.
Initially, all programs were offered in-person only with learners engaging in small break-out sessions, conducted role-playing simulations and partic-ipated in other hands-on, practical learning components. As technology improved and to ensure greater accessibility, OsgoodePD introduced a blended approach. Students could choose to attend programs in person or online using live webcasts and video streaming.
When the pandemic hit in March 2020, everything changed. To ensure the safety of all students, staff and the community, OsgoodePD ceased all in-person programming and, where viable, programs were redesigned to support live online learning.
One of the first programs to launch in spring 2020 was the Osgoode Certificate in Human Resources Law for HR Professionals, with program directors Stuart Rudner and Natalie MacDonald. This flagship HR program has run for more than 10 years, and the spring 2020 offering had the program's highest enrolment ever.
At the same time, the Osgoode Certificate in Labour Law, with program director John Craig, experienced a boost in enrolment, with learners and faculty switching seamlessly and embracing the online format.
This trend continued throughout the year, with registration increases in the Osgoode Certificate in Human Rights Theory and Practice (program director Pat Case), the Advanced Certificate in Human Resources Law for Senior HR Executives (Stuart Rudner and Natalie MacDonald as program directors) and the Osgoode Certificate in Workplace Mental Health Law (with program directors Brian Gottheil and Lauren Bernardi).
To ensure an optimal learning experience, program attendance was strictly capped. We also refined our evaluation and feedback mechanisms to check in with learners and confirm their compre-hension of core concepts.
Feedback from faculty and learners provided the following observations on how to effectively learn online:
Flexibility is key: Given how busy everyone is, and with all the uncertainties, the ability for people to learn at their own pace was a huge benefit. OsgoodePD's programs include 120-day access to the program archive, so if delegates are unable to attend a live module, they can catch up in their own time. In addition, they can rewatch program segments, which helps reinforce learning outcomes.
Greater value and time management: The time and financial constraints of having to travel to and from an in-class environment disappear. Apart from being eco-friendly, the online approach makes learning more inclusive and accessible.
Enhanced learning: OsgoodePD's online offerings have been redesigned with the learner experience top of mind and an emphasis on breakout groups, role-play simulations, polling and other initiatives to make the experience more engaging.
Networking and social learning do not have to be face-to-face: Our feedback surveys highlight the high value students place on networking at our in-person events. To meet this need, OsgoodePD uses an online networking platform that hosts interactive online networking events. Focused on HROver the years, OsgoodePD consistently designed and ran programs for HR professionals, often in partnership with the Human Resources Professionals Association (HRPA). Appreciating that each learner has their own preference and learning style, the switch to remote/online learning demonstrates that HR professionals have an appetite for knowledge delivered remotely, are curious, adaptable and willing to embrace change ― qualities that will serve them and their organizations well, now and into the future.
Why choose OsgoodePD?
OsgoodePD is a world leader in legal lifelong learning. It has years of experi-ence in on-site live programing and has been recognized for being at the fore-front of digital and online learning. OsgoodePD has an unwavering commit-ment to quality, accessibility and customer service and offers:
four- and five-day open-enrolment certificate programs
an interactive and practical online experience
short courses, conferences and webinars
accredited programs with the HRPA (Human Resources Professionals Association) and other professional associations and regulatory bodies
in-house and custom programs
For more information, visit osgoodepd.ca/osgoode-hr or osgoodepd.ca/hr-online.