Ottawa also formalizes temporary residence pathway (CUAET) for those fleeing Russian invasion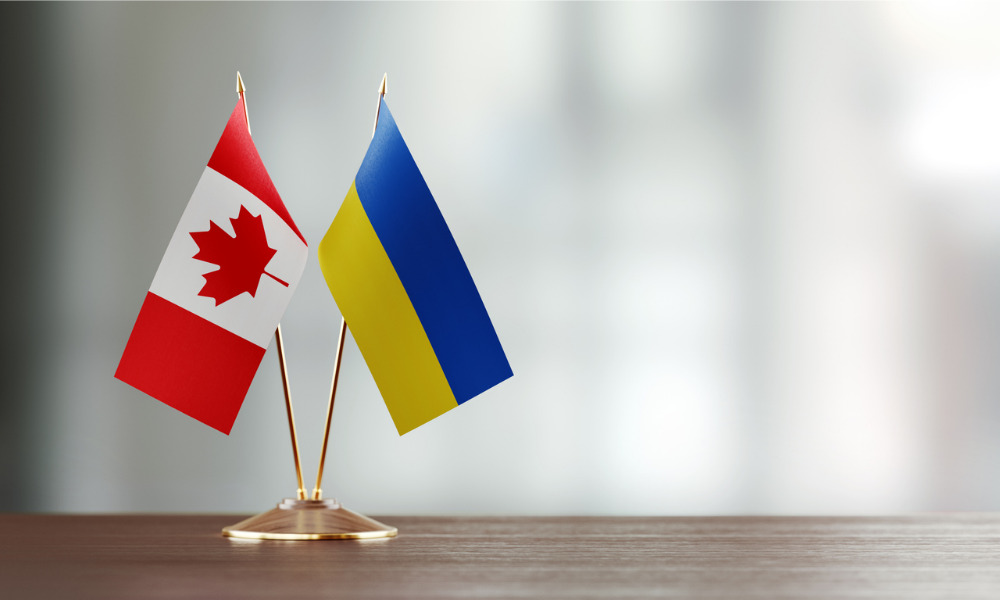 In addition to opening its borders to Ukrainians fleeing the invasion by Russia, Ottawa is calling on employers to offer them employment through a new job bank.
Interested employers can register job offers at the Job Bank's Jobs for Ukraine webpage, which will help connect them with Ukrainians seeking work in their communities.
"When they arrive safely in Canada, we're going to help Ukrainians find work so they can provide for themselves and their families," says Carla Qualtrough, minister of employment, workforce development and disability inclusion.
"From ensuring that children can enroll in school to helping parents join our workforce, we want every Ukrainian to find peace, stability, and community in Canada."
Ontario will also set up a dedicated jobs hotline to connect employers with individuals fleeing Ukraine, according to CTV News.
"Hundreds of employers have stepped up. Dozens of labour leaders have stepped up. We now have more than 30,000 jobs waiting for Ukrainians when they come here," said Monte McNaughton, minister of labour for the province.
New pathway formalized
The federal government has officially launched the Canada-Ukraine authorization for emergency travel (CUAET), a new temporary residence pathway for Ukrainians fleeing home amid the Russian invasion.
Under the program, Ukrainians and immediate family members of any nationality can stay in Canada as temporary residents for up to three years. Through this program, many of the regular requirements associated with a normal visitor visa or work permit have been waived. The federal government first announced the program earlier this month.
Previously, Premier Doug Ford called for the federal government to let people seeking refuge from Ukraine to come to Ontario.
Applicants who are overseas must apply online for a Canadian visitor visa and provide their biometrics (fingerprints and a photo). They are encouraged to apply for a three-year open work permit at the same time as their visa application. Applicants who do not have a valid passport may still apply, and Immigration, Refugees and Citizenship Canada (IRCC) will issue a single journey travel document on a case-by-case basis, where appropriate.
Earlier, the government announced that the IRCC will issue open work permits to Ukrainian visitors, workers and students who are currently in Canada and cannot safely go home.
Travel opens up
The federal government also announced that fully vaccinated travellers will no longer need to provide a pre-entry COVID-19 test result to enter Canada by air, land or water, effective April 1, 2022.
"Adjustments to Canada's border measures are made possible by a number of factors, including Canada's high vaccination rate, the increasing availability and use of rapid tests to detect infection, decreasing hospitalizations and growing domestic availability of treatments for COVID-19," says Jean-Yves Duclos, minister of health. "As vaccination levels and healthcare system capacity improve, we will continue to consider further easing of measures at the borders-and when to adjust those measures-to keep the people in Canada safe."
Several employers have previously lifted COVID-19 vaccination mandates.
Meanwhile, pre-entry testing for partially or unvaccinated travellers who are currently allowed to travel to Canada remains the same. They must continue to provide proof of an accepted type of pre-entry COVID-19 test result.